Jonatham Lethem: "I Decided This Book Could Be Hijacked By Trump Anxiety."
With Christopher Hermelin and Drew Broussard on So Many Damn Books
On So Many Damn Books, Christopher Hermelin (@cdhermelin) and Drew Broussard (@drewsof) talk about reading, literature, publishing, and trying to make it through their never-dwindling stack of things to read. All with a themed drink in their hands.
In this episode, Christopher and Drew talk with Jonathan Lethem about his latest book, The Feral Detective, Zendos, his decision to set The Feral Detective in the present day (Trump anxiety and all), and how he feels about the trajectory of his writing career. Plus, they reveal the recipe for the Tamed, a Feral Detective-themed drink.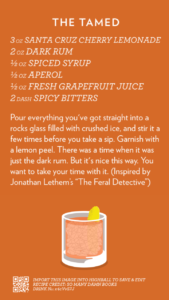 "Setting part of The Feral Detective in the desert had to do with archetypes of self-invention and freedom."
Jonathan Lethem: The decision to set part of the book in the desert had to do with all the archetypes of the desert: how that's a space where you can explore utopian possibilities and self-invention and freedom and the American promise of getting off the grid and starting something new.
The other thing I did, which is something I've never done before and would hardly advise any of my students to do, is that I set the book absolutely in the present, so I used the background of the Trump election as a sort of… You know, there are certain movies where there'll be a certain news event playing on the TV in the backdrop of every scene? I wanted it to be a bit like that. It's a weird gambit, because everyone's first thought is "Oh my God, that material's going to date so rapidly" How do you keep it from becoming … I decided that this particular voice and book could be hijacked by a certain amount of Trump anxiety.

"Seven, eight, nine novels in I began to notice the helpless degree to which my books were repeating."
Christopher Hermelin: It's interesting to think of this book in conversation with all of your other work, which it seems like you're doing a lot yourself—you're always thinking about how your work talks to each other.
JL: I have become more open to that. I used to think of the books as totally enclosed and that—because, you know, I was so restless and wanted to write different kinds of books, I would think of them as sort of sealed entities, but, you know, seven… eight… nine novels in, I think I began to notice the helpless degree to which they were repeating, despite my efforts to always start anew as a writer. And then I thought, well, if they're doing it anyway, let me play with it or be more aware of it or consciously control it, so I began to let that element become one of my, I don't know, one of the instruments in the band. Sort of like, "oh and here's this place where you can hear it calling out to this other thing."
CDH: Oh, yeah, I mean, it's interesting especially to think of A Gambler's Anatomy in conversation with this one because that one's sort of this fabulist picaresque sort of thing and then this is also—but it feels more contained somehow. And maybe, I don't know why that is.
JL: Yeah, structurally I think this book is one of the most contained. It's like Motherless Brooklyn in the sense that it takes place in a small number of days.
Drew Broussard: And it has a Zendo!
JL: And it has a Zendo.
---