John Edgar Wideman: Of Course I Anticipated Disaster
A Meditation on Vulnerability, Edges, and the Abyss
Democracy is a form of government that permits anyone/everyone, man, woman, child to play loud music you don't wish to hear. Or play quiet music you don't wish to hear in places you don't want to be.
Democracy permits unprotected sex, and I enjoy it so I let it happen and here I am, I said to the medical person—not a doctor obviously—who seems to be listening. A technician, not a doctor, since the person in a white lab coat with the facility's name in neat blue stitching above the breast pocket appeared genuinely interested in what I was saying. Doctors pay only minimal attention to a patient's description of his or her ailments. Doctors know that showing too much interest in a patient's monologue might suggest that the doctor has not heard similar stories many times before and this lack of familiarity with a patient's case diminishes in patients' eyes the physician's authority. Subverts the purpose of a consultation. Who's the expert. Who's in charge here. Who gets paid.
I say barely any of the above out loud, then say either to myself or to the woman in the lab coat—One thing you learn walking along the edge of the sea as I often walk—there's no edge. There are many, many edges. Countless. Sea and land are separate and not. Always changing. Never the same edge twice. Endless edges. A paradox, a mystery you might consider, if such puzzles tickle your curiosity.
I listen to voices inside myself in the manner I think doctors (some technicians, too) listen to patients' voices. Though doctors get paid for sitting, nodding, and doing nothing while a patient rattles on, the real work doesn't start until a patient shuts up. So why do patients narrate long-winded versions of their stories. A patient a novel from a bookstore rack the doctor samples. No obligation. When patients talk too much, doctors ring the receptionist to send in the next person or call time-out for a toilet break or lunch or two weeks of family holiday in the Bahamas.
Democracy promised similar autonomy to ordinary citizens like you and me. The choice to pay attention or not. Respond or not. To ration our compassion, our identification with other people according to whatever public or private reasons we choose. The right to steer clear of ambiguous edges of other lives and harbor no secret motivation nor temptation to slip beyond our actual life. Beyond a single self. A sort of slippage clearly impossible anyway.
As if to shut me up and get real work started, a needle interrupts the conversation. Sorry, the technician says when I flinch. She had positioned my left arm—shirtsleeve rolled up, elbow bent, forearm resting on her desk—then tied an elastic band above my biceps, palpated my flesh to choose a vein, and promised, Just a little pinch. Cool swipe of alcohol my last awareness of her presence before I had closed my eyes to drift outside myself or deeper inside and avoid the little pinch she had warned I would receive.
When you shut your eyes, miss, and the world vanishes, do you ever worry you might forget how to reverse the world's vanishing trick and be stranded in limbo forever. Maybe you glimpsed that worry in my eyes and assumed this guy's squeamish about having blood drawn. I'm not, miss. And you needn't apologize for performing your job, please. The poke you administered is a clever response to my riff on edges. A reminder how precisely, instantly a needle can locate a body's edge. An impeccable argument. I can counter only that blood circulates. Constantly moving like a sea. And being a medical person you know more about this than I do. Blood is body and body blood. Blood cells die and are born, a flowing, changing soup. Cells replenish the body as body replenishes cells. Time a factor. Time always is since it doesn't end or begin or at least we will never know how or when. Takes time for a needle to pass through blood that is body then body that is blood, layer after layer of neither blood nor body, both without being either, if you're following me. Many edges flickering past and you or I wouldn't believe a person possesses only one edge if we were tiny enough to ride the needle, see through its eye.
Certain constants, constraints may exist, I suppose. Situations or ideas or bodies confined within a stable boundary unlike the sea's infinite edges. Permanent divisions, arrangements, races, maps. Hierarchies. Homeostasis. Periodic table of elements. Laws, rules, chemicals, algorithms, golden ratios. Certain predictable combinations and permutations of numerical, logical possibility. Ineradicable essences. As a student of science you may be able to cite some.
Or perhaps not, the newer physics claims. Untruths inside Newton's and Einstein's truths. New speculations, dispensations aim not to displace totally those once unquestioned classical understandings of the material world but rather to offer alternative theories and explanations that imply any truth not truthful enough.
"Ideas, categories—water, earth, gender, wind, fire, color, etc.—that regulate, connect, and separate people are temporary, provisional, imaginary formulas. Why do these fictional edges we invent threaten as much as comfort us."
Like lies I tell my wife. Lies that brought me here. To be examined. To be treated if necessary. Or worse, to be informed I'm untreatable. A lost cause. Like all those other refugees, illegal immigrants, and migrants adrift today. Stripped of moorings. Edges collapsed. No way in or out. No illusions. No reliable language, family, country, money, clothes, name. No past except unpleasant memories of abuse, helplessness, hunger, war, dependency, labels and tasks that confined them from cradle to grave. No future unless a new set of labels and tasks drops providentially from the sky.
Still, the social instinct our most irresistible, irrepressible urge. Our need to fit in with others, fit them within our edges. The imperative that drives me to engage you, a complete stranger more or less, in conversation. Without the social instinct, wouldn't each individual's fear and selfishness, our relentless pursuit of individual survival undermine the biological imperative of our species to multiply.
Driven by the desire to multiply, we develop other mathematical skills—subtraction, addition, division—as well as the sciences of language and statistics to rationalize growth, loss, chaos, the escalation from individual to couple to family, clan, nation. We discover we are more and less. Not alone yet more alone. We pay doctors to listen. Examine.
When I examine the social instinct, I consider the meaning of words such as duty, obligation, responsibility, and visualize a tall, narrow, antique wooden filing cabinet. I pull out her drawer and my wife's inside it, miniaturized, perfectly believable. Gently I lift her out till she's stretched in the palm of my hand. She is peaceful. Aware there are no probes, no purges as part of the examination. Just my eyes running over her, missing nothing—expert, loving—and then I place her again on her soft, mauve pallet in the drawer. Drawer pushed back inside the cabinet notable for its craftsmanship, attention to detail. No change in her. No more than it would be reasonable to anticipate after all the years together, confined within, more or less, the same edges.
All edges socially constructed. That is the enlightened view today, and maybe you share it. Ideas, categories—water, earth, gender, wind, fire, color, etc.—that regulate, connect, and separate people are temporary, provisional, imaginary formulas. Why do these fictional edges we invent threaten as much as comfort us. Why don't they moderate fear of extinction. Serve us in the abyss where we touch nothing and nothing touches us. The abyss of extreme proximity with no contact. Proximity without touching because the abyss intervenes. It gets rid of everything, including what we make of ourselves, think of ourselves. The abyss as close as we ever get to knowing what comes next. And next a dead end. Nothing's there. Nothing's what our edges abut. Surprise and no surprise. Abyss even sounds a bit like emptiness. And abyss sounds like miss, doesn't it, miss. But abyss not us. Not anything. We learn to take it and we get it.
For over 25 years now we have constructed a dream—my wife's, mine, ours—of sharing a living space, a social space. Sharing the broken peace, broken pieces of our construction. We decide to take a trip and wind up thrown from our Volvo, bodies sprawled, unable to move or speak at the edge of a highway. Cars and trucks whizzing past and nobody notices our accident, peril, pain. Maimed, probably lying there in shock, but the traffic pays us no attention. If you are her or me you imagine dying. Or imagine yourself cured and attempt to stagger up. Or imagine an emergency vehicle brimful of miraculous lifesaving technology and kind, exquisitely trained technicians who will listen to your silence, heads bowed, ears close to your shuddering chest, flopping heart.
Title of a novel shivers irretrievable as most of my past as I try to recall it, then title appears—Preparation for the Next Life, exactly as printed on the paper cover. A book I'm recommending to you because—but not only because—I detect a trace of Asian ancestry in your features. An observation, miss, I hope you will accept as a compliment, especially in this small room with its lack of color, lack of history, its loneliness and intentional suppression of sociability so as not to disturb you or me or the doctor during the business of an examination. Anyway, the novel's two main characters—a young Chinese woman who's an illegal immigrant and a young American vet just back from Iraq—suffer a love affair in New York City. Love haunted by anger and madness, a love doomed as the Twin Towers. I was touched by their suffering, their determination to survive for each other despite brutal, anonymous energies of a vast city driving them together, thrusting them apart. A reader is immersed in violent, claustrophobic details of lives headed nowhere as the two lovers prepare for a next life. One that will never arrive, the book lets us know in no uncertain terms.
I, too, am an author of sorts. Fortunately, there are lots of people far smarter than I am who are not taken in, not deceived by what I do or call myself—by my fiction, my career, my words—yet they are deceived by what they do—math, physics, watching TV, taking photos, making families, money, minstrelsy, making love. Should that general failure serve me as any consolation. A reason to feel better about my limits, my edges, my failures to achieve, succeed, deceive.
Recently, on one of the long walks I don't really enjoy until it begins to feel interminable, I caught up with an ancient truck dumping stones to shore up the bed of a dirt path I'd followed five kilometers or so through woods and fields. A man in the truck's cab, girl on foot beside it, maybe the driver's young wife or his daughter, leveling with a shovel each new pile of white, chunky stones. Good day, I said smiling, and thanked them for their hard work, letting them know for aging warriors like me whose job is to keep the countryside free of demons and dragons, reliable roads a necessity, particularly back roads wending through thick forest, fields of tall grain, high weeds, and grass where ogres hide alongside the path or drop from overhanging trees to ambush passersby. Winter snow, spring rains will mock the couple's efforts as demons mock mine, but grizzled man, young woman whose arms and wrists seemed very slim for such heavy labor returned my smile, then waved after I overtook them and looked back over my shoulder.
Perhaps doctors listen in a reserved manner to conceal how appalled they are each time by the spectacle of a patient attempting with the immateriality of words to speak for the body's blunt, mute materiality. Atticus, the given name of the author whose novel I recommended.
Atticus also the name a Roman writer had assumed to celebrate being a citizen of Athens. During its golden age, Athens a cradle of democracy and civilization until it expanded its edges to become a state, an empire, then toppled as all empires and persons must. Oh, how the mighty have fallen, ancient Egyptians carved on their monuments, Greeks inscribed on their stelae, Yoruba expressed with imperturbable gazes of bronze masks, all looming brow curved like a full sail, designer lips thick, enigmatic as a Buddha's. Oh, how the mighty have fallen. Oh . . . Oh, how beautiful the fallen.
"I squirm inside at the thought anyone may touch the site, the scar where once I was joined with another. A part of me severed. Cord cut, twisted, stuffed back into me."
I understand there's nothing personal about this procedure, miss. Results must be objective, the social strictly in abeyance. You and I cease to exist during an examination. We are ghosts. Offstage, hovering in the wings. Irrelevant as far as data is concerned, data gathered, rendered into more data, more trustworthy than any person's opinion. Numbers that do not require us while they crunch out conclusions, predictions, solutions, results verifiable whether or not we're around. I've been here before. Inured to inconveniences—long waits, exorbitant fees, needles, knives. Still. Let me put it this way. Or rather, let me ask you a question, please. Do you share about any portion of your anatomy my secret squeamishness about navels. Gown pulled up, naked parts exposed to a stranger's eyes—no problem unless my silliness about navels kicks in. I squirm inside at the thought anyone may touch the site, the scar where once I was joined with another. A part of me severed. Cord cut, twisted, stuffed back into me. An edge of me never quite safe. Drastically vulnerable in fact. An ugly hole not filled completely. A pit sunken in fleshy lips through which things that belong inside may spill out, get lost again.
They say drowning's the easiest death. Somebody says it. Mermaids the only witnesses, maybe. Only a few moments of thrashing, flopping around, too busy to pay attention to that dreadful, instantaneous last review of your life they say you always receive, then water's over your head and your edges flow into water, water flows into your edges. The rest is drift. Peace.
Oddly enough, miss, though you may find it hard to believe today, I was not always an old man. No prostheses, prescriptions, wrinkles, no humiliating dependencies on professionals to keep me alive. Women—some—attracted to me. One exceptional one in particular who happened to be too good to be true. By that I mean not simply that she possessed unusually good looks and smarts. She confessed to being enormously enthralled by me, so much so that she was happy to do anything I asked with no expectations on her side of something from me in return. Too good to be true. She asked no questions about times we weren't together. No obligations, plans, excuses, explanations required. Please, she said, just be yourself and let yourself be pleased by me.
Circumstances (including my wife, kids—I'm endeavoring to be completely honest with you, miss) did not allow us to meet often and each rendezvous tended to be brief, though quite intense. Too intense to last, a reasonable voice inside me warned. Too good to be true.
Of course I anticipated disaster. Sooner or later my worries, guilt, and selfishness, her unselfishness and generosity would be punished. I couldn't conceal my anxieties and they hurt her. Afterwards and sometimes even during, Why do I sense you running off, she asked. Why do you doubt what we share. Why express dissatisfaction about a situation you obviously enjoy. Do you want what we have to continue or not.
I guess my answer no. Couldn't say this then, but I will admit it to you now, miss. My fear she was too good to be true the reason the affair ended. I spoiled it. A glorious gift turned into a threat, an omen, and I lost track, lost touch with our moments together not because they were too good to be true but because I wasn't prepared to treat them as true. Did I step back because I thought I saw the edge. Did I believe true possessed only a single edge. A self-fulfilling prophecy, wasn't it. Surely as night follows day, miss, I fucked up. Pardon my French, please.
You're getting very busy with papers, with opening and shutting drawers of your metal desk. Is the examination approaching a conclusion. Maybe not, since the voice telling this story doesn't require an audience, doesn't need your assistance, doesn't need you. It can rattle on and on whether you listen or not, whether I speak to you or only to myself. In its humble fashion narrative is too good to be true.
I'm not going to embarrass either of us by asking you for a date. I know all too well what time it is. How long it took to arrive at this facility, this moment it's your turn and mine to occupy.
Oh. Oh my, my. We all fall down. In spite of what we learn the hard way or what we overhear people say, hope does spring eternal. A woman 20, 30 years my junior eager to do whatever I ask. An unlikely truth once. More than unlikely twice. A young woman eager to do my bidding, as people used to say. No. Not bidding. I retract that word. It's too old-fashioned. Reminiscent of emperors, masters, servants, slaves. No. Not about power, miss. Power not the point. It's the creeping seduction, the exhilarating experience of thinking, even in a field hospital grim as this one where wounded are transported to die, even here, anything's possible.
What notes have you jotted in my file, miss. Will I receive copies of pages you are tucking into folders of various colors spread like an oversize deck of Tarot cards on your desktop. Do you perform happy endings in this institution. What opinion do you have of my chin. My left leg. Ear. How much do I owe.
__________________________________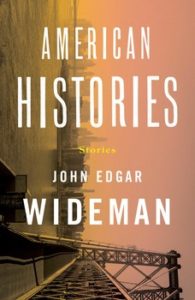 From "Examination" in American Histories. Used with permission of Scribner. Copyright © 2018 by John Edgar Wideman.
---