John Darnielle on Beloved Chicago Music Venue, The Empty Bottle
"We should all live so long as to see more small miracles like it"
The following is the foreword from The Empty Bottle Chicago: 21+ Years of Music/Friendly/Dancing.
It was either June or July of 1993. My band, the Mountain Goats, had two 7-inches, several full-length cassettes, and a host of compilation appearances to our name. Our music was a take-it-or-leave-it proposition: most of the songs we released were recorded directly into a boom box. Some of them we took from tapes of radio sessions. Our records sounded caustic to most people. We were cool with that.
We played locally, in southern California, and had been up to San Francisco once. Our second 7-inch had been released by a Chicago label called Ajax, whose distribution arm—initially a mail order catalog, but by now a fledgling storefront near Ukrainian Village on Chicago Avenue—had been stocking our music, and proselytizing it, since the first tape. Chicago might as well have been the moon to me; I'd lived almost my entire life on the west coast.
So when Tim Adams, Ajax's sole owner and proprietor, asked me if we'd consider coming out to Chicago to play a show, I said "sure." The show would be in July; I was still in college, but I had the summer months free.
We were third of three, opening for Coral and Fudge. I felt honored; I'd seen both these bands listed in the Ajax catalog! I think there were maybe thirty people in the house to watch us, but it felt like the United Center to me, because we'd only ever really played in two proper clubs: the one in San Francisco, and our home turf in Pomona, Munchie's, which was an island unto itself, more communal living room than club. The people at the Empty Bottle were so nice to us on that humid summer night; they thanked us for coming all the way from California, and they stood with the crowd and watched us play; and they gave me all the coffee I could drink, which, in those days, would have set them back at least twenty bucks.
You remember the people who treat you well on the road. You remember them your whole life. They are the ones who give you the confidence to keep going, in the hopes that you'll find more people like them. Sometimes the distance between these people seems like whole worlds, but we lucked out, because we played the Empty Bottle early on. We were treated like stars in a town far away from our home. It meant a great deal to us.
I moved to Chicago two years later; I was only there a little while, but I lived within walking distance of the Bottle. I went
there to see shows (Uzeda's first American appearance!), and I played there with side projects, and I was made welcome. For me, the Empty Bottle's open-arms policy felt emblematic of Chicago as a whole: nobody treated me like an outsider. I didn't feel like a transplant. I drank Old Style, the only beer that's fully Kräeusened. And I was told that any time I wanted to play at the Empty Bottle, all I had to do was say the word.
I've seen many bands onstage at the Bottle with looks on their faces that I recognize: that look of pleasant surprise, of unexpected comfort. "The house sound guy actually gives a shit about our monitors!" is part of what that look means, and "I had a meal earlier, because the club gave me a voucher for the place next door, so now I'm able to play well because my blood sugar isn't completely fucked" is another important component. But the main thing about it is something I only learned to recognize after spending a number of years on stages around the world.
It says, I like playing here. It says, it is a pleasure to play our music in this house. It says, this is what I hoped it would feel like to play a show before I ever got the chance to play a show. You don't see that look on every band's face every night; sometimes you go to shows for months on end and never see it at all. When you catch a glimpse of it, you can't miss it, because it's a look that welcomes you into the music the same way the people who run and frequent the Empty Bottle welcome traveling musicians into their nightly haunt.
You see it at the Empty Bottle more than you see it elsewhere. It becomes familiar. It's not a huge miracle along the lines of the loaves and fishes, but it's the small miracles that stick with you, because the big ones you're generally only going to read about in books. The Empty Bottle is a small miracle. We should all live so long as to see more small miracles like it.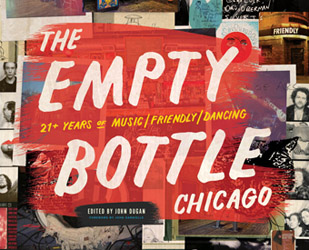 From The Empty Bottle Chicago: 21+ Years of Music / Friendy / Dancing, edited by John E. Dugan. Used with permission of Curbside Splendor Publishing. Foreword copyright © 2016 by John Darnielle.
---