Jennifer Weiner: How Plus-Size Women Finally—Finally!—Landed on Book Covers
"I could have cried with the joy of it."
So there I was, in my mother-in-law's living room in Sarasota, lips wrapped around the spitty valve of a purple pool float, doing my best to get it inflated, so I could don a white sunhat and a black swimsuit and sneak into the community swimming pool (where a large sign warned "NO INFLATABLE DEVICES ALLOWED") where I would attempt to recreate the illustration on the cover of my new book, The Summer Place. As I blew, and inhaled, and blew again; as the world wavered, and black spots appeared in front of my eyes, I had two thoughts.
The first was, I don't think Ernest Hemingway's publisher made him do this.
The second: I am very lucky.
Because, twenty years ago, if I'd wanted to recreate one of my book's covers, using my own body, it would have involved losing 100 pounds, and also my head.
*
I began my career in the era of photographic covers, where a publisher would purchase a stock photo, and that image would become your cover image. The idea was for covers to be aspirational, to feature societally-approved skinny bodies, without ever showing one of those model's faces, so that readers could imagine their own features atop those lissome arms and legs and torsos. I didn't find these covers especially appealing, but I saw them everywhere, and I trusted that I was an outlier, that the people at my publishing house knew what they were doing.
In the twenty-plus years of my career, publishing has changed.
Things got off to a promising start with Good in Bed, my 2001 debut. That cover showed a pair of crossed legs, on a bed, with a dreamy blue background. You could just make out manicured toenails in the foreground, and a piece of cheesecake on a plate off to the side. The legs weren't especially large, but they weren't exactly skinny, either. I was content.
Then came In Her Shoes. For that cover, my publisher chose an image of two pairs of feet, in pastel-tinted strappy high-heeled shoes. The feet both appear to belong to women of the same size, even though the sisters in the story aren't the same size at all… but, just as in the dark all cats are gray, from the ankle down, all women look sort of the same. I was content. Until I found out that my publisher hadn't purchased the exclusive rights to the image, and that the very same feet, in the same strappy shoes (in a different color palette) had also been used on the cover of a book entitled Best Fetish Erotica.
Bummer.
For Little Earthquakes, in 2004, the cover showed a glorious profusion of golden-red curls, with a woman's arm and hand obscuring her face. "Can we make her arm bigger?" I asked, and the art department was able to incrementally enlarge the forearm. I called it a win, and hoped that things were changing.
But then came Goodnight Nobody in 2006. The book was about a new mom feeling desperately out of place in the suburbs, struggling to accept her body with twenty pounds of unsheddable baby weight (at one point in the story, my protagonist, Kate Klein, jokes that when the kids turn five, it's no longer baby weight, it's just weight.) The cover, however, featured a supermodel-sized woman, from the neck down, because no faces. Worse, the woman was oddly hunched over, contorted in a pose suggesting that the only mystery she was interested in solving was where to find the nearest toilet.
I protested. They insisted. Skinny IBS Supermodel stayed.
The low point came with my 2009 novel, Best Friends Forever. BFF was the story of two girls, fat and thin, former best friends who crash back into each others' lives after a classmate goes missing from their fifteenth high-school reunion. When I got the cover, it was two girls, thin and thinner, wearing pretty sundresses, strolling on a boardwalk toward the beach. Both women were shown from the back, and the woman on the right was grasping at the back of her sundress in a manner suggesting she was pulling its folds out of her ass crack.
I told my publisher that the woman who was supposed to be Addie, my plus-size character, was way too thin. And that it looked like she was picking a wedgie. And that the whole thing looked like a douche ad.
I protested. They insisted. The douche ad/wedgie pick stayed.
2010: skinny faceless women sitting on the beach on the cover of Fly Away Home.
2011: skinny faceless woman perched on a desk on the cover of Then Came You.
2012: skinny faceless woman in a swimming pool on the cover of The Next Best Thing (at least the pool, and the image, were both beautiful and inviting as a David Hockney photograph).
And then, just when I thought I couldn't take one more skinny covergirl, the trend shifted toward no women at all, just images of things on the cover. My 2014 book, All Fall Down, had a picture of a roller coaster instead of a human being. In 2015, with Who Do You Love, I got a red paperclip instead of people. My paperbacks were repackaged, with all of those skinny ladies replaced by images of things—pairs of shoes, a baby in a diaper, a white picket fence, a hat and an umbrella by someone's front door. I didn't get it, but, as always, I trusted the people at my publishing house. I had just about given up hope, though, that I'd ever see a woman on the cover who matched the woman on the page. But still, objects—even odd ones—were infinitely better than the parade of size zeroes.
But then, in 2019, I got my wish. Instead of photographs of people, or images of objects, publishers began using illustrations. And the women on the cover of Mrs. Everything were not small. They were plausibly plus-sized. They looked right. They matched. I could have cried with the joy of it.
Today, I'm delighted to say that I'm on my fourth book in a row with an illustration of a larger lady on the cover, and that some of my repackaged backlist now feature women of similar proportion. The ladies are still faceless, because you can't win 'em all, and the readers don't seem repelled by a larger woman on the cover any more than they were repelled by a larger woman on the pages.
In the twenty-plus years of my career, publishing has changed. The world has, too, and I've seen pop culture take baby steps toward body positivity, or at least body neutrality, and embracing the notion that, yes, Virginia, fat women can have happy, fulfilling lives that includes joyous, fulfilling sex. When I was a teenager, I watched music videos featuring the not-especially-large Carnie Wilson hiding behind strategically-placed boulders and grand pianos.
Today's young women get Lizzo, living her best life in shapewear and swimsuits and sometimes nothing at all. When I was young, romance novels only had thin heroines. Today, there are shelves full of books starring fuller-figured protagonists, with covers unapologetically depicting those full figures. In the pre-social-media era, the only way to see larger bodies was as "befores" in ads for weight-loss shakes or gyms. Today, with careful curation, you can have a feed full of diverse bodies of all races and ethnicities and sizes, doing yoga, or dancing, or lifting weights, or trying on clothes or taking care of their pets or goofing around with their kids or traveling with their partners, or just living their lives, in the bodies they have, and not postponing joy or big trips or pretty dresses until they've lost fill-in-the-blank-number pounds.
It got better. And I couldn't be more pleased.
__________________________________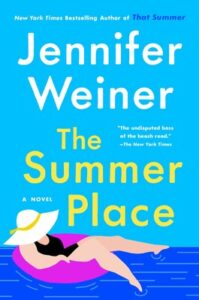 The Summer Place by Jennifer Weiner is available via Atria Books.
---