Javier Marías on the Pain of Drifting Apart from Old Friends
"When and Why Did We Stop Seeing Each Other? I Simply Don't Know"
It's odd how, over time, one loses touch with certain friends, especially groups of friends. With individuals it's easier to trace the process that led to that rift, an argument perhaps or an insurmountable difference of opinion; with others it was more a slow drift of disillusion, when the person to whom you felt very close for a time evolved in such a way that he or she became a stranger or, worse, someone you despised or found boring (or else we were the ones who "deteriorated" and were more or less rejected). This must have happened with a lot of people of my generation (politicians and journalists for the most part), who were very idealistic and combative at university, but ended up at the opposite end of the spectrum: "reinterpreting" the Civil War, tacitly rehabilitating Francoism or doing property deals with what they termed "pragmatism," but which was really just cynicism pure and simple.
One sometimes learns, with horror and desolation, that a friend of many years—once you stop viewing them as kindly as you used to—now, quite implausibly, represents everything you most hate. Or else you hear him defending the ideas, attitudes and people he loathed 15 or even 10 years ago. I don't mean that people shouldn't change and adapt and modify and come to see things differently, but there are limits that "converts" fail to respect, a long path that needs to be travelled: what I find unacceptable are sudden transformations, as if by magic: now I'm here and now I'm over there, without anyone seeing how I arrived at that new position.
Far more difficult to understand are the cases where, if I can put it like this, nothing happened: there were no betrayals, no disenchantments or quarrels, not even a sense of weariness. When one of those old friends who you haven't seen for ages dies, time somehow concertinas, and what seemed remote only a few days before the sad news broke suddenly becomes intensely clear. This happened when Michi Panero died, some years ago now, and I just couldn't understand why we hadn't seen each other for such a long time, when, at the age of 19 or 20 (he was six days older than me, we were born in the same month of the same year), we saw each other every day: after morning classes and after lunch, I would go over to his tiny apartment in Calle de Hermosilla (a great privilege at that age), and we would decide what to do, taking it for granted that whatever we did we would do together.
"One sometimes learns, with horror and desolation, that a friend of many years—once you stop viewing them as kindly as you used to—now, quite implausibly, represents everything you most hate."
I felt the same when I saw the obituary of Gustavo Pérez de Ayala; it was in his mother's apartment in Calle de Padilla that I undertook one of my first paid commissions, correcting and polishing the translation of a book so bad that it naturally enjoyed enormous success, Love Story. I am ashamed to confess that he and I were responsible for the Spanish version of that ridiculous saying, which, for a time, became the motto of all lovers: "Love means never having to say you're sorry." I would head over there every evening, and one of those daily friendships was born, one that lasted quite a long time (although when you're young, everything seems to last a long time). When and why did we stop seeing each other, Michi and I, Gustavo and I? I simply don't know.
Later, when I was in my thirties, for a period of years (well, it seemed like years) I used to go out for supper very late (almost never before midnight) to a restaurant called El Café then and possibly La Mordida now, if it still exists. A few of us would simply drop by without ever arranging to do so or announcing our intention: there were bound to be two or three of us present, if not seven or eight, plus a few less assiduous members, who knew where to find us. Among the regulars were: Antonio Gasset, whom I now only see occasionally on my TV screen; and Tano Díaz Yanes, whom I still have lunch with once a month or so—but just the two of us now, and much earlier in the day; the scriptwriter and novelist Eduardo Calvo, who never failed to turn up, has been in Algeria for several years now, running an Instituto Cervantes no one ever visits; Edmundo Gil, that most inveterate of bachelors, has married and has a child, and has left his job as a notary in order to produce films; Toni Oliver, who was the wealthiest among us (he ran a chain of cinemas, at least I think he did; we didn't ask each other many questions), suffered various setbacks caused by unreliable business partners and now, apparently, writes lyrics for the singer Sabina; the doctor, Charlie, who didn't seem at all like a doctor, is presumably still practicing; and as for Julio, the owner of the restaurant, he's still going great guns and has expanded his business.
I still often talk to Julia, but I have no idea what happened to Paloma, Isabel, Maru and Natalia. Altogether, I know little about most of them. And yet there was a long period in our lives when we used to have supper together almost every night, and could count on each other's company, and we used to laugh all the time about a hundred thousand things. How is it that none of that exists any more? When did we stop going or who was the first to disappear? That restaurant, if it does still exist, probably still echoes with our endless laughter, like that of the living ghosts we are to each other now.
__________________________________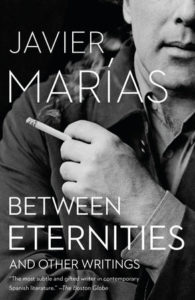 From Between Eternities: And Other Writings. Used with permission of Vintage Anchor Publishing, an imprint of The Knopf Doubleday Publishing Group, a division of Penguin Random House LLC. Copyright © 2017 by Javier Marías. English translation copyright © 2017 by Margaret Jull Costa.
---