Japanese Cuisine Made Simple: Okonomiyaki
Maori Murota on How to Make Easy Japanese Pancakes At Home
When entering a kitchen in Japan, you will often find olive oil, nuoc cham, gochujang (spicy Korean paste), and cheese. We are very interested in foreign foods and often adopt them to add novelty to our cooking. Yet, we also remain attached to the jars of preserves and nukazuke pickles (fermented daily in a rice bran bed called a nukadoko), using the same method as our grandmothers. It is entirely possible to respect traditional family cooking while at the same time cooking with an open mind and thinking outside the box. This is my version of today's Japanese cuisine.
In recent years, after the birth of my daughter and the Covid-19 lockdowns, my perspective on food has changed a lot. I began to want to use more locally produced food, with less of an environmental impact. My family and I spent the first lockdown on a small island in France. It was, of course, difficult to find Japanese products in the shops, so I started making my own udon noodles and gyoza dough and fermenting tsukemono pickles. I was pleasantly surprised—they were delicious and not as complicated as I had thought they might be.
After an initial period of panic, I realized how much joy there was in cooking from scratch, in creating everything with my own hands, just like my mother and grandmother did. I no longer worry when I can't access the Japanese grocery stores in the heart of Paris—I can do everything myself!
*
Okonomiyaki (Japanese Pancake)
Serves Four
Preparation: 15 minutes
Cooking: 10 minutes per okonomiyaki
200 g (7 oz) cabbage
2 scallions
100 g (3½ oz) peeled prawns 100 g (3½ oz) yam or potato 16 oysters
200 ml (7 fl oz) water
2 eggs
200 g (11/3 cups) all-purpose flour
½ teaspoon salt
1 handful katsuobushi (dried bonito flakes)
4 tablespoons sunflower oil
Garnish
Okonomiyaki sauce or tonkatsu sauce*
Mayonnaise or soy mayonnaise (p. 139)
4 generous pinches katsuobushi (dried bonito flakes)
A few dill leaves (optional)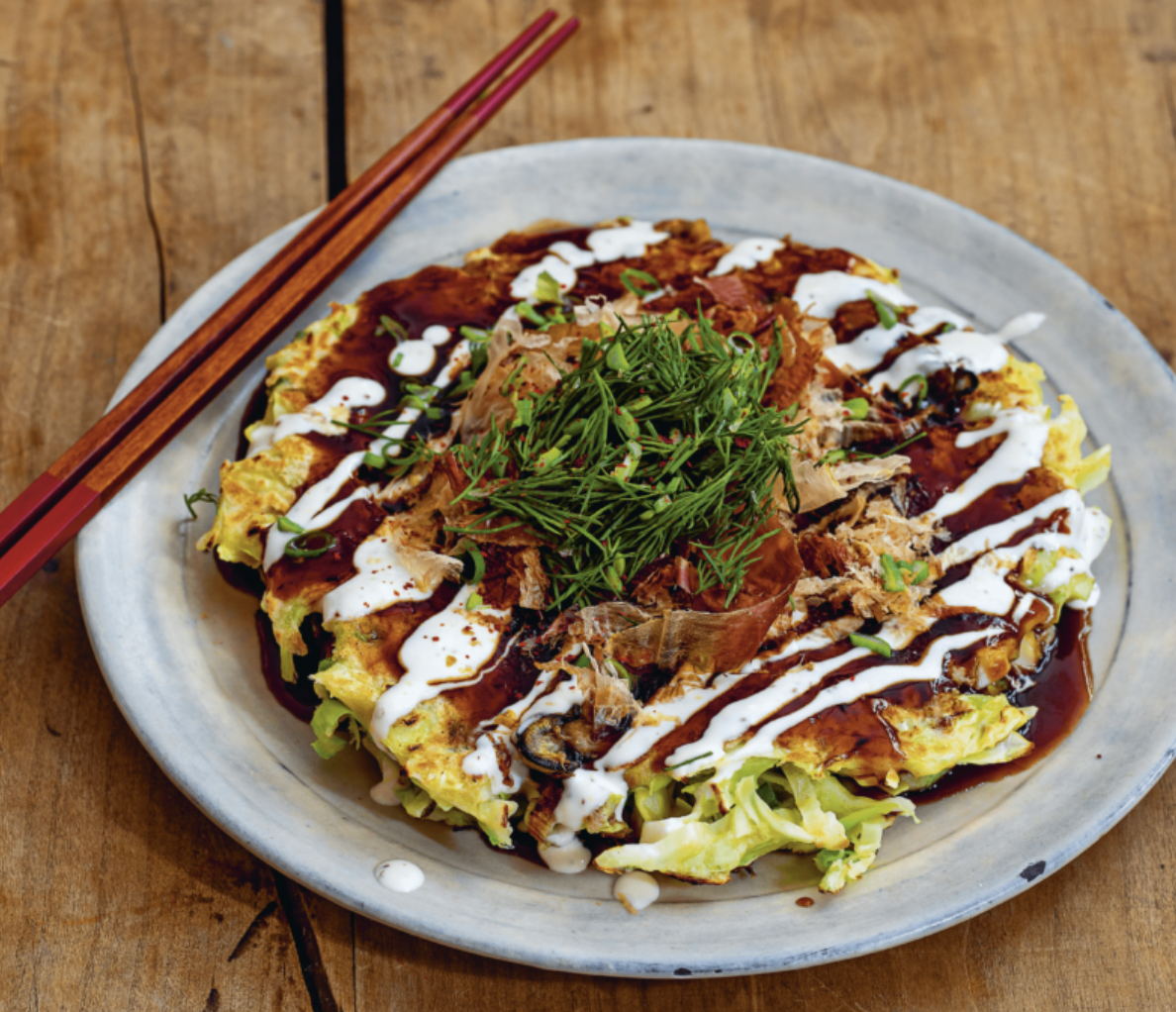 Cut the cabbage into thin strips, scallions into thin rounds, and prawns in half lengthwise. Grate the yam. Open the oysters and remove them from their shells.
In a bowl, mix the grated yam, water, and eggs. Add the flour and salt and mix. Stir in the cabbage, scallions, and katsuobushi (crumbled between your fingers). Add the prawns and oysters, then mix.
Heat a frying pan over medium heat. Pour in 1 tablespoon oil and wipe the excess with a paper towel. Pour a quarter of the batter into the hot frying pan. Cook for about
3 minutes. Turn the okonomiyaki over, cover, and cook for 5 minutes. Flip the okonomiyaki back and cook for another 2 to 3 minutes, uncovered, until the bottom is a light golden brown. Remove from the pan and keep warm. Repeat the process until all the batter is used. This will make 4 okonomiyaki.
Serve the okonomiyaki on individual plates with a generous amount of sauce spread on top and drizzled with the mayonnaise. Sprinkle with some katsuobushi and decorate with a few dill leaves.
*
*To Replace the Okonomiyaki (or Tonkastu)
In a small saucepan, mix 4 tablespoons Worcestershire sauce, 2 tablespoons ketchup, 1 tablespoon mirin, and ½ teaspoon soy sauce. Heat over low heat, stirring until the sauce thickens.
*
Vegan Version
Replace the seafood with 150 g (5½ oz) mushrooms (oyster, shiitake, etc.) sautéed in 1 tablespoon oil and seasoned with ½ teaspoon salt and 1 tablespoon malted or nutritional yeast. Add an additional 100 g (3½ oz) yam (or potato).
Have fun experimenting by adding ingredients of your choice to okonomiyaki. In Japanese, okonomi means "as you like" and yaki means "grilled." Restaurants offer a wide choice of toppings. Feel free to invent your own version of this recipe!
_____________________________________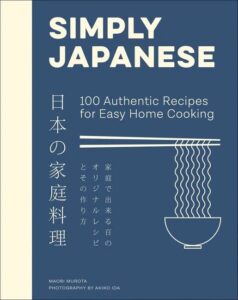 Excerpted from Simply Japanese: 100 Authentic Recipes for Easy Home Cooking by Maori Murota. Copyright © 2022. Available from Harper Design, an imprint of HarperCollins Publishers.
---