Jamie Harrison on Train Dreams, Harriet the Spy, and One Hundred Years of Solitude
Rapid-fire book recs from the author of The Center of Everything

Welcome to the Book Marks Questionnaire, where we ask authors questions about the books that have shaped them.
This week, we spoke to the author of The Center of Everything (out now in paperback), Jamie Harrison.
*
Book Marks: A book that blew your mind?
Jamie Harrison: One Hundred Years of Solitude, pretty much for good.
BM: Last book you read?
JH: I've been reading Matrix and A Ghost in the Throat in tandem, just to whipsaw my brain and lose any illusions about my own writing.
BM: What book from the past year would you like to give a shout-out to?
JH: I'm too far behind to be straight on what came out last year, but recently: Golden Hill by Francis Spufford, and Ladee Hubbard's Ribkins novels.
BM: A book that actually made you laugh out loud?
JH: Drive Your Plow Over the Bones of the Dead, before it made me cry.
BM: What's one book you wish you had read during your teenage years?
JH: I read more when I was a teenager than I probably have since. I was fully warned about the messiness of sex, war, love, politics, but we all just blunder on.
BM: Favorite book to give as a gift?
JH: Denis Johnson's Train Dreams and Michael Ondaatje's The Collected Works of Billy the Kid.
BM: Classic book you hate?
JH: The Confessions of St. Augustine, on all sorts of levels.
BM: What's a book with a really great sex scene?
JH: More the story of an affair, in an amazing handful of pages in the beginning of Louise Erdrich's The Last Report of the Miracles at Little No Horse. Zowie.
BM: Favorite book no one has heard of?
JH: The world would be a happier place if more people read Barbara Trapido.
BM: Favorite book of the 21st century?
JH: I can't give single answers. Wolf Hall, Cloud Atlas, The Underground Railroad. . .
BM: Book(s) you're reading right now?
JH: Jon McGregor's Lean Fall Stand. I loved Reservoir 13.
BM: Favorite children's book?
JH: Harriet the Spy. I read it when we'd just moved to a small town from Long Island. I missed prowling.
BM: Book you wish would be adapted for a film/tv show?
JH: The Widow Nash. Joking! Fools Crow, by James Welch. A beautiful, heartbreaking, horrific story of a world that needs to be remembered.
*
Jamie Harrison, who has lived in Montana with her family for more than thirty years, has worked as a caterer, a gardener, and an editor. She is the author of five previous novels—the Jules Clement series of mysteries and The Widow Nash, a finalist for the High Plains Book Award and the winner of the Mountains & Plains Independent Booksellers Association Reading the West Book Award. Find out more at jamieharrisonbooks.com.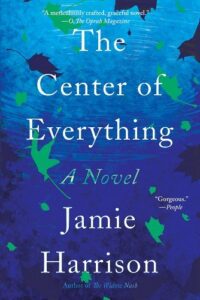 Jamie Harrison's The Center of Everything is out now in paperback from Counterpoint Press
*
---