Jamie Harrison on Finding Her Way to the Writer's Life in the American West
The Author of The Center of Everything in Conversation
with Thomas McGuane
Photo by Melanie Nashan
Jamie Harrison's The Center of Everything is forthcoming from Counterpoint on January 12. Harrison talked to old family friend Thomas McGuane about the writer's life, her father Jim Harrison, avoiding the clichés of the West, writing mysteries, and more.
* 
Tom McGuane: I know that you were not attracted to a writing life at first because of memories of growing up on your father's $8,000-a-year income, which eventually changed for the much better; but then you budged and have been productive ever since. Is this a legacy? You're a very different writer.
Jamie Harrison: My father would sometimes read things out loud when I was a teenager—I especially remember an early passage about a swan in Neruda's Memoirs—and it wasn't for the love of his own voice but to show me the beauty, the importance of getting the right words and having them fall the right way.
I don't know of anyone who writes like him. He funneled books in my brain from the age of five on. I think the legacy is simply loving to read, being surrounded by writers, growing up reading things in manuscript form. I admit that I hoped that mysteries would keep people from comparing me to my dad. Our friend Peter Matthiessen asked me when I was going to write a real novel.
I started to write because I needed money after I lost my job as an editor when Clark City Press went out of business. My oldest son was three, and I didn't want—couldn't afford—to move back to New York. I thought I'd try writing a mystery. I never thought of it as a calling, and I was surprised by how much I loved it. But productive—not so much. After four books I wrote screenplays, and it was more than 15 years before I sold another book. So I must love it. 
TM: In those penurious times, your father's great award was translated into your girlhood horse, Thunder Guggenheim. Are you sorry he spent his prize on a horse, instead of the OED or coffee table Vermeer?
JH: Our family intends to take apart Dad's memoir and annotate it with different colored pens. Thunder cost a couple of hundred dollars, and was a bit of a dud, and my parents spent far more on wine. We had many horses over the years—we boarded for a neighbor who trained Belgian draft horses. I gave lessons to younger kids with a sweet pony-cross and a crazy under-trained Morgan. And we had a colt named Ben that Dad lost in a poker game. Shoveling manure is definitely one way to learn to daydream.
I remember in the long ago, your father throwing John Hawkes's Adventures in the Skin Trade across the room and shouting, "No plot!" Might've had an effect.
TM: Of the many things I admire about your book, is the granular detail of ordinary life in a place, Montana, where a certain obeisance to the Chamber of Commerce list of regional classics is a requirement. I don't think you did this on purpose as that detail is so compelling. I know that to introduce a nurse, a FedEx driver or a computer salesman in a Western setting feels defiant, a bold road for the risk-averse.
JH: I love living in Montana but I dislike the kind of faux western thing you mostly see in people like our new governor. I was pleased when a prepub review said Center was "devoid of Western clichés." Most people I know are devoid of Western clichés.
TM: You have a lot of experience as an editor of nonfiction and scientific material. Has this given your work its striking specificity?
JH: I don't think so, beyond the idea that I wish I had a biology degree. Acting as an editor does soften you up for being edited (and I have a great one, Dan Smetanka at Counterpoint). People need editors. Where are the editors? One early job was writing magazine captions and headlines, shrinking to fit. It wasn't bad training, and screenplays teach compression, too.
The Center of Everything is partly told from the point of view of a child. I really tried hard to remember how a kid sees the world, and I relied on images rather than the memory of events. Things that hung in our house when I was little, books I'd spent hours with, like The Family of Man, gothic illustrations of King Arthur, Aubrey Beardsley's Ali Baba, an FBI most-wanted poster for Eldridge Cleaver, pulp fiction covers, album covers. There was always a lot to look at.
TM: By the evidence of your own books, you like plots. I remember in the long ago, your father throwing John Hawkes's Adventures in the Skin Trade across the room and shouting, "No plot!" Might've had an effect.
JH: It might. Growing up with a fabulist (assuming that you enjoy that fabulist) and you learn the joy of making things up heedlessly, what the Irish call "craic." He'd have a handful of index cards, maybe thirty, and then he could actually sit down and spool a novel out, beginning to end; he really did write Legends of the Fall in something like ten days. But mostly it was story over plot; he only sometimes stuck to a plot. He could get by on language and the whole rich mess of his characters.
Maybe my novel's plot is about a woman looking for a friend in a river, death and misfortune and revenge; maybe the story is old friends and old lovers and the way we try to protect our children.
Memory can be tyranny for writers or it can be a reliable source of departures.
TM: Because I'm old and forgetful, I go back to first impressions of books I read and I felt reading your book was that it was so interesting, never mind how, just on the paragraph and page, so interesting. That effect for me is template free, a writer with good instincts one jump ahead of me but hanging onto the leash, the first day in a new town. Narrative tension dawns on me more slowly.
JH: I have no deliberate craft ideas that I'm aware of. If I have anything, it's only an ear and a life of reading.
TM: You're a wife, mother, sophisticated cook and eater, gardener, editor; politically active in and outside the community. How do you find time to write? Am I right to guess that writing makes you happy?
JH: Yes, it makes me happy. It wasn't a calling, but I can't do without it. But I'm immensely distractible. I haven't even been able to read lately. I've wasted so much time, reading news stories about things I can't change.
TM: You're a self-conscious person. Is this a useful trait for an artist? I remember watching Updike and Cheever on the Dick Cavett show, twisting and squirming, muttering in fantasy accents. But Updike wrote eloquently about self-consciousness. You are modest about your work and you don't write so exclusively about yourself.
JH: I think if you're self-conscious and insecure, you study other people or make up a stand-in for your self.
When I wrote mysteries, I had to come up with something that wouldn't be ridiculed or patronized, given Dad's great and deserving standing. It was a challenge to imagine a likable, fair-minded cop. No one seemed to notice that Jules was me. He allowed me to have bar fights, tortured affairs, hangovers without pain, revenge. I loved it.
TM: I know that you keep up with new writing but may feel, as I do, that there aren't many homes to which you might pass those books on. I've tried it with ranch hands but things tended to go south after The Red Pony, and Magister Ludi stays on the shelf. 
JH: I don't keep up enough, but I keep buying. Great sloping stacks of books on the table by the bed. I have friends who read a lot, really stay current, and they help me vet my own stuff. I don't have many opportunities to talk about writing. I wish I did.
TM: Some of your early books were mysteries, all carefully made, until The Widow Nash, very different; and this book has some useful narrative drivers, but less the point than formerly. Can you imagine, after Flaubert, writing an absorbing book in which nothing happens? Or are we dyed-in-the-wool B-listers?
JH: I would love to try but I think I'd find the result too precious. Someone else's nothing can be interesting; I'm less sure about mine. We're here to entertain.
TM: How do you work? When do you work? Where do you work?
JH: I have a little office but sometimes I can't bear it. I move around the house, dodging people. In the summer I spent most of the day outside with my laptop. I'm claustrophobic in the winter, if I don't have to work another job, I write as much as I can in the morning in bed with the dogs piled around. They love it and it delays a freezing walk.
A question to you: do you ever write about the people you miss, just for the pleasure of keeping parts of them alive in your head, giving them new things to do, new lives, new minds?
TM: I'm trying to do that now!
Memory can be tyranny for writers or it can be a reliable source of departures. Have you thought about its relationship to your way of working?
JH: We're always looking back, in the dark, at something we saw in the light.
Hilton Als has a wonderful essay called "Ghosts in Sunlight" about existing in multiple worlds, your past as a palimpsest:
Take it from me: memory is your greatest ally and your primary source material, because memory is your body as it was in the world and the world as it was and will be; memory is the people you have loved or wanted to love in the world, and what are we if not bodies filled with reminiscences about all those ghosts in the sunlight?
A lot of this book came out of thinking about the unreliability of memory and about how families handle loss—my father's sister and father died in an accident when I was young. I played with versions of the part of the story that's set in 1968 for years. When I started again soon after my parents died, and focused on my protagonist and her damaged head, it was brutal to realize that I had no one left to let me know if what I remembered of childhood—drunken poets, the path from our house in Stony Brook to the Sound—was even somewhat true. I started writing this in grief for my inadequate memory , and I ended in grief for my parents.
_____________________________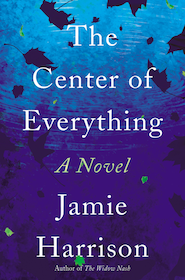 Jamie Harrison's The Center of Everything is forthcoming from Counterpoint on January 12
---