Activists, Scientists, and Poets: Your Climate Readings for January
Amy Brady Recommends Five Inspiring Books for a New Year
Good riddance, 2020. It was a bad year for many reasons, but there were also glimmers of hope. One such glimmer was a new invention by a young Indian engineer named Vidyut Mohan, who devised a portable machine that incinerates agricultural waste, turning it into fertilizer that can be used by farmers. It eliminates the need for farmers to burn waste in their fields, a practice that worsens air quality and contributes to climate change. Better yet? The machine doesn't release greenhouse gases into the atmosphere. For this groundbreaking invention, Mohan was awarded one of the United Nations' Young Champions of the Earth Awards, which are given to ambitious environmental innovators under thirty.
Stories like this remind us that many people of all backgrounds have continued to work hard to combat the climate crisis, even during the worst year in recent memory. More of these kinds of stories can be found in this month's list of great climate reads. Written by activists, scientists, poets, and novelists, books about climate change continue to educate and inspire. Here are my favorites out in January.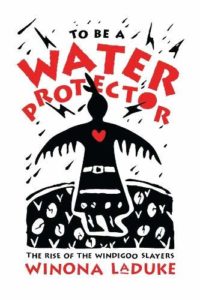 Winona LaDuke, To Be A Water Protector: The Rise of the Wiindigoo Slayers
(Columbia University Press)
Written by a two-time Green Party vice presidential candidate, To Be A Water Protector parses the elements needed to form a green economy while exploring lessons from environmental activists working outside Canada and the United States. The book also includes LaDuke's letters to the CEO of Enbridge, one of Canada's largest energy companies, in which she presents him with an invoice for the company's climate-related damages. The book is further informed by LaDuke's nearly 40 years of grassroots activism related to climate change and Indigenous rights, as well as her role as co-founder of Honor the Earth, an environmental organization that advocates for Native Americans and participated in the Dakota Access Pipeline protests.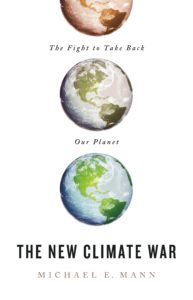 Michael E. Mann, The New Climate War: The Fight to Take Back Our Planet
(PublicAffairs)
As one of the world's most renowned climate scientists, Michael E. Mann has been sounding the alarm on climate change since at least the early 2000s. In The New Climate War, he focuses not on climate science specifically but on the decades-long misinformation campaign waged by fossil-fuel companies and right-wing magnates to deflect blame and delay climate action. The book carefully debunks false arguments while showing how they gained traction in mainstream media. Crucially, it also outlines a detailed plan for how governments and industry giants can combat misinformation, bad policy, and climate doom-ism, to make real change.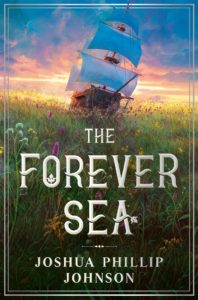 Joshua Phillip Johnson, The Forever Sea
(DAW Books)
This is the first of a new environmental fantasy trilogy staring a character named Kindred Greyreach, a hearthfire keeper and mage who uses magic to keep her ship afloat above a vast stretch of grasses called the Forever Sea. The plot unfolds after Kindred learns that her grandmother, a famous floating ship captain called The Marchless, goes missing in the grassy depths. Kindred goes searching for her, and on her journey learns how to navigate a world on the edge of environmental catastrophe—while finding hope for a promising future. The novel opens up new spaces for fantasy and environmental concerns to meet while offering a thrilling story about a protagonist you can't help but root for.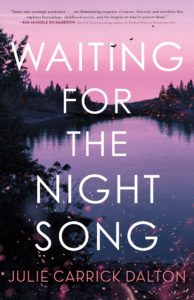 Julie Carrick Dalton, Waiting for the Night Song
(Forge Books)
This gorgeous novel is Dalton's debut, but it reads like the work of an experienced writer at the top of her game. (And, indeed, Dalton is a writer with lots of experience: as a journalist, she's written more than a thousand articles for The Boston Globe, the Hollywood Reporter, and other outlets.) Waiting for the Night Song is a mystery about two childhood friends, now adults, who return home to confront a dark secret that's haunted them since. One of the friends, Cadie Kessler, is now a forestry expert who must face her past while protecting the forest and the people she loves from wildfires, drought, and a growing economic crisis. The novel demonstrates just how tightly entwined human stories are with the natural world.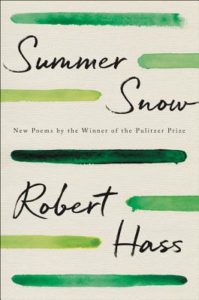 Robert Hass, Summer Snow: New Poems
(Ecco Press)
The Pulitzer Prize and National Book Award-winning poet Robert Hass returns with an entirely new collection of poems. Summer Snow brims with reverence and tenderness for the natural world. "Nature Notes in the Morning" is particularly powerful with its observations of a landscape that evoke significant memories for the viewer. This poem—like so many others in the collection—drives home the necessity of reveling in small details, while  appreciating the natural world in all its complexity.
---