The Baillie Gifford Prize for Non-Fiction has been running for 25 years, recognizing the best work of non-fiction each year with a tidy sum of £25,000. This year, to celebrate its quarter century, the prize looked back on its previous 24 winners to crown a "Winner of Winners Award."
The voice of voices? James Shapiro, for his 2006 novel, 1599: A Year in the Life of William Shakespeare.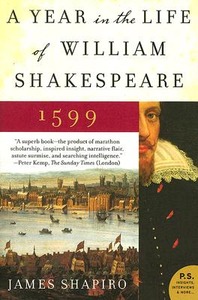 That was the year Shakespeare wrote Henry the Fifth, Julius Caesar, As You Like It, and Hamlet. It was also the year Queen Elizabeth faced a Spanish Armada and fought an Irish rebellion.
The panel consisted of New Statesman editor-in-chief, Jason Cowley; academic, critic and broadcaster, Shahidha Bari; journalist, author and academic, Sarah Churchwell; and biographer and critic Frances Wilson. They considered 24 past winners, including Stalingrad by Antony Beevor, H is for Hawk by Helen Macdonald, and Empire of Pain by Patrick Radden Keefe.
Cowley, chair of the judging panel, said of Shapiro's work:
1599 is a remarkable and compelling book. A history of four masterpieces and of so much more, it produces a life of Shakespeare, about whom so little is known, through a ingenious fusion of history, politics, and literary criticism. The result is a poised and original re-imagination of biography. Shapiro returns Shakespeare to the stage of his own world, and in so doing he transforms our understanding – not only of the great works but also of the social atmosphere of his times. Erudite, accessible and formally bold, it will appeal to anyone interested in history, politics, literature and good writing.
Shapiro is a professor of English specializing in Shakespeare at Columbia University. He has also authored Rival Playwrights, Shakespeare and the Jews, Oberammergau, 1606: The Year of Lear and Shakespeare in a Divided America.