Jackie Robinson Was More Than Just a Pioneer
On the Man and Player Who Made History
This jersey is made of flannel, redolent of sweat—and full of stories.
One story is about 60 years of segregation. When Jackie Robinson donned a Dodgers jersey and took the field at Ebbets Field on April 15, 1947, he was the first black man to appear in a major league game since 1887.
A second story is about social change. Martin Luther King Jr. would say that Robinson was "a pilgrim that walked in the lonesome byways toward the high road of Freedom. He was a sit-inner before sit-ins, a freedom rider before freedom rides."
A third story is that of a man. Jack Roosevelt Robinson was born to a sharecropping family in south Georgia; his mother moved her five children to Pasadena, California, when he was an infant. After excelling in sports in high school, Robinson went on to the University of California at Los Angeles, where he was the first student to letter in four sports. After the attack on Pearl Harbor in December 1941, he joined the military and was eventually sent to officer candidate school. In Fort Hood, Texas, he had his own Rosa Parks moment, 11 years before her challenge to segregation, when he refused to move to the back of the bus while traveling to base in 1944. Acquitted after a court-martial, he left the army (or perhaps vice versa) and joined the Kansas City Monarchs in the Negro Leagues.
At the same time that Robinson was playing second base for the Monarchs, the general manager of the Brooklyn Dodgers, Branch Rickey, was thinking about how to bring African Americans into the major leagues. In this he had the quiet support of the baseball commissioner, Happy Chandler, who noted that if blacks could die for their country in combat overseas, "they can play ball in America." But Rickey also faced the quiet opposition of the 15 other major league clubs.
An innovator who had pioneered the modern farm system and the use of statistical analysis, Rickey was both idealistic and shrewd. He genuinely felt it was long past time that black Americans be part of the national pastime; a devout Methodist, he refused to play baseball on Sunday during his conspicuously inglorious major league career (120 games over four years, with a career .239 batting average).
Rickey also knew there was a wealth of black talent that could improve his team and draw black fans to Dodgers' games. And he knew it had to be done carefully. Before taking any action, he sought the advice of black leaders about what kind of player to recruit and how to manage the transition. To provide cover as he evaluated the talent, he floated the possibility of starting a new Negro League. Reports began to come back about an infielder named Robinson. Rickey sent his favorite scout, Clyde Sukeforth, to check him out.
Jimmy Breslin's happy phrase, Sukeforth "could go out for coffee and come back with a second baseman." He was a shrewd judge of character as well as skills, and he liked what he saw and heard of Robinson. In August 1945 Rickey called Robinson in for a chat: "You were brought here, Jack Robinson, to play for the Brooklyn organization." In October 1945, to no fanfare, Robinson signed a Brooklyn Dodgers contract. He spent the 1946 season with the Montreal Royals, where he was spectacular, and made the big team out of spring training in Havana the following year. "My purpose," said Rickey on the announcement of the signing, "is to be fair to all people, and my selfish objective is to win baseball games."
Even in retrospect, it is difficult to imagine a better choice to play the role of pioneer than the 28-year-old Jackie Robinson. With his college and military background, whites could not patronize him (though some tried). With his reputation for challenging racism, earned in both the military and the Negro Leagues, blacks respected him. With a loving and tough-minded wife, Rachel, he had a solid emotional foundation. And his own athletic abilities and strength of character allowed him to excel even as he faced vicious abuse.
While the white press certainly noticed the moment, the black press had a surer appreciation of its importance. For example, the edition of New York's Amsterdam News that came out after his debut featured no fewer than 14 articles on Robinson, 10 covering everything from his play (good) to how people should behave (no "loud and uncouth jokes"). Columnist Earl Brown was ahead of the game when he predicted that "Rickey will be remembered by posterity more for breaking the color bar in the big leagues than he will for any of the many other epochal things he has done in baseball."
It's worth remembering, too, just how good a player Robinson was. Under extraordinary pressure, he had a career batting average of .311 and an on-base percentage of .409; he won the Rookie of the Year award in 1947 and Most Valuable Player in 1949. He was a dynamic base-runner who helped move the game away from its station-to-station lethargy. Most important, he was a competitor, who would steal home or lay down a bunt or break up a double-play to win a game. "He came to beat you," said manager Leo Durocher. "He came to stuff the damn bat right up your ass." Bill James, the baseball historian and statistical genius, ranked Robinson the 32nd best player ever.
And Robinson did all this under a kind of pressure no other player has ever faced—from vicious bench-jockeying to isolation from his teammates to the extraordinary expectations of other black Americans. Infielder Ed Charles, who would have a solid major league career from 1962 to 1969, remembered how as a boy, he and his friends followed Robinson to the train station after watching him play in Florida: "When the train pulled out, we ran down the tracks listening for the sounds as far as we could. And when we couldn't hear it any longer, we stopped and put our ears to the track so we could feel the vibrations of that train carrying Jackie Robinson." Hank Aaron put it simply, "He gave us hope; he was the Dr. King of baseball."
Robinson was the first black American to excel in a white-dominated pro team sport. Previous African American stars, such as Jesse Owens and Joe Louis, had made their names in individual sports. Being part of a team, with all the implications of physical proximity and mutual dependence—that was different. Robinson's success, playing side by side with white teammates, proved that he was equal to the moment. And it didn't take long before his skills and character earned the Dodgers' respect. When Philadelphia players were particularly abusive to him about six weeks into the 1947 season, other Dodgers rallied to Robinson's defense. By 1949 Robinson would say that "racial tensions had almost completely dissipated" on the team. He and other black Dodgers, such as Roy Campanella and Don Newcombe, would play key roles in Brooklyn's only championship in 1955.
All this raised an interesting question: If blacks could excel while competing with whites at the highest level of baseball, and also become acknowledged leaders in the clubhouse, what else might they be capable of? Historian Cornel West put it this way: "More even than either Abraham Lincoln and the Civil War, or Martin Luther King, Jr. and the Civil Rights movement, Jackie Robinson graphically symbolized and personified the challenge to the vicious legacy and ideology of white supremacy in American history."
Baseball likes to pat itself on the back for integrating a year before the military and many years before other major institutions. To some extent, it deserves that pat. But remember, too, how slowly it went; in 1953 most teams still didn't have a single black player, and in 1960 the American League had all of six. Moreover, the baseball establishment also proved remarkably myopic about how it went about integration. For almost two decades after his debut, Robinson and the black Americans who followed frequently could not stay at the same hotels as their teammates. Well into the 1960s, teams were sending talented young black players to get minor league experience in the South Atlantic League, an experience that embittered everyone it touched. There was next to no progress for 40 years in terms of bringing blacks into the business or management sides of baseball.
This speaks to a larger issue. While the integration of the major leagues was an important and positive historical moment, no substantive change comes without losers. In this case, the loser was the Negro Leagues. Blacks had been playing baseball for as long as the game existed. Beginning in the early 1900s, they played exhibition games against white teams, and often beat them. These contests regularly disproved the lie, peddled for years by baseball Commissioner Kenesaw Mountain Landis and others, that the reason there were no blacks in major league baseball was because none had proved good enough.
After Robinson's debut, white baseball skimmed off the best talent—often with limited or no compensation. The Negro Leagues could not survive. And with the end of the Negro Leagues came the end to many things: black coaches and managers; black vendors; black suppliers; black promoters, marketers, and accountants.
For his first two years in the major leagues, Robinson had turned the other cheek to abuse, at Rickey's urging. In 1949, his third year, he began to showcase his outspoken and combative nature. Not everyone liked what he had to say. After Rickey left the Dodgers in 1950, Robinson's relations with the team's management grew testy and then toxic. It didn't help that he suffered the blow that comes to all athletes: age. After the 1956 season, the Dodgers announced that they had traded Robinson to their detested rival, the New York Giants, for the baseball equivalent of a ham sandwich. Robinson resigned instead. Elected to the Hall of Fame in 1962, he paid tribute in his speech to his wife, his mother—and Branch Rickey, but not to the Dodgers, whom he never worked for again after he turned in his uniform. He had moved on to a career in business and a crusade of civil rights activism.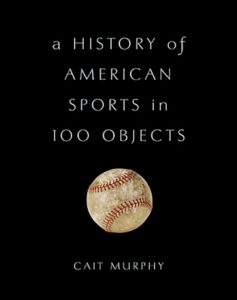 Adapted from A HISTORY OF AMERICAN SPORTS IN 100 OBJECTS. Used with permission of Basic Books. Copyright 2016 by Cait Murphy.
---