Is Summer Finally Here? 8 Books Set on the Jersey Shore
Katie Runde Recommends Some of Her Favorites
The first time I brought my Midwest college boyfriend to my Jersey Shore hometown, we took a drive up the coast. Distracted, I assume, by my cool taste in music and my sparkling conversation, he finally asked after half an hour if we were "still in Seaside," and I laughed so hard I almost swerved into oncoming traffic. We had driven through about twelve towns by then, how dumb was this dude from a flyover state?
I composed myself and used my most patient teacher-in-training voice to explain how different each town we'd driven through was, from the Mantoloking beachfront mansions to the tiny Normandy Beach bungalows. The next day we went to the quiet beach in Seaside Park, where surfers, fishermen, and ladies in beach chair circles all mind their own business.
That night we went to the bass-thumping, neon-lit Seaside Heights boardwalk where all the guys were Jaeger-slamming and fist-pumping and the girls were wiggling their barely-covered butts all around at the bars. This was years before the Jersey Shore reality show. We drank some two-dollar Coronas and I dragged him out to the dance floor to get closer to the Bon Jovi cover band.
People from far enough outside the Jersey Shore's radius might only know it from Springsteen and Snooki, the working-class rock-and-roll poet and the unapologetic party girl (and, it should be noted in a piece about books, a bestselling author, whose work I sampled and enjoyed more than I thought I would). They each tell their own story of this place, but I propose reading the books below as another way to get to know it, whether you lost your virginity after your prom in Seaside (a traditional New Jersey rite of passage) or live a thousand miles away but never skip "Thunder Road" in a Spotify mix.
Or, take a look if you're a beach book enthusiast and have read a hundred stories set in Nantucket or on Hamptons estates, but have never ventured down the Garden State Parkway for your summer reading. Welcome… Judy Blume has a rest stop named after her now!
These books set on the beaches and boardwalks of the Jersey Shore feature characters returning home, escaping, and observing amidst the rhythms of summer, working in casinos and bars and keeping family businesses afloat, facing loss, and forging unlikely friendships. They are all good additions to a syllabus on the shore's place in pop culture and history.
And they were all good company as I release The Shore, my own novel set there, all the way from the flyover state where I moved with that guy from college with all the questions.
*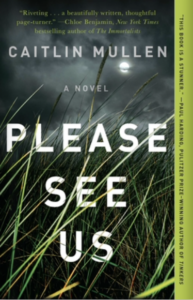 Caitlin Mullen, Please See Us
(Gallery Books)
Please See Us is a dark version of a woman-returning-home story, set against the gritty backdrop of a modern-day Atlantic City. A growing cast of murdered women lurk in the background, trying desperately to tell pieces of their own story from the sulfurous bay behind The Sunset Motel.
Meanwhile, Lily, nursing a heartbreak and public humiliation and reeling from the loss of her glamorous New York art gallery life meets Clara, a boardwalk psychic with a lot of baggage, and their lives become intoxicatingly intertwined. The shadowy textures of the once-glamorous city and the inner workings of casinos in decline are pitch perfect and immersive.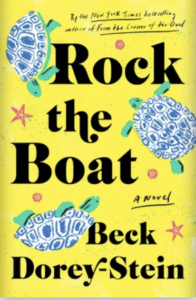 Beck Dorey Stein, Rock the Boat
(Dial Press)
Kate Campbell also returns to her Jersey Shore hometown after heartbreak and professional failure in New York City. Stein makes every local landmark in (fictional) Sea Point feel familiar, from the Wharf hotel beloved by locals and Instagram influencers alike, to the Acme and tiny library. There's an authenticity to the way Kate resumes all her practiced rhythms bartending at the Wharf while wrestling with the lost friendships, unrequited loves, family dramas, and losses that have changed everyone since she left home.
It's not easy to build a big cast and make them all feel flawed and funny, to imbue the locals with equal measures of unconditional love and skepticism for the prodigal daughter, but Stein makes it look easy. I especially appreciated the villain of Sea Point, an evil developer who wants to knock down all the cute bungalows to build boxy behemoth rentals. My parents served on our small town's planning and zoning boards, so I heard controversies about setbacks and second kitchens at our dinner table.  Stein somehow makes this very specific aspect of shore town regulations and politics a sneaky, controversial plot point.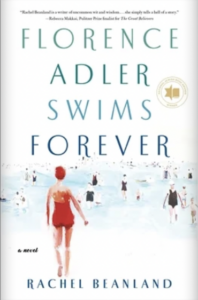 Rachel Beanland, Florence Adler Swims Forever
(Simon & Schuster)
My favorite historical fiction is set in times when the whole world is about to change. Atlantic City in 1934 is glamorous old-fashioned beauty an ocean away from the tensions brewing in Europe, and the perfect place to tell the story of the Adler family, protecting each other, keeping their business running, and welcoming new life into the world amidst their grief. Inspired by her own family's history, Beanland shows us how ahead-of-her-time Florence was, and illustrates with subtle grace and deftly balanced multiple viewpoints how grief both isolates and connects us.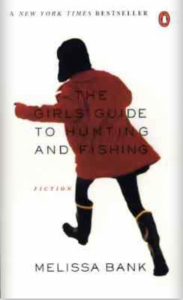 Melissa Bank, The Girls' Guide to Hunting and Fishing
(Penguin Group)
Only one chapter of this iconic 1999 novel is set on the Jersey Shore, but it's the book's best chapter. Jane is an observer of and interloper in her older brother's relationship with the wealthier, more-glamorous Julia. It's got the magic and longing of The Member of the Wedding by Carson McCullers, and the snarky observations of the best Judy Blume characters.
Whenever Julia visits their Jersey Shore house, there are awkward references to the more-glamorous beach town where her family summers, in Southampton; she's never rude, but she can't help but drop casual references to the kinds of parties Jane only knows from her summer reading, The Great Gatsby. Jane is hyperaware of how her brother moves toward and away from Julia, she is awkward and friendly and curious in her own conversations with her, and forms her own judgments about her brother, who can't seem to settle down or love Julia's lovely poise and grace without feeling self-conscious about his social and professional status.
We get to know Jane later, when she is Julia's age, and this chapter where she's still snarky and bored, lying around on the beach and eavesdropping and crabbing from the back deck, stays in her DNA as her life and her own complicated loves unfold.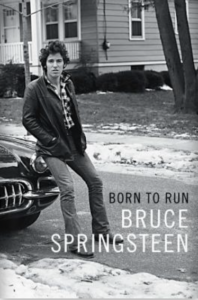 Bruce Springsteen, Born to Run
(Simon & Schuster)
Even though Springsteen's time spent at the shore in this 500-page memoir is relatively short, the images of the boardwalk freaks and his under-the-pier lusty summer loves loom so large in his catalog I had to include it. Before his regular stints at West Village bars and his band's treacherous cross-country road trips (he didn't have a driver's license!), he spends the summers of his early career on the beaches and boardwalks of Asbury Park, Bradley Beach, and Long Branch, and even lives in a surfboard factory for awhile.
I loved imagining the parts of this book where he's getting beaten up by waves or crashing at a girlfriend's beach apartment and all the fortune-teller, neon glow, I gotta-be-leaving-now lyrics that he was scribbling amidst it all. One thing you won't find Springsteen doing in his Jersey Shore chapters is working a day job to keep the shore economy going—he takes great pride in never having one.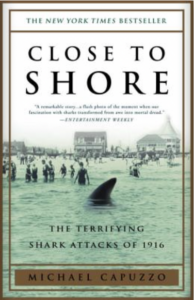 Michael Capuzzo, Close to Shore
(Crown)
Fans of looming danger will love this nonfiction account of a series of shark attacks along the Jersey Shore in 1916, when a rogue Great White attacked ocean swimmers from Beach Haven to Long Branch and even swam several miles inland.
Capuzzo weaves together accounts of the victims' lives before the attacks, the hysteria of the hunt for the shark, and the historical context, when the world was on the brink of destruction but Americans were still isolated from the turmoil. He infuses details about sharks and their biology, local politics, and a Museum of Natural History ichthyologist, and somehow this story that hinges on a few violent moments maintains the momentum of a Hollywood thriller. I also recommend the audio version, read by Taylor Mali, who sounds like an old-timey reporter and takes us through this dark story with a captivating urgency.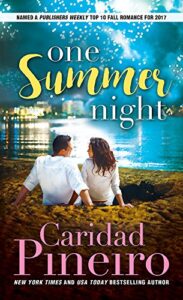 Caridad Pineiro, One Summer Night
(Sourcebooks)
Set in the fictional, wealthier Jersey Shore town of Sea Kiss, One Summer Night has all the familiar beats of a Romeo and Juliet-ish, rivals-to-lovers romance. When we meet Maggie she is trying desperately to save her family's retail empire, while Owen, whose family's beachfront mansion is next door to her family's, wants to break free of his father's influence. Of course they both want each other, immediately, intensely, and often.
NY Times bestselling author Piñeiro is not shy with the sex scenes, or with her indulgent descriptions of all kinds of other longing and hunger—you may be as turned on when the characters order takeout as when they go to the bedroom. Locals will love the characters' frustration with the lack of porkroll breakfast sandwiches in New York City and the strategic use of the term "Benny," a word only used to describe out-of-towners in this particular stretch of the Jersey Shore and a secret code word that automatically makes everything else more authentic.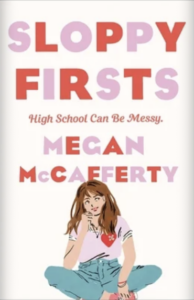 Megan McCafferty, Sloppy Firsts
(Wednesday Books)
McCafferty fictionalizes the New Jersey pine barrens town of Bayville, where she and I attended the same high school several years apart, into "Pineville." But she keeps the real name of Seaside Heights, the town where all her characters work for summers in the late 1990s, and includes all the best details of the era, from the wheel game where you could win cartons of cigarettes to the taunting mystery of which of their Pineville classmates is disguised in the "shoot the geek" game.
Everyone from Pineville works on the boardwalk, staring out at the sea of tanned half-clothed bodies streaming by or meeting up on their breaks from operating the Himalaya ride and making soft-serve cones to ogle and obsess over their crushes. McCafferty's narrator Jessica Darling is as snarky and judgmental as she is lonely and longing to find her place in the high school hierarchy, and her feelings only intensify in the sweat and hustle of the summer.
I first read this book at age 19, while I was in college a thousand miles away from Seaside. I was a lot like Jessica Darling as a teenager, smart enough to call out the less-than-classy elements of Seaside's culture, adept at talking to customers about whatever they brought up while I rang up their hot dogs, from how drunk they got at the club to what idiot had tailgated them on the Parkway all the way from Paramus. Like Jessica, I was determined to get the grades and mile times to launch me to some other, better place. It would take years, in so many other towns and cities a two-hour bus ride or red-eye flight away from Seaside, to understand what a gift growing up in this weird, beautiful place had really been.
---