Is Revenge-Baking a Thing?
Becca Rea-Tucker Finds Kitchen Catharsis with Black Pepper Snowballs
In the process of writing my book, I spent a lot of time researching a variety of resources about exploring our emotions. In the process, I discovered that there are a *lot* of books written for children about understanding their emotions (special shout-out to Madalena Moniz's beautiful book Today I Feel . . . An Alphabet of Feelings).
We recognize that an important part of a child's development is gaining the ability to identify, name, and understand emotions. As we get older—though our emotions grow in nuance and complexity—we seem to think we're done with this learning process. Yet, sometimes (quite often, really!) we grown-ups need some support to sort through our emotions too. Navigating the complex waters of our feelings is a lifelong process.
Of course, there are many books about feelings for adults as well, but in my experience the majority of them are focused on identifying emotions for the purpose of overcoming them or fixing them, rather than feeling them. With this framing, feelings become something to be handled rather than explored curiously. And if your goal is simply to "handle" your feelings, you can miss out on a ton of helpful stuff. Your feelings serve a multitude of purposes: to help you orient yourself in the world, to protect you, to guide you, and to connect you with other feeling-havers. Yes, they're messy, but so what?
There are many books about feelings for adults as well, but in my experience the majority of them are focused on identifying emotions for the purpose of overcoming them or fixing them, rather than feeling them.
To be clear, I am not a psychologist, therapist, or social worker. I am simply a human with a few decades of lived experience feeling (and also not feeling) my feelings. And, of course, an experienced baker! Remember those super cool Choose Your Own Adventure books you read as a kid? This book is like a grown-ups-who-like-baking version of that genre.
If at this moment you're like, "What are you talking about, I've never heard of those," think of this book as an interactive resource with some more structure (and excitement!) than your standard cookbook. I've compiled a comprehensive list of feelings across the emotional spectrum and developed a recipe with each one in mind. Now here's where you come in: you can choose what to bake based on what you're feeling—whatever that is.
*
VENGEFUL
You might be feeling like you deserve compensation for the wrongs perpetrated against you.

I'm so sorry that someone did you wrong. And I'm positive that you don't deserve it. Also: I'm glad you know what you deserve, and recognize that you didn't get it. Wanting revenge is super common! I'm pretty sure it serves as the plotline in 75 percent of thriller movies. Vengeful is, by definition, a past-focused feeling. So let's spend some time dreaming about the future.
Here's what I want you to do:
Spend the next five-ish minutes writing down everything that you want from your life. This can be anything! Places you want to visit, the chosen family you want to build, feelings you want to experience, contributions you want to make, foods you want to try. maybe you want to live in a house on a cliff next to the sea.
Maybe you want to invent something that no one's ever thought of. Maybe you want to host huge holiday dinners with your approximately sixteen grandchildren. Maybe you want to learn how to make wine or win a spicy pepper eating contest. Maybe you want all of these things, or none of them! Whatever it is you hope for, take some time to envision all the wonderful things you completely deserve.
*
BLACK PEPPER SNOWBALLS
Makes about 36 cookies.
I know you might be skeptical about the pepper. In fact, adding black pepper to cookies might even sound like a form of revenge! But just suspend your doubt and trust me for an hour—I promise you it works. These are a variation of the traditional holiday cookie—full of ground nuts and completely covered in powdered sugar. They have a deep, sweet, satisfying flavor from the toasted walnuts, dark brown sugar, and a healthy pinch of freshly ground black pepper. You mix the cookie dough with your hands (yay). And please note: It does not have to be a holiday for you to make and enjoy these cookies.
Dousing things in powdered sugar is a great activity when you're incandescent with thoughts of revenge. There's something really cathartic about being able to visualize the furious feeling flying all around you.
*
INGREDIENTS
For the cookies
11/2 cups (175g) toasted walnuts 1/4 cup (50g) dark brown sugar
1/2 teaspoon freshly ground black pepper 1/2 teaspoon fresh lemon zest
a pinch of ground nutmeg a pinch of kosher salt
1 cup (130g) all-purpose flour 1 teaspoon vanilla extract
1/2 cup (1 stick, 113g) room temp unsalted butter, cut into 1/2 inch pieces
For the coating
1 cup (120g) powdered sugar, for rolling
*
THE HOW-TO
1. Preheat the oven to 350ºF and line a baking sheet with parchment paper.
2. In the bowl of a food processor, pulse the walnuts, brown sugar, black pepper, lemon zest, nutmeg, and salt until finely ground.
3. In a medium bowl, whisk together the nut mixture and flour. Add the vanilla extract and butter pieces. Using your hands, mix until a dough is formed.
4. Roll into 1-inch (pretty tiny!) balls. Bake for 14 to 15 minutes, until set and slightly golden.
5. As soon as the cookies are cool enough to handle, gently roll them in the powdered sugar. Transfer to a wire rack. When the cookies have cooled completely, shower them in more powdered sugar. Store at room temp in an airtight container for up to 5 days.
_________________________________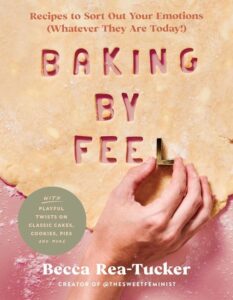 From Becca Rea-Tucker's Baking By Feel, available from Harper Wave
---