Is Fabulism the New Sincerity?
Brenda Peynado Considers the Dishonesty of Irony
At a recent job interview, where I read a story of mine that included angels perched on the rooftops of a suburban neighborhood after a school shooting, someone asked, "But why the angels? Why not just write about a school shooting?" He meant it as a general critique of magical realism and genre. I had, of course, prepared for the question. I was about to publish my debut collection which includes realism about Latina girlhood alongside angels, ghosts, aliens, and Latin American superheroes, and I'd had to defend my love of the fantastical in almost every workshop I'd gone through.
Nerves got to me. I only said, "Why reality? And hasn't fiction always critiqued the idea of reality in various ways? What is reality? What, ultimately, can we count on as real?"
But that wasn't what I wanted to say. I wanted to tell him a story.
I was a 90s teen; I wore neon, subscribed to punk rock's nihilism, and embraced the "apolitical." When the Oklahoma City Bombing and the Columbine shooting happened, they seemed to point towards aberrations from my suburban reality rather than exemplars of what was beneath the surface of all that green lawn, all those school days. Adult fiction was rife with self-deprecating maximalists, shoulder shrugs disguised as words.
This was the decade of Wall Street, of the dot com boom, of AOL chat rooms where you could pretend to be anyone. Irony was king, and Alanis Morissette sang the decade's theme song. As teens, we had the rhetoric down pat: If you joke about everything, if you are self-deprecating and sarcastic, you can have it both ways. You can offer a temporary truth tinged with the admission that you know you're full of shit anyways. If anyone calls you on it, you can say you were merely joking. What was intolerable was being completely sincere, being called to account.
That decade, I also read science fiction's what-ifs, fantasy's heroic saviors of disappearing worlds, and the Latino Boom's magical realism. Although I've heard magical realism misunderstood as just "magic presented as real" (that's fantasy), magical realism of the Latino Boom variety typically has multiple layers of reality rubbing against each other.
I'll never forget the banana company massacre in One Hundred Years of Solitude, all traces of it somehow erased from history, everyone telling the person who saw it that it had never happened. Or the plague of ants in The House of the Spirits, science giving one solution and magic and superstition giving another. (Guess which won.) Or the way that outside the haunted rooms of the house in Beloved, the world that wanted to ignore the trauma of slavery continued. All of them gave a critique of the real. All of them offered lies, magic, leaps of imagination. But none of them had irony's nihilism. Instead, they relied on wild conceits that acknowledged their fictional nature while at the same time exposing truths the wider world wanted buried.
At some point, irony stopped working for me. Irony relies on a mutual understanding of the real. Sarcasm only works when both the speaker and the audience are in on the joke and understand that in sarcasm's secret code everything is an intentional lie. And at some point, it was clear that my reality—as a Dominican-American, as a woman, as a survivor of sexual assault—diverged. Not only that, but it was getting buried. I wanted to save it from erasure. I did not want to present with sarcasm's lie, with irony's shoulder shrug.
To some, previous decades' challenges to reality must have been refreshing—ironic maximalism, quiet minimalism, postmodernism, and their rejection of politics and sentiment. Or perhaps, so secure in their own realities, they could afford a few minutes a day when they pretended that their sorrows didn't exist. Perhaps the man who asked me, "Why angels?" was one of these. He was, as far as I remember, a white man. He looked as dissatisfied as I was with the quick response. I had given him only questions, and he struck me as someone who relished answers and sure-footing.
For so many of us, however, there are only questions. Our lives alternate between kaleidoscope and mist that slips through our fingers. As soon as we think we know something, someone comes along that makes us feel crazy. A gaslit life: "No, that was not rape. That was just a miscommunication. He's clearly a good person to everyone else." "No, you're not really queer; it's just a phase." "No that was not racism; it's just that the other Hispanics I've met haven't been good people." Suddenly or incrementally, irony is not enough. A critique of reality only plays to the gaslighters. We must draw a line in the sand, different realities on each side, sarcasm malfunctioning because either side cannot agree on who is lying.
But where could we 90s kids go from irony? We the gaslit 90s kids. We the othered 90s kids. We the kids who maybe played along like we were in on the joke until the lie felt too heavy to believe.
There was a time in my life before irony, a time of wonder. Every summer of my childhood, I was whisked away from my suburban Florida home to the Dominican Republic. Any reality I had in the states was shattered. Gone were the bright lawns, the sprinklers casting rainbows on sidewalks, rollerblades, homes lit impossibly, electrically, radiant.
A critique of reality only plays to the gaslighters.
Instead we greeted my grandmother in power grid brownouts by oil lamplight. Traffic lights, stop signs, lane dividers were not laws but dares. The suburbs of Bonao were ruled by chickens which a gaggle of my cousins ran after through the hedges. The streets of Santo Domingo were clotted with street vendors who sold you fruits you'd never find in the States: guanabana, uvas del mar, cajulitos solemán. And even just naming something in Spanish could lend the object an entirely different sheen. I was a child, so I was earnest, starstruck with wonder, but even then I could see that anything "real" could be utterly transformed by a short plane ride, by the blink of an eye.
When I started writing, I started with irony. I ended up throwing all that writing away; it felt dishonest. Then I went back to the wonder I learned in childhood. I wanted earnestness. I wanted to save realities from erasure, even knowing how little people could agree was "real." I ended up writing fabulism, speculative fiction, fantastical fiction. Angels in a school shooting. Aliens confronting a microagressive mother. Basement ghosts coaching two girls on love. Realism, too, about people trying to hold onto or confront what's been hidden from them.
I don't think it's coincidence that most of fabulism's headliners—Aimee Bender, Kelly Link, and Karen Russell—are not men. Gaslit realities are all too familiar to women, and excavating the lives of women and girls from underneath male voices sometimes takes acts of magic. Their stories use magic and conceits to reveal truths, often celebrating sentiment (as in many of Karen Russell's stories), bewilderment at dominant narratives (as in many of Aimee Bender's stories), and horror at things "reality" takes for granted (as in many of Kelly Link's stories).
It's also not a coincidence that recent fabulist and speculative collections have been written by people of color—Carmen Maria Machado, Nana Kwame Adjei Brenyah, Lesley Nneka Arimah, Te-Ping Chen. These collections run the full gamut of human expression: horror, sentiment, bewilderment, wonder. They use speculative conceits like magical fruits that confer joy and sorrow, zombie diseases, and people falling from the sky to offer perspectives erased or ignored, to disarm anyone who'd like to quibble about our existence.
So, what comes after irony? For me, it's wonder and horror, magic and sorrow. Why angels? I'm insisting on a truth that spites realism. It's truth-telling in a world that won't believe us. Fabulism, a new sincerity.
__________________________________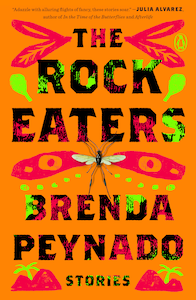 The Rock Eaters is available from Penguin Books, an imprint of Penguin Publishing Group, a division of Penguin Random House, LLC. Copyright © 2021 by Brenda Peynado.
---