Interview with an Indie Press: Transit Books
On Books that Begin as an "Intimate Conversation"
Transit Books, based in Oakland, California, is now in its sixth year of publishing books that push the boundaries of form, from Namwali Serpell's Stranger Faces, a finalist for the National Book Critics Circle Award for Criticism, to Preti Taneja's Aftermath, a meditation on grief, terror, and memory. Co-publishers Adam Z. Levy and Ashley Nelson Levy answered questions about getting an independent press off the ground, what their authors have in common, and pursuing stories that larger publishers might otherwise leave behind.
*
What are some of the benefits of working at an independent press?
For a long time after Ashley and I started the press, we had our acquisitions meetings over dinner. This was in part because we had other full-time jobs so the work of the press found its way into odd hours of the day and in part because our decisions around a book didn't rely on the input of marketing or sales departments, though I'm sure it would've been nice to have a few other people providing smart business insights. Which is to say that our considerations weren't dictated by our perceptions of the market we were publishing into and instead were determined by what we wanted to make space for in the market. More books in translation, more books oriented against the grain, more books that push the boundary of what a novel or essay can be.
I see this as one of the greatest benefits of working at an independent press and of course at Transit. We get to publish creatively and boldly, with our elbows out, to make room for the books that challenge and excite and show us how we've gotten where we are and shine a light on what's ahead. We're coming up on our five-year publishing anniversary in April, and are fortunate that we've gotten the chance to edit and learn from some of the best writers and translators working today.  –Adam Z. Levy, co-publisher
I've always liked what Cynthia Ozick once wrote about small press publishers, that "they concentrate on making room: for eccentricity, for risk, for poetry, for the odd essay and the odder fiction; for the future. Unexpectedness is what the small presses are open to. They are like the little shoemakers who come unseen at night to stitch the leather no one else can master."
I've often thought about this phrase "making room." I think it captures what a press like ours does best, what we can focus on as an indie and a nonprofit. When I think about the last five years, many benefits come to mind—the relationships we've built with our readers, our authors, our translators, for example. To highlight and celebrate a translator's presence in the text rather than obscure it. Including translator's notes in the back of a book is one way of doing this, or putting on events that feature translators, or now with our online series Postscript, which features translators unpacking a single sentence from their work. And putting the translator's name on the cover has always been part of our process. It's true, though, that the books on our list have always begun as an intimate conversation between Adam and me before taking their winding routes out into the world. That's been a benefit, too.  –Ashley Nelson Levy, co-publisher
*
What are some of the challenges of working at an independent press?
Before we founded Transit and before we got started in publishing, I had more of a reader's encounter with the market: the books you saw on the front table in bookstores, the books you saw getting big reviews, the books you (you, a not very online person) heard people talking about. It can have the appearance of something even meritocratic. It was hugely naive of me not to realize the role that corporate marketing budgets played in all this, and the effect of decades of corporate consolidation in general, and how none of it is really meritocratic at all. But independent presses have always operated in a fragile ecosystem. I see potential for more of us to band together and advocate for the work we do, to work more collaboratively with independent bookstores. We're constantly learning and trying to find new ways of reaching readers, who are at the center of everything we do.  –Adam Z. Levy, co-publisher
"It's possible that unexpectedness is the common thread in our list at Transit."
There's also, always, the question of money. We're a small, nonprofit publishing house. The press isn't backed by corporate shareholders or enormous private funding, so the challenge to keep doing what we're doing lives alongside the work every day, from year to year. Adam and I founded the press while working full-time jobs; I still work a full-time job on top of contributions to the press. But we're growing and continue to feel optimistic about what's ahead.
And yes, to Adam's point, independent presses have always operated in a fragile ecosystem. We'll never be able to financially operate like a larger corporate publisher, but how often I'm reminded that indies like ours came into being because of them—because of gaps left in the marketplace. Though it sometimes feels like a tight squeeze in there, it's where we've made our home.  –Ashley Nelson Levy, co-publisher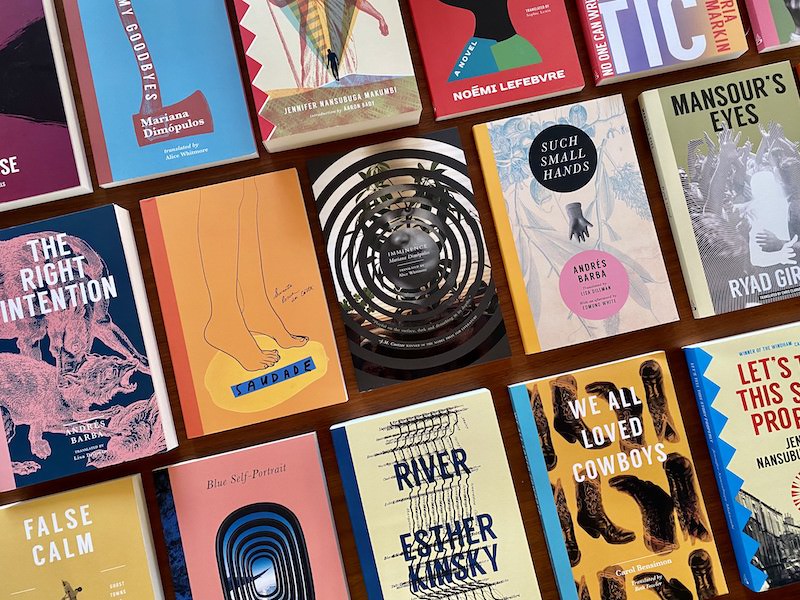 *
Is there a particular quality, style, or other characteristic that connects the projects that you take on?
There's a broad range of styles and concerns among the books on our list, but I think they all share a certain aliveness to language and form, from Sophie Lewis's translations of the hilarious, dexterous turns in Noémi Lefebvre to the eerie, defamiliarizing compression in the stories of David Hayden… And then there's the nonfiction, too. We often think about the way books speak to one another in a season—their contrasts, their patterns. It's a conversation that builds across a year and then across the entire list.  –Adam Z. Levy, co-publisher
I mentioned Ozick before—the "unexpectedness" that small presses are open to. It's possible that unexpectedness is the common thread in our list at Transit. As Adam said there's tremendous variation in the work, but each one has made a new claim for what a book can be.  –Ashley Nelson Levy, co-publisher
*
What are some of the biggest risks you've taken as a business? How did you navigate them?
We launched a new series last year, Undelivered Lectures, which features book-length essays in small handsome editions. The idea was to provide an outlet for boundary-pushing nonfiction that didn't have an easy home in a 300-page hardback or in a longform piece for a magazine. Something about that interstitial space felt like a natural outgrowth of what we'd been building in our list. It allowed for a capaciousness and a range of formal approaches, styles, and focus. Reaching out to writers about contributing to the series brought us back to when we were first starting the press, when we were making promises that we hoped we'd be able to keep. Was there really an appetite for this kind of stuff? But the series has gotten off to a great start. We're four books in, with contributions from Mary Cappello on the forgotten art of the lecture (Lecture), Mariana Oliver's essays on language, movement, and home (Migratory Birds, tr. Julia Sanches), Preti Taneja on atrocity and grief (Aftermath), and Namwali Serpell on the legibility of the face and the pleasure we take in the strange (Stranger Faces), which was a finalist for the National Book Critics Circle Award for Criticism.  –Adam Z. Levy, co-publisher
It's funny that Adam mentions the feeling of first starting the press—that was going to be my answer, perhaps the biggest risk of all. We had to make commitments up front to secure distribution and begin signing authors and translators. It was an incredibly exciting time and also an incredibly daunting one. We did a lot of work behind the scenes for two years before publishing our first book—fundraising, filing for nonprofit status, finalizing business plans for our distributor, curating our first year's list—and I remember there was actually a feeling of tremendous relief when our first book came out in 2017: Andrés Barba's Such Small Hands, translated by Lisa Dillman, which we had just sold to Granta in the UK. We went to the AWP Bookfair with one book to peddle. But we were on our way, and most importantly we were beginning to understand that there is an appetite for this kind of stuff. And for good reason.  –Ashley Nelson Levy, co-publisher
*
What are some projects you're particularly excited about at the moment?
We just published Aftermath by Preti Taneja, a powerful, personal book of criticism on the language of terror, grief, and atrocity. The book was written in the wake of the 2019 London Bridge killings, in which the perpetrator, Usman Khan, killed two people, Jack Merritt and Saskia Jones, at a reunion for a writing class he had participated in while in prison. The book began as a conversation with Preti a few months after the attack. I didn't realize at the time how close the event had been to her. She had taught in that program: Khan had been her student and Merritt her colleague. Ultimately the book isn't about the killing. It's an anti-racist essay that explores the ways in which racist state institutions fail communities of color and the author's own attempt to regain trust in language and narrative in the aftermath of trauma. It was a privilege that Preti entrusted us with the book. It should be required reading if you're interested at all in the movement for prison abolition.  –Adam Z. Levy, co-publisher
Alongside Aftermath, I would also add the modern classic we're publishing in April: I Who Have Never Known Men by Belgian writer Jaqueline Harpman, who died in 2012, translated from the French by Ros Schwartz. It's about forty women who are imprisoned underground and their escape and survival in the strange world that awaits them when they break free. It's a propulsive reading experience (I devoured it in one sitting) and an important addition to the canon of feminist speculative literature. I've never read anything like it.  –Ashley Nelson Levy, co-publisher
*
How do debut authors reach/pitch you?
We read agented submissions year-round. Otherwise, our open reading period runs from May through June, when we consider works in translation and proposals for our Undelivered Lectures series. We always look forward to seeing the projects people send in.  –Adam Z. Levy, co-publisher
---