Interview with a Bookstore: When the Mayor is Also a Bookseller
How Harrisburg's Midtown Scholar Bookstore is a De Facto Town Hall
Midtown Scholar Bookstore is 15,000 square feet of space with over 200,000 used and new books. Located near the State Capitol building in Harrisburg, PA, the bookstore is owned by the Mayor of Harrisburg (Eric Papenfuse) and his wife, Catherine Lawrence.
Questions answered by bookstore manager, Alex Brubaker.
*
What's the book you want to bring back into print? Your most-requested out of print book?
A perennial customer favorite, John O'Hara's A Rage to Live, the 1949 scandalous tale of Pennsylvania's social elite, set in Harrisburg and inspired by O'Hara's visits here, had recent Library of American and Vintage Classic editions but is again out of print.
There are many out-of-print works of regional interest that are so popular we can't keep secondhand copies in stock. Our customers would love to have modern reprints of a classic older works like George H. Morgan's Annals of Harrisburg (1906), Marian Inglewood's Then and Now in Harrisburg (1925), and George P. Donehoo's Harrisburg: The City Beautiful Romantic and Historic (1927). Maybe we'll just have to create our own local history reprint series to satisfy readers!
What's the craziest situation you've ever had to deal with in the store?
We once hosted two weddings, back-to-back, on a single New Year's Eve. Happily, the couples were pleased to coordinate their decorations, so the strings of decorative lights hung throughout the store could serve both wedding parties! A surprising number of couples want to get engaged or married in the bookstore, in our poet's corner or the rare books room. Our stacks of books, floor-to-ceiling bookshelves and rolling ladders, romantic alcoves, and book-lined passageways are also known in the region as a go-to place for engagement and other special photo-shoots! 
What's your favorite section of the store?
If pressed, we'd have to go with the art floor—we have thousands of books devoted to art history spanning continents, genres, and movements. We never know what we'll come across, but it's always weird and delightful. 
What would you say is your bookstore's specialty? 
Historically, we've been one of, if not the largest second-hand academic used bookstores in the country. That brings out an eclectic group of customers—academics, students, and anyone looking to deepen their knowledge on any given topic. While we selectively curate contemporary new releases and stock the must-have classics, we have a profusion of scholarly texts on wide-ranging subjects to satisfy the most ardent reader out there. We're the place for that kind of fun discovery that you didn't think you'd come across, but turns out you need.
Do you have bookstore pets or animal regulars? If so, can you please provide pictures and describe their personalities?
We don't have any bookstore pets (though there's a staff mutiny brewing if we don't get a cat soon).  However, we're dog friendly and have many canine regulars that frequent the store. Tyler the Golden Retriever is a staff favorite and the unofficial mascot of the Scholar, and he's been our talent used in multiple social media campaigns to increase our reach to dog-friendly customers. He enjoys hugs, compliments, and dumpster diving. (We once tried to get him on our payroll, but he immediately ate his W-2. We pay him in treats and hugs instead.)  
What's your favorite book to hand-sell?
It's impossible to pick just one—but our staff always loves connecting good books with eager readers. Whether it's a prescient political read, thrilling page-turner, or an under-the-radar classic, we're always game for a recommendation. Some recent favorites are Tell Me How It Ends by Valeria Luiselli, She Would Be King by Wayetu Moore, Circe by Madeline Miller, and There There by Tommy Orange. Then there's some favorite back-list favorites we love to recommend like Jean Rhys, Jorge Luis Borges, Georges Perec, Kathy Acker… the list could go on and on.  
What's been the biggest surprise about running a bookstore?
People still love to read—and they'll come out to your events if you make them entertaining and intellectually rewarding. We're here for all of that, and we've found that we've been able to successfully challenge the misperception of independent bookselling as a dying industry. 
There's more competition out there for people's time than ever before, so we have to be creative in how we get people looped into our retail ecosystem—being attentive to use of our space as both commerce-driven and community-driven, hosting events that appeal to a wide-ranging demographic, and making sure our curation is top notch. At the end of the day, people still love to read—and we want to be the space where they find that connection with literature. 
Tell us about your most memorable author event.
In June, we hosted Philadelphia Eagles Quarterback Nick Foles for a book signing a few months after their first-ever Super Bowl victory. We knew there'd be a positive reception to it—we're in Pennsylvania after all—but we didn't realize it would be quite the spectacle that it was. We had over 2,000 fans lined up out of the store, and we were able to get everyone through the line with five minutes to spare. Turns out football is a pretty popular sport.
What's your message to Amazon (and Amazon customers)?
There's so much benefit to supporting independent retailers and main street businesses. Keeping your dollars local goes back into your community—your roads, your neighbors, your local businesses, and your infrastructure. Also, bricks-and-mortar bookstores like us are where you should come if you'd like recommendations genuinely tailored to your reading tastes, not by algorithm or a publisher's paid promotional advertisement. Our staff loves hand-selling books, whether for your own reading or as the perfect gift for your aunt or your nephew, your boss or your co-worker, or even your spouse! We always have personalized suggestions at-the-ready.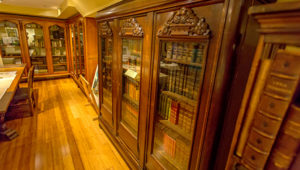 How do you use the bookstore to build community?
We love hosting events! Historically, the bookstore has been a special place in the community to host debates, panel discussions, book clubs, and author conversations and signings. We've been called the "de facto town hall of Harrisburg," which is a really neat compliment that aptly describes the role we want to play in the community. We strive to be more than just a physical retail space—the sense of community and intellectual engagement are vitally important, and we've worked hard to cultivate that. 
Have you felt any shift in what it means to be a bookseller under the Trump administration?
I think we've found it incredibly important to stay on top of the cultural moment. Booksellers are a sort of cultural and literary ambassador—it's on us to introduce our community to ideas and narratives that we stand behind as worthy of discussion, debate, and advocacy. So, I think the weight of that responsibility is felt more heavily during tumultuous political times. If we think a certain book is especially important, we'll promote it harder, feature it longer, and do our best to book the author for a discussion and signing. 
What's a bestseller that could only be big in your town?
Drum roll… City Contented, City Discontented: A History of Modern Harrisburg! Published by the only and only Midtown Scholar Press, the book reveals the fascinating history of our capital city. It brings together years of columns by a beloved regional newspaper reporter to explore where we were, how we got here, and where we're going as a city.
---