Interview with a Bookstore:
The Silver Unicorn
A New Little Store with Big Dreams
The Silver Unicorn Bookstore opened last year in West Acton, Massachusetts. Founder Paul Swydan answers a few questions below.
*
What's your favorite section of the store?
As a sportswriter, I should probably say the Sports section, but really it's Kids' Graphic Novels. For starters, it wasn't a section when we opened; I had the books mixed in with middle grade novels. But I quickly learned that kids wanted the graphic novels broken out. It's now one of our best-selling sections, if not our best. It's also a section I find myself having to defend more than most. So many parents don't want to buy graphic novels for their kids. Some are pragmatic—the kids finish the books quickly, so it feels like a waste of money—but some are just resistant to the idea of books with pictures in them. Our staff tries to stress that the most important thing is that kids want to read. Finally, there are just some really awesome kids' graphic novels these days, I wish there was this much variety when I was a kid!
What's your favorite book to handsell?
The two books I hand sell the most are Girl at War by Sara Novic and Station Eleven by Emily St. John Mandel. The latter is one of my favorite sci-fi novels. The former is one of my favorite war novels, but it's also a little special for me because I got to know Sara a little bit before I owned the store. When I was the editor of The Hardball Times, Sara wrote a piece for me for our annual book one year, and it was really great. It was such a treat to me to be able to work with someone who had written such an amazing novel—you don't get to experience that every day.
If you had infinite space what would you add (other than a bar/restaurant)? Be specific.
Oh my gosh, I have so many ideas, I drive my wife crazy. My initial idea was that I was going to have an ice cream shop in the store. That didn't come to fruition, but luckily we're getting an ice cream shop in the neighborhood, which is amazing. I've thought about adding a library of things, I've thought about adding a coffee and beer brewery, I've thought of adding a bakery, I've thought of adding a space to play board games, I've thought of adding a homework center. Unfortunately, I am extremely limited by my lack of space, but maybe someday . . .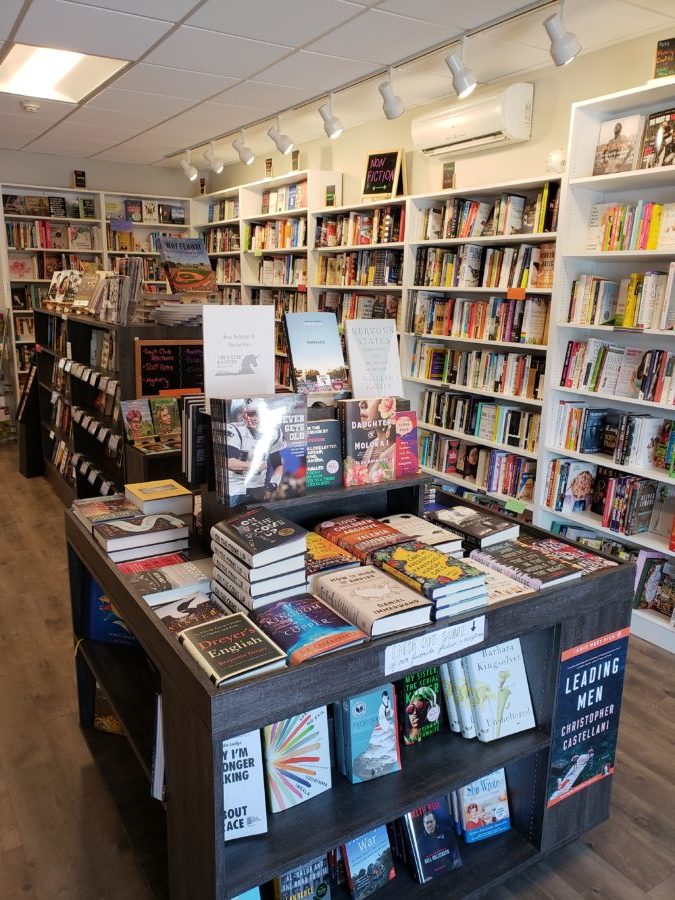 Who's your favorite regular?
My favorite regular was Megan Birch-McMichael. The first time she came in, a couple of weeks after we had opened, we talked for 45 minutes about writing. She's a writer like me—she's written for The Washington Post, Runner's World and Teen Vogue, among others—so we had that shared writer/freelancer mentality. She's also working on multiple book projects, which was impressive to me because I've never made it past page 2 any time I've sat down to write my own book. For the next six to seven months, we'd always talk whenever she came in. Then one day she emailed and asked if I needed any help at the holidays, and I said, no, not specifically at the holidays, but I could use some help in general, and just like that, Megan was our new store manager. I don't know how I got by without her!
Tell us about your most memorable author event.
We've had a lot of amazing authors in the store in our first year, people like Gregory Maguire, Jane Yolen, Peter H. Reynolds, and ESPN baseball analyst Keith Law. We're very fortunate to operate in a community with so many amazing authors. But my favorite event thus far, and probably forever, was on May 19, 2018. That was the day of our first book launch party, for Casey W. Robinson's Iver & Ellsworth. Casey, who lives locally, had contacted me about doing the launch before we had opened, so we kind of took a leap of faith together. Iver & Ellsworth is her first book (it won't be her last!) and it is just so sweet. The store was packed for her launch—we sold every copy we had on hand, and then the publisher—Rob Broder from Ripple Grove Press—pulled another nine copies literally out of the trunk of his car, and we sold those too. It was an amazing day, and Iver & Ellsworth went on to be our first book to surpass 100 copies sold!
What's your message to Amazon (and Amazon customers)?
My initial message is simple—check with us first. You can shop on our website, and I can get things as quickly (and in some cases more quickly) than Amazon can. That message has worked with our customers, but obviously we're not getting through to everybody. The second message is to ask people what kind of community they want to live in. I think that having local choice is important, but the big box stores did a good job of obliterating local choice in the 90s, and then Amazon came and really laid the hammer down. Now, people in many towns simply don't have a choice to buy lots of products locally. Acton is a bit of an outlier, in that we have dozens of independently run, local businesses, so I'm in a very fortunate position, but we still have a long way to turn the tide back to local businesses.
How do you use the bookstore to build community?
The biggest thing I wanted to do in year one is involve my town's school system. We've hosted events at the store for all six elementary schools in my town's school district. We've run book fairs for three of them, and have plans to add book fairs or events at the other three in the coming year. We also have worked to either host events at the store for various community organizations, or go out into the community and participate in them. Whether it's events like Fifer's Day, Third Thursdays, or holiday craft fairs at the local Temple, it's my belief that you go where people are—not everyone is just going to organically find you. I also would rather sponsor programs for local choirs, plays, dance recitals, sports teams, etc., than just put ads in the paper each week. One of the first events we sponsored was a fun run at one of the elementary schools in our neighborhood. Thanks to the event's sponsors, 500 kids now have free t-shirts that have our store's logo on it. That beats a newspaper ad every day of the week and twice on Sunday.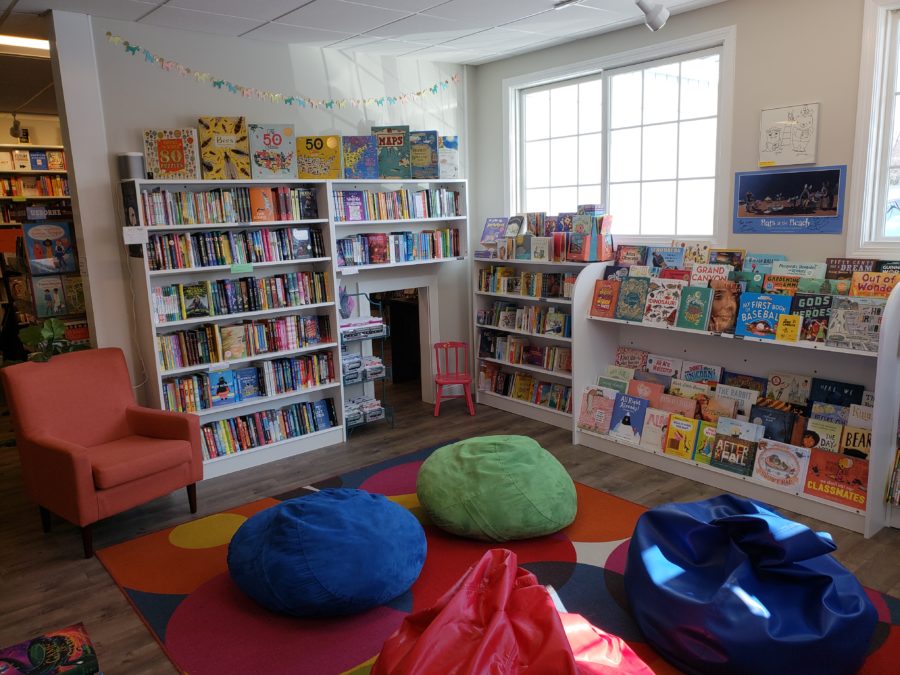 What's your favorite thing to sell at the bookstore that's not a book?
Items from other local businesses. We sell Cubze (cubed chocolates) from Acton's very own chocolate maker, The Happy Chocolatier. We sell pencil bags, coin purses and socks from Pittsfield, Mass.-based Blue Q. We sell GameWright games (Newton, Mass.), Taza Chocolate (Somerville, Mass.), and McCrea's Candies' caramels (Hyde Park, Mass.). We sell greeting cards that are made in New Hampshire (Tree Free Greetings) and Providence (Frog & Toad Press). The best might be the wooden trains that are replicas of MBTA trains. Kids really love them.
What's a children's book that made you cry/that you think all adults should read?
Iver & Ellsworth, which is loosely based on the Polar Beverages mascot, gets me every time. I haven't met a person yet who doesn't enjoy reading Josh Funk's Lady Pancake & Sir French Toast. I think adults should always try to get out of their comfort zone with children's books. Whether it's books that deal with illness (The Magic of Melwick Orchard by Rebecca Caprara or After Zero by Christina Collins would be recommendations for that), loss (The Rough Patch by Brian Lies) or racism (Ruth and the Green Book by Calvin Alexander Ramsey), kids benefit when the adults in their lives have a more well-rounded perspective.
What's been the biggest surprise about running a bookstore?
Just how many ways we can reinvent the look of the store. I recently changed the picture on our website's front page, and it was striking just how much has changed in such a short time. I can't wait to see what the store looks like a year from now, two years from now, five years from now. It won't look the same, I know that much!
*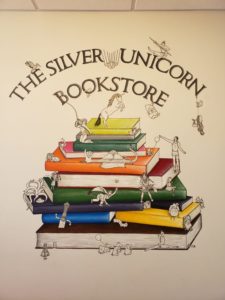 Shelf talkers
Recommendations from Silver Unicorn staff
Hanif Abdurraqib, Go Ahead in the Rain
If you have ever loved hip-hop, this is the book for you. While the book is about the seminal hip-hop group A Tribe Called Quest, Abdurraqib weaves in a great deal of hip-hop history, as well as personal stories and anecdotes, not to mention popular culture and current events at large.
Benjamin Dreyer, Dreyer's English
Chock-full of advice and fun facts, this book is invaluable to anyone who wants to shore up their writing skills, and mandatory for people who simply revel in language.
Ben Lindbergh & Sam Miller, The Only Rule Is It Has to Work
Did you ever want full control of a baseball team? Ben and Sam did, and a team in California gave it to them. The two try fun experiments like six infielders at a time, and learn a lot about what makes baseball great, even at the lowest pro levels.
Stephen King, The Stand
The Stand is the apocalyptic and post-apocalyptic thriller. It seamlessly combines story elements like good, evil, romance, war, religion, depression, intimidation and a sense of community, and wraps it around a story that fives into the details of the downfall and rebirth of civilization. This is one of the greatest books ever written.
Elizabeth McCracken, Bowlaway
I loved this quirky novel about the human eccentricities and the power of love expressed through the strangely moving story of several generations of bowling alley owners. Weird, but a great read!
---