Interview with a Bookstore: Harvard Book Store
"Book Store": Two Words Since 1932
Harvard Book Store was founded in 1932 by Mark S. Kramer, a native of Boston. With $300 borrowed from his parents, he opened a small shop selling used and bargain general interest books in Cambridge. Frank Kramer, Mark and Pauline's son, entered the business in 1962 and directed the company for over 40 years before selling it to local booklovers Jeff Mayersohn and Linda Seamonson.
Harvard Book Store has been locally owned and independently run—and, has spelled "book store" as two words—since 1932. As Harvard Square's landmark independent bookstore, the store is renowned for its selection (of used, remaindered, and new titles), award­-winning events series, and its history of innovation.
What is your favorite section of the store?
Liz (children's buyer, bookseller): Our bountiful staff recs wall! It's the first thing you see when you walk in.
Mark (store manager): Although I love reading history/biography/politics, at a given moment a particular title/topic on our shelves might not grab me. Essays, though, are the seed catalog of books; I can open almost anything there and find a new idea (or new expression of a familiar one) that makes things look different. It's easily my favorite section. And most of the best writing I've ever read has been in essays.
Katherine (supervisor, bookseller): My favorite section is our brand new romance section. It's tiny, but it didn't exist for the first 83 years of the store. There's a lot of great, smart, funny, feminist romance out there that gets overlooked by a large section of the book community. It's been a lot of fun spending this summer reading books to choose some that match our bookstore's personality.
Jeff (owner): Academic new arrivals. I'm intrigued by the way academics think, simultaneously focusing on both very big questions and what would appear to the rest of the world to be minutiae.
Melissa (supervisor, bookseller): Fiction, because it's quiet and in the back and I like eavesdropping on people on first dates.
Serena (marketing coordinator): Always changing, but I have a special place in my heart for science fiction / fantasy and our epic staff recommendations display.
Alex (events and marketing manager): New Paperbacks. It's such an exciting cross section of the entire store's selection, and you never know what you might unexpectedly pick up. Plus there's the opportunity to be extremely judgmental or intrigued by familiar titles that have unveiled a fresh look for the paperback design.
What would you do if you had infinite space in the store?
Carole (general manager): Lots of seats, a wine bar, expanded sections, a special room for kid's books.
Serena: A reading room, an entire floor for children's books, a dedicated events space, another dedicated events space, more room for more books.
Liz: An entire room for children's books. Another entire room for fiction.
Melissa: A dance floor. Just kidding, booksellers are the most introverted people in the world.
Katherine: Infinite space means infinite books. There are so many books that are amazing, but don't sell enough to justify a space on the shelf. I'd love to give them a home too.
Jeff: That's easy. I'd put infinite books into an infinite space. But I'd also ask for infinite time to read my infinite supply of books.
Alex: I want the bookstore equivalent of the pool that is built into the gym floor in It's a Wonderful Life. What would the Harvard Book Store floor open up to reveal? Perhaps a 200­-seat dedicated event space. And/or a huge storage space with meticulous shelf labeling for us to store overstock. And a lounge we could use for visiting authors, instead of the staff break room. And apartments for booksellers. And a staff break room foosball table with literary figures as the little players. Ahab would be a goalie.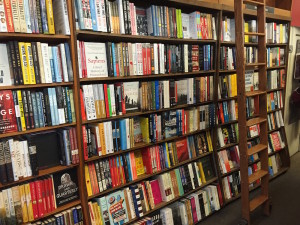 What do you do better than any other bookstore?
Liz: Shimmying up wooden ladders holding armfuls of books.
Serena: My primary memory from the first time I came to Harvard Book Store, long before I worked here, is stepping in the door and being completely overwhelmed (in a good way!). We're not really a particularly large store, in the scheme of things, but we still give the impression of books books books as far as the eye can see.
Carole: Juggling a dozen different major areas of the business and doing them all well.
Mark: Put it this way: no bookstore is better than we are at breaking the ice between a 
customer and an unfamiliar title or even whole genre. At our best and loudest and busiest there's a constant interchange among staff and customers—and they feel invited to be full participants.
Jeff: Since I respect and admire our fellow indies, I don't want to compare. Particular strengths of our store are curation, combining a strong mix of academic and popular titles; events; and support for self-­published authors with our Espresso Book Machine.
Alex: At Harvard Book Store there are books everywhere. The shelves tower above you, extending to the tall ceilings, with ladders making the overstock areas accessible to staff. A full display of 40 staff-recommended titles greet you as you walk in the door. A wall of 70 new and featured books rotates its selection every month. Our huge glass windows line Massachusetts Avenue and Plympton Street, and each is filled with books waiting to be discovered. Every wall, surface, window, and shelf is packed with books.
Who is your favorite regular?
Carole: All of our terrific local authors.
Serena: Kristin Cashore!
Melissa: There's a customer who comes in all the time who doesn't give us her last name 
and I think it's because she's a witch and has been alive for 500 years. I want to be a little 
like her.
Jeff: We have one regular customer who is a professor; he acted in his youth and was 
"killed" by Lee Majors in an episode of Big Valley.
Katherine: Favorite regular is Chloe, a black lab with an extreme addiction to treats. The 
moment she comes in the store she tries to make eye contact with the people behind the desk. The second she catches you, she sits and waits for a treat. One time, she dragged a dog­sitter from two blocks away to the store. The dog­sitter was laughing that she had no idea why the dog was so desperate to get to the bookstore.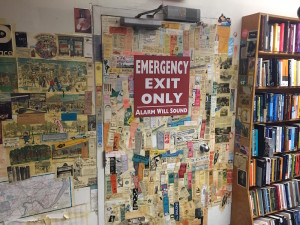 What's the craziest situation you've encountered?
Serena: There was a brief period when our phone system went down, so we had a 
collection of prepaid flip phones we kept behind the information desk. All calls to the store's phone number forwarded to the cell phones, so we spent a couple of days looking like really irresponsible employees (stuck in 2003) talking on our cell phones at work. Though it was nice to be able to bring the phone with you when you went to check the shelves for a book.
Alex: I was running a reading in the bookstore for the book Fire and Forget, an anthology of short stories on the wars in Iraq and Afghanistan. We were in the middle of the talk when the VERY LOUD building fire alarms went off. It wasn't a drill. My recollection is that one or 
two people in the room screamed in surprise. Several firetrucks pulled up as we evacuated the store. As it turns out, a tenant in one of the apartments above the store had burned dinner. After 20 minutes, we filed back into the store and picked up where we left off. I had grabbed some pens on the way out so the authors could at least sign copies of their book outside (which they did!), lit by the red flashing lights of the Cambridge Fire Department.
Jeff: A internationally known philosopher came in one night and demanded all of our Perry Mason books.
Katherine: The situation that made me laugh the hardest was when a guy was asking for a book called The Swing. He didn't have an author and I wasn't coming up with anything by that title that was correct. I made a couple guesses… The Swerve, maybe? but wasn't getting anywhere. He started doing this exaggerated arm swing and kind of vague squats. It was like charades at the info desk and the whole time he was flailing his arms, he kept repeating "The Swing! The Swing!" I finally realized that his charades were rowing and guessed The Boys in the Boat? "Yes!" he shouted. Turns out, in the translation he had read, the title was The Swing, which is what they call that particular rowing style.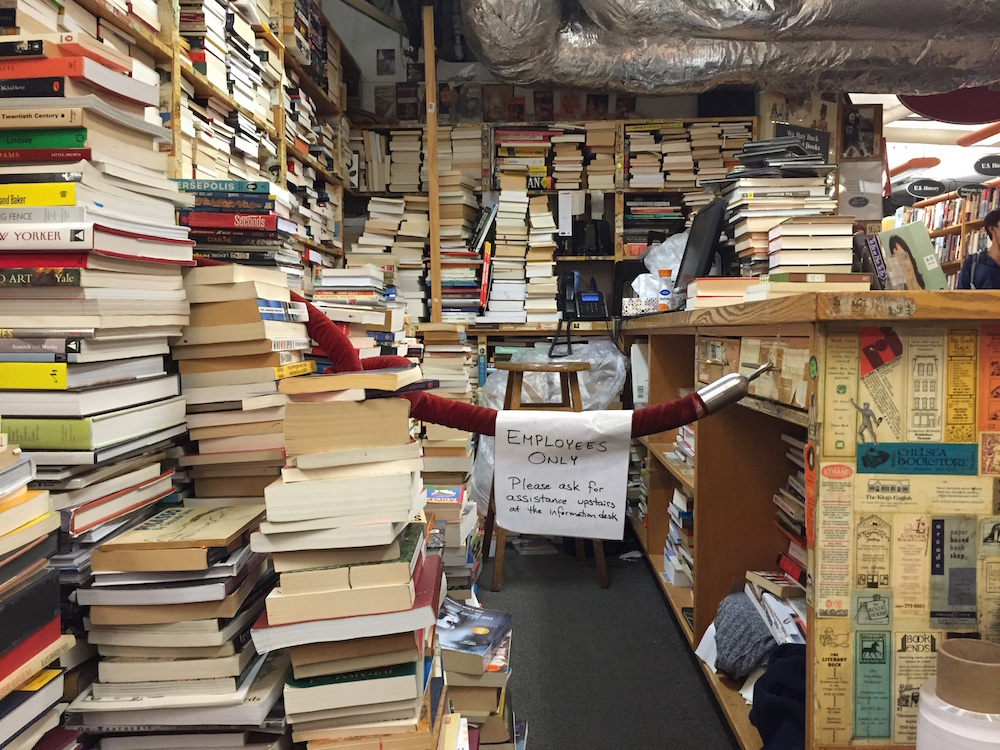 What's your earliest/best memory of visiting a bookstore as a child?
Melissa: When my parents got divorced my mom took me and my sister to the local bookshop. My little sister was having a hard time about it and my mom wanted to make the whole process easier. This super-friendly and lovely bookseller gave her a picture book about alligators getting a divorce. My mom and the bookseller hugged. It was really cute.
Carole: Driving a half­ hour with my dad every Saturday morning to the nearest bookstore in the nearby bigger town, and getting to pick one book to buy every week.
Liz: Not a specific memory, but walking into a bookstore and being swept with a sense of possibility—the feeling that every book might be amazing, that the next one might be the one to change your life. I still feel that way!
Jeff: I was an overly diligent student so, when our school was shut down because of a gas leak, I felt a visceral sense of freedom. I spent that day in our neighborhood bookstore and still own the book I bought that day.
Serena: Reading Calvin and Hobbes in a rickety chair at the back of my local indie for hours on end.
Katherine: As a kid, I never really had bookstore money. It was always the library and hand­me­downs. When I graduated 8th grade, I won a couple academic awards that had small cash prizes attached. I took the money to the bookstore and spent every single penny on Star Trek novels. No regrets.
If you weren't running a bookstore, what would you be doing?
Melissa: Climbing ladders somewhere else.
Jeff: Thinking about working in a bookstore.
Katherine: If I wasn't working at this bookstore, I'd work at another one. I don't really function anywhere else.

What's been your biggest surprise about working in a bookstore?
Jeff: How great the staff is; how much they love books.
Carole: How much fun a job can be.
SLIDESHOW: Harvard Bookstore Staff Recommendations
Harvard Book Store is located at 1256 Massachusetts Ave, Cambridge, MA 02138.
---