Interview with a Bookstore: Copperfield's Books
How An Independent Bookstore Contributes to a Healthy Community
 Founded by two hippies in Sebastopol in 1981, Copperfield's has grown over the last 35 years to eight stores in three counties with 100 employees. The indie culture remains strong with each store representing its unique community needs when it comes to what books to feature and what authors to host. As a testament to the growth of independent bookstores across the country, Copperfield's introduced its newest store last week in Novato."Community reception was incredible," said Copperfield's President and Co-owner Paul Jaffe. More than 600 people attended the ribbon cutting ceremony on April 13. "We are coming into a community of readers. From the Novato Chamber to the City of Novato to the Novato School District, everyone made us feel welcome. You can feel the excitement about Novato having its own independent bookstore and we're already seeing it in the number of people who are coming through our doors. It's a great time to be an independent bookseller."
This is Copperfield's second store in Marin County. Copperfield's opened its San Rafael store on 4th Street two years ago. Additionally, there are two stores in Napa County, one in Napa and one in Calistoga, and four stores in Sonoma County in Healdsburg, Santa Rosa, Petaluma, and Sebastopol. Copperfield's is owned by Jaffe and Barney Brown.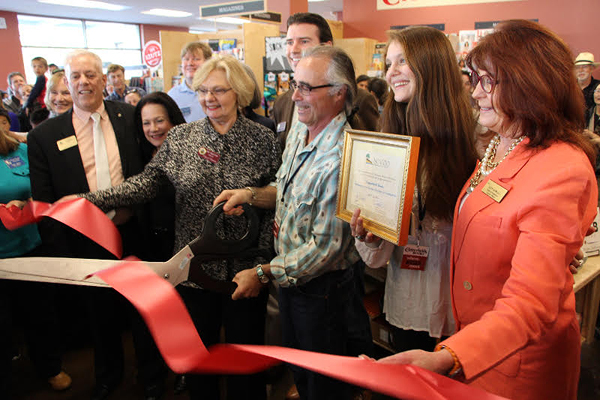 What's your favorite section of the store?
Chris Lindauer (Manager, Montgomery Village store): My favorite section of the store is literary fiction. To me when you are reading literary fiction you see the best in writing with a great story and great character development. This is what I like to read because it resonates for me for years after. And it's easy to recommend out of the section because I'm passionate about the genre myself.
If you had infinite space what would you add?
Andrew Getman (Manager, San Rafael store): My dream if we had more space would be to be able to treat the bookstore like a google search, with cross referencing of titles in more than one section. For instance create a display of international writing and stock books based on the country from which they come. If customers were traveling to Egypt, we'd have both fiction and nonfiction books on hand in a display by country and then again in section. It'd be like the whole bookstore was hyperlinked.
Vicki DeArmon (Marketing & Events Director): If we had infinite space in our stores, I'd add a beer and wine bar. We're located in the heart of the wine country and everything here goes better with wine, including book sales.
What do you do better than any other bookstore?
Mimi Figlin (General Manager): What do we do better? Than Amazon you mean? We create community. We really excel at creating that third space in our stores, after home and work. Each of our store's staff reach out to book clubs, school groups, and local organizations. We do an enormous number of donations and are in constant dialog with our communities. Plus we have bathrooms!
Vicki: What's so gratifying about Copperfield's is that no matter where we go in the North Bay, people proclaim their love for us. Copperfield's has greatly benefited from having a strong GoLocal organization that works to educate people to the benefits of buying local. The correlation between having an independent bookstore and a healthy community is widely understood here. People get it. They understand that purchasing a book from us guarantees that they get a great place to keep coming to.
The one thing I think we do best when it comes to having successful events is to match the author to the community. We know where our mystery readers congregate, where to find our foodies, what community has a preference for literature, politics, nature. In placing an author at a store where we know there will be a good audience, we demonstrate to our communities that we are paying attention which is central to indie bookstores.
Who's your favorite regular?
Kaitlin Smith (Manager, Healdsburg store): One of my favorite customers is Kate MacMurray. Not only is she a fabulous person, hugging the staff when she comes in, she's an avid reader and loves talking about books. She also just happens to be actor Fred MacMurray's daughter and runs one of the boutique vineyards here in Healdsburg, MacMurray Ranch
What's the craziest situation you've ever had to deal with in the store?
Winona Wagner (Manager, Novato store): I was astonished and so moved at the amazing turnout at our store opening in Novato. I've never seen that many people in a bookstore and it was a beautiful sight especially when you've been working for months behind the scenes to get ready. It was like an opening night of a smash Broadway show. We couldn't be more grateful to the people of Novato for helping us celebrate.
Aubrey Doherty (Manager, Sebastopol store): One of the craziest situations we've ever had was two holidays ago when Sonoma County was experiencing flooding. We actually had water running down the stairs like a waterfall and into the store. Even our Bucket brigade who was putting down cardboard and mopping like crazy couldn't stop the water as it poured through the back door. We found a literary application though. We posted copies of A River Runs through It along our store's river, just to keep our sense of humor in all the madness.
If you weren't running or working at a bookstore, what would you be doing?

Sheryl Cotleur (Book Buyer): I love my job because I'm constantly exposed to great literature and great people, not only at Copperfield's but in the publishing world. It's an amazing industry of people who love what we do, are dedicated to the written word, and make little money doing it, yet feel like we are contributing to the culture through books
What's been the biggest surprise about running a bookstore?
Matt Brown (Manager, Petaluma store): My biggest surprise about managing a store is that I'm actually good at it. People were pushing me toward management but it wasn't something I aspired to, but I find I enjoy creating a good work environment for my staff so we can create a place where people can discover books. The challenge is to balance the business aspect and build that community bookstore people want to visit.
SLIDESHOW: Copperfield's Staff Recommendations
---