Interview with a Bookstore: BookPeople
Because the Best Book People Are Little People
BookPeople opened in 1970 as Grok Books in a small house near the University of Texas, owned and operated by grad students, offering mainly political and philosophical texts. In 1978, Grok was taken over by Philip Sansone, who renamed the store BookPeople, after the small but passionate group of revolutionary word-lovers in Ray Bradbury's Fahrenheit 451. Sansone moved the popular store first to the Brodie Oaks Shopping Center, and then to its current location at 6th and Lamar.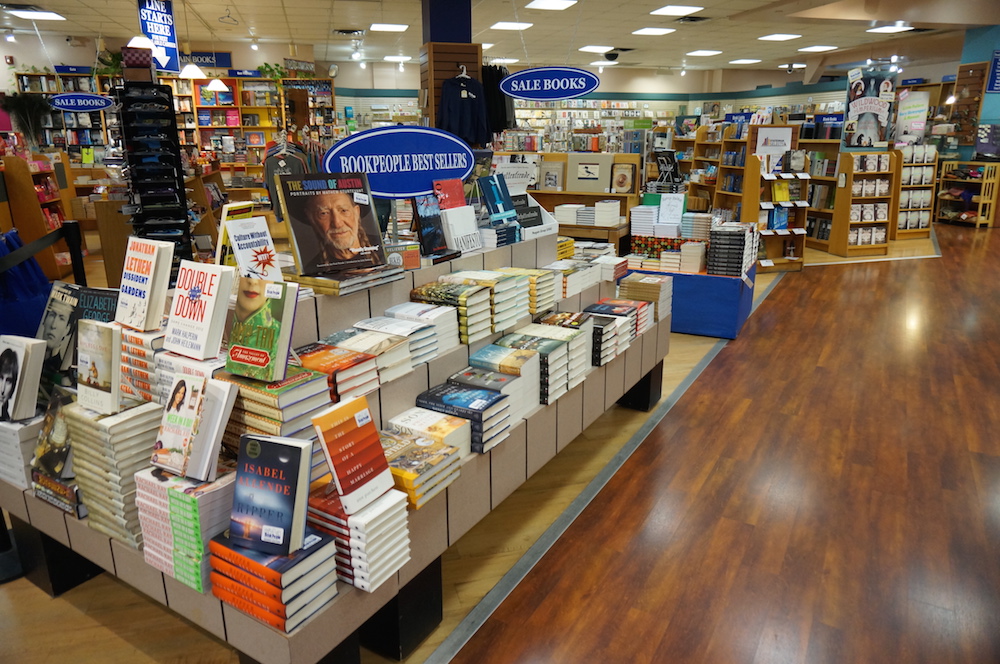 What is your favorite section of the store?
Julie W. (marketing director): My personal favorite is general fiction, which I'll extend to include our large classic fiction section, as well. Not only does it feel as if we have everything (enough that I'm even surprised by an unfamiliar title here and there), we have five folders stuffed with bookseller recommendations for those shelves.
Joe T. (assistant buyer): The graphic novel section. I'm currently going through a comic book renaissance and it's pretty much all I read. The section may not be as big as some other sections, but we put a lot of thought and work into making sure we have something for everybody. We also make an effort to emphasize independent publishers. If we had infinite space, I'd expand our (already large) graphic novel section with subcategories and all kinds of stuff. It would be awesome.
Raul (first floor inventory manager): The exit foyer. No, I'm kidding. I do like a lot of sci fi, fantasy. I also like our history section, too. And science. But not memoir or bio. I don't really care about that.
What would you do if you had infinite space in the store?
Julie: A 1,000+ seat theater we could use for events.
Joe T.: A bar. A full bar.
Jon T. (manager): Zebras.
What do you do better than any other bookstore?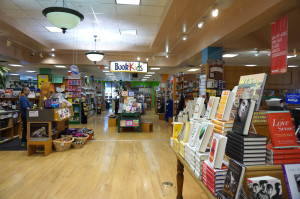 The consensus among our booksellers is that our kids programming rocks everything we do. From our literary camps that bring to life Rick Riordan's Percy Jackson series, to programming the Texas Teen Book Festival, to our extensive work with schools and Austin-area educators, our children and teen programming reaches thousands of young readers in our community.
Our children's/teen section comprises 4,000 square feet of our second floor and is served by a team of dedicated booksellers. Here's what they love about it:
Ta'Necia (teen specialist): Our staff is really knowledgable. Everyone reads tons of books and writes staff cards that recommend the books even when we're not here. And the layout is good. We have one whole side for teen, one side for kids—it's not all crammed together.
John G. (bookseller and middle grade specialist): There's someone here who specializes in each section. We have an expert in teen, picture books, chapter books. We have a lot of great kids events, too. And storytimes three times a week.
Kathleen (bookseller and picture book specialist): The whole section is very big, the selection is extensive.
Who is your favorite regular?
Bryan (manager): We used to have a guy who sniffed the books. We also had a customer who seemed to keep everything filed in his shirt; plastic bag, money, notes, everything.
Emily (bookseller): There's a woman who comes in all the time who likes to be as loud as possible and yell out stuff in a sort of playful way. She likes for you to be mean to her, too. She wants a mutually crotchety relationship.
Raul: That woman is a lot of fun. We'll talk about books and joke about people. Everyone else is scared of her because she has a boisterous personality, but I like her. She used to have a cane so you could hear her coming.
What's the craziest situation you've encountered?
Bosco (manager): There's the time the guy got mad about our bag check and threw a book at me.
Flippo (first floor inventory manager): Our event with Sonia Sotomayor. There were 2,000 people here. I became an ad hoc manager just because there were so many people to handle.
Emily: There are several. There's the time I was at the register and a man came in wearing a mask made of masking tape and duct tape. He sat in the corner under the sale cookbook sign. Every time someone walked by, he'd hide his masked face in a cookbook. Then there was the woman who called and introduced herself as a psychic. She wanted to know if we had any books about how to write books about being psychic.
What's your earliest/best memory of visiting a bookstore as a child?
Meghan G. (children's and teen book buyer): My mom worked for a while at Kroch's and Brentano's in Chicago and we loved going to visit her there among all the great books!
Sarah H. (web sales manager): My earliest memory is actually of the library and elementary school book fairs. The school book fairs were awesome. They were tables full of super fun, colorful kids books. I couldn't get enough.
Julie W.: My parents and I hit up a Borders on Long Island pretty regularly. We'd shop around (I was reading a lot of Fear Street back then) and then hit the cafe for a black-and-white cookie (me) and cafe au lait (them). It was a place I was allowed to wander alone. I loved it.
What would you be doing if not working in a bookstore?
Meghan G.: I transitioned into this from editing children's books, and I probably would have continued if I hadn't fallen in love with BookPeople.
Molly (bookseller and MysteryPeople Maven): Seeking to be a member of the proletariat, yet still an intellectual, in other ways.
Julie W.: Running a house rabbit sanctuary and writing short stories from the perspective of someone who runs a house rabbit sanctuary.
What's been your biggest surprise about working in a bookstore?
Steve Bercu (CEO): The biggest surprise for me when I came into the book business was theft. It somehow had not dawned on me that people stole books. I thought of them as something that had a cultural value that put them completely out of the normal retail world, and, of course, books are available for free from any library. I was disabused of those notions quickly. I was converted to a shrink hawk by what I saw and the advice of other, more experienced, booksellers. I notice stealing in almost any retail environment I visit now—a sad but true part of our literary landscape.
SLIDESHOW: BookPeople Staff Recommendations
BookPeople is located at 603 N Lamar Blvd, Austin, TX 78703.
---