Inside Vladimir Nabokov's Dream Journal
"Several dreams, one of them keenly erotic..."
Nov. 13, 1964 6:30 am
Poignant bitter-sweet dream permeated with tenderness and hopelessness. Short girl, rather dumpy, slatternly dressed, bare-necked, face very attractive but not flawlessly pretty, broadish jaws, flattish nose, wonderful complexion, smooth, warmly colored skin, pale-blue eyes, bedraggled fair hair. Am trying in vain to console her: she has been badly hurt by faithless heartless young husband, a shadowy gay-dog figure in the background. I am doing my best to make her understand how dreadfully sorry I am for her, but she is completely wrapped up <NEW CARD> in her taciturn grief, is absolutely impenetrable no matter how I strain to "reach her,"«пробиться к ней» [1], as I tell her in Russian—but all in vain, she looks up at me with apprehensive hunted gaze, ready to stiffen, bothered, resenting my sympathy which is quite genuine but not free from desire. (The young man is—a very obscure feeling—related to me—perhaps Dm.?!)
Oct. 14, 1964 cont. [2]
Later, a "museum" dream, ending in my picking up an autobiographical work by Dobuzhinsky the painter, [3] but here writing about butterfly-collecting. (He had been my teacher of drawing and I had seen him many years later in New York and Vermont). I cannot find the index, but then realize the volume consists of two books bound together and the index comes after the first.
Oct. <sic> 14, 1964, 8:30 am
Several dreams, one of them keenly erotic, replaying (for perhaps the five-hundredth time) with perfect freshness a fugue of my early youth.
At around 3 am an abstract, fatidic vision: a death-sign consisting of two roundish golden-yellow blobs with blurred edges, placed not quite side by side but more so than one above the other, for an instant, on my right. The point was  that I was supposed to be competing in this specific vision with V.—who would see it first?—but was now too sleepy to check with her and fell asleep again. [4]
Oct. <sic> 15, 1964 8.30 am
Good "artistic" dream.
Am in motel, have just awoken, V. not there (she is spending the night with A. in town), [5] Dm. still asleep in next room. Suddenly I see from window a number of men whom I immediately place as the Red Army performers (singers, dancers) who I know are given <sic> a show in town that night. I tell V. (who is with me after all): Look, the Russians! They are making their way, one after the other, in the wake of a tall fellow with a fishing rod, along a strip of riverside grass and then along another strip at right angles—heading for the river to fish. [6]
<NEW CARD> Oct. 15, 1964 cont.
All of them in natty uniforms, blue trousers, brown tunics, carrying fishing rods. As they reach the corner of the lawn and are about to turn they do so in a deliberately comic manner, especially a short fellow in very wide pants. They are all humming and softly oozing string-music, and the villagers (Minnesotans or Dakotans) are very much amused and interested. The weather is bleak and rough, with ragged dark grey clouds, a strong wind impedes their progress, it is about to rain, but I realize that for a Russian it is wonderful fishing weather.
After a blank spell: could not recall anything yesterday or the day before yesterday.
Nov. 18, 1964 7:30 am
Several nasty dreams & dreamlets:
Leaving the stranger, a Russian or Spanish general to his tea, I slipped into the next room: I knew he was dangerous—a ruthless agent. I tried to bolt the door, fumbled at the latch, it was hard to push in. Suddenly I collected my wits, I told myself it was shameful to fear that man. I decided to go back and as I re-entered the living room I stepped into a blast of blackness.
In another dream I had to prepare a lecture consisting of four parts or rather
<NEW CARD>Nov. 18, 1964 cont.
answers to questions (confusion with remembered exams of my own student days) and had only ten minutes (it was 8.50 am) to finish the thing before my lecture began. I knew the subject very vaguely and what I had written down was illegible.
In a third dream I had got out of bed and realized that in addition to some basic dreary old illness I had developed suddenly a deep case of bronchitis. [7]
__________________________________
1. Get through to her.
2. This is a continuation of the record of the same day. By a curious mistake, VN puts, instead of Nov. 14, the date on which he started his experiment. He continues to write the erroneous "Oct." for the next two days.
3. Mstislav Dobuzhinski (1875–1957), a famous Russian artist. This is another note that seems to be done for the benefit of an outside reader.
4. At the time, Nabokov had as many years to live as his wife would outlive him by. This strange dream, with its curious competition—who would see the death sign first—has an even stranger antecedent in Mandelstam's piercing 1931 poem "Net, ne spriatat'sia mne . . ." [No, I can't hide . . .], addressing his wife: "My s toboiu poedem na 'A' i na 'B', posmotret' kto skoree umret" [You and I will ride tram 'A'  and tram 'B,' to see who is to die first]. The Nabokovs read  and liked Mandelstam's late poems, published only posthumously, this one in   1961, in the second issue of the Russian almanac Vozdushnye puti (Aerial Ways, New York).
5. Probably Anna Feigin (1890–1973), VN's wife's cousin. The Nabokovs shared a Berlin apartment with her in 1932–37 and later cared for her in New York and, from 1968, in Montreux.
6. It could be indeed rive (French for riverbank), or just "river" missing the ultima.
7. Thirteen years later, bronchitis will be an immediate cause of his death. On March 19, 1977, his last year, Nabokov jots down in his agenda book: "Beginning of anoth. bout with бронchitis" (sic: a Russian-English hybrid).
__________________________________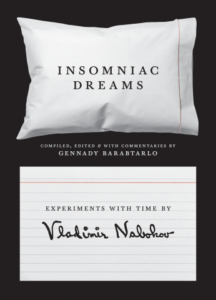 From Insomniac Dreams: Experiments with Time by Vladimir Nabokov. Compiled, edited, and with commentaries by Gennady Barabtarlo. Used with permission of Princeton University Press. Copyright © 2018 by the Estate of Dmitri Nabokov. Notes copyright © 2018 by Princeton University Press.
---