Inherit the Earth: James Rebanks on the Struggles of the Small Family Farmer
"The months after my father's death were the hardest of my life."
James Rebanks, author of Pastoral Song: A Farmer's Journey, chronicles his family's farm in England's Lake District across three generations. In this excerpt, Rebanks contemplates the surprising history of farming, the changing hands of familial ownership, and his role as a farmer.
*
The first mention of my family on paper concerns a legal dispute about land ownership with a local aristocrat in 1420, in the neighboring parish. We are here at the solicitors that has handled our farm's legal affairs for at least three generations, to learn the details of my father's will.
My grandfather's solicitor was simply spoken of as "Charles," as in "We'd better ask Charles about that," when anything remotely legal came up. Little market towns like ours have long had a smattering of middle-class professionals who serve the needs of farmers and others who live from the land.
No sooner has the coffee arrived than we are politely escorted by the older woman across the corridor and into a room with leather-upholstered chairs around a varnished table. A woman enters the room behind us and passes my mother with an armful of old and bulging folders tied with string and ribbons. She makes her way around the table and introduces herself, and tells us that these are the "deeds" for our land. The ribbons are untied and the bundles slouch and spread like a fat man's belly released from a belt. I long to open out these papers, this thick wedge of untold stories, and hold them in my hands, but clearly not many people ever do that here because she tells us the legal necessities we have come to hear and the deeds remain spread loosely, but unopened, on the table. The solicitor starts to speak, but I don't hear her words. She sees that I am distracted and pauses. I ask if I can look at the deeds. She says I can. She pushes some of them toward me and begins to explain. first two or three documents are open in our hands at their stiff folds, like giant cardboard butterflies unfolding their wings.
In these pages is the nearest thing to a written history of our land that exists. The waxy sheets are spider-scrawled with almost illegible copperplate handwriting and pastel shaded sketches of fields. Giant antique letters open each crammed page. Melted burgundy-red wax stamps are surrounded by earnest signatures. As my eyes become accustomed to the script and field sketches, I see a half-familiar world opening up of field names and landscape features—trees, becks (streams or smaller rivers), lanes, and barns—a parallel paper-and-ink negative of the grass, stone, soil, wood, and landscape that I know. There are historic features I have never seen before, like archaeological finds, all marked "Celtic."
Beyond our little valley, people everywhere seemed to have gone insane, electing fools and doing strange things in their anger.
The history of the ownership of every field is in these bundles, and every transaction is detailed in them, going back centuries. The last time these were seen must have been by my father or my grandfather, and before that by the people who farmed here before we did, because the deeds have been stored away from our grubby hands, in the archives. They were only consulted when there was a dispute about a boundary or ownership of some place or item or other, or when somebody died. The field names catch my eye:
Greenmire
Little Greenmire
Smithy Brow
High Stoney Beck
Clovenstone
Cloven Stone Rigg
Browfield
Wood Garth
Long Field
Somewhere in this bundle of deeds is the transaction for my grandfather's purchase of a hundred acres here in the early 1960s. He had taken my father, then a skinny teenager, and his brother-in-law Jack, who knew that country better than he did, for a Sunday afternoon ride out to "see something." He drove them to see this little run-down, scruffy, badly fenced, scattered collection of fields, mentioned in these deeds, that together made up a "fell farm." He declared he was going to borrow the money and buy it for summer grazing for his cattle and sheep. It cost £14,000. There is also the paperwork for my father and mother's purchase of fifty acres in the middle of those fields from another retiring farmer—to make it a whole farm—and later the addition of a farther sixteen acres in the 1990s when the adjoining land came up for sale.
Soon this archive will contain the deeds for the fourteen acres my wife and I bought up the lane behind our house in the weeks after my father's death, because they are near to our farm and will be useful for our sheep and cattle. These deeds show land passing from one family to the next, again and again, and remind me that a farm isn't a fixed thing but often changes with every generation, as families buy or rent, or sell land. This history is messy and complicated, like that of most families. As the solicitor speaks, I know that my family's future on this farming landscape in a corner of northern England will be determined by my ability to earn enough from our land (and any other way I can think of) to pay our bills, service our debts, and make some money for us to live on. Ever since I was a teenager I have worked on our farm, and been the shepherd of a flock of sheep, but this is different. When we walk back down those worn sandstone steps of the solicitors, I know that I am now the "farmer."
*
The months after my father's death were the hardest of my life. I had always wanted to be the farmer, the captain of the ship with my hand on the wheel, but the moment it happened it felt empty. The world seemed a dull shade of gray.
Beyond our little valley, people everywhere seemed to have gone insane, electing fools and doing strange things in their anger. England was divided and broken. Suddenly in those months I felt lost. It was as if I had been following in someone else's footsteps down a path, talking to them, reassured by them when the going got tough, and then they had disappeared. The farm was a lonely place—a poorer thing when it wasn't shared. And with every passing year farmers were becoming fewer and fewer, a vanishingly small and increasingly powerless share of the population. Our world felt fragile, like it might now break into tiny pieces.
*
The UN says that five million people move from rural communities to urban ones every month, the greatest migration in human history. Much of this took place two or three generations ago in Britain, the "first industrial nation." So ours is now one of the least rural societies on earth. The majority of people now live in towns and cities, and we tend to give little serious thought to the practical realities of farming, the vital moment when we come up against the natural world. And yet we are all still tethered to the land in a practical sense—our entire civilization relies on farming surpluses, which free most of us from growing our own food, allowing us to do other things. We are no longer the slaves of the "dark Satanic mills" of the industrial era, but millions of us are still reluctantly chained to desks in the soulless corporate offices that followed. They used to call England a "green and pleasant land" but in truth it was never entirely green, nor entirely pleasant.
I had always wanted to be the farmer, the captain of the ship with my hand on the wheel, but the moment it happened it felt empty.
It was a tough old place with almost every acre used by humans, but there was much in it that was good. And yet the truth is that the countryside that feeds us has changed. It is profoundly different from even a generation ago. The old working landscapes and the wildlife that lived in them have mostly disappeared, replaced by an industrial farming system that in its scale, speed, and power is quite unlike anything that preceded it. This new farming has proved to be both productively brilliant and, we now know, ecologically disastrous. The more we learn about this change, the more unease and anger we feel about what farming has become. Our society was created by this farming, and yet we increasingly distrust it.
This was a lousy time to inherit a farm. I was now solely responsible for making the decisions about how we managed my family's land. In the months after my father's death five years ago I began to feel a kind of despair. Our role was now being challenged and criticized as never before. Reports of bad news and scientific studies about the decline and loss of wild things on farmland became commonplace on the TV and radio. Rain forests were burned, rivers poisoned, soils eroded, and countless landscapes made sterile and bereft of nature. Anger filled the newspapers and the news. Being a farmer felt for the first time like something you were supposed to say sorry for. And with some sadness and shame I could see that there was truth in all this.
My new role wasn't heroic, as I had imagined it would be in my youth. It was just confusing and complicated, and fraught with doubts. Countless choices—some large and fundamental, and others tiny, incremental, and day-to-day—that would shape this little bit of England for better or for worse were now mine to make. It felt like a lot rested on my knowledge, or lack of it, and my values and beliefs. And I was suddenly aware how constrained my choices were, and how little I knew. I would have to work out how to make money from our land without wrecking it. I had inherited a complex bundle of economic and ecological challenges—and that, perhaps, was what it really meant to be a farmer. When we lose our way, it often pays to retrace the footsteps on our journey until we get back to familiar territory.
In those painful first months, my grandfather's farming became for me such a moment from which I could navigate through what had happened in order to understand what had gone wrong. I thought a lot about how he managed his land and cared about his animals and the natural world around him. I tried to understand afresh what it meant to be a farmer. I returned in memory to a day spent plowing a field in April, nearly forty years ago. Every detail was frozen in my head. Forty years doesn't sound long ago, but in farming terms it is like returning to the age of the dinosaurs.
Perhaps I would only discover old mistakes, or get a nostalgic sense of what that traditional farming was. But I returned to the past with a sense of hope, that it might hold some of the answers—and help me to work out what kind of farmer I could, and must, become.
__________________________________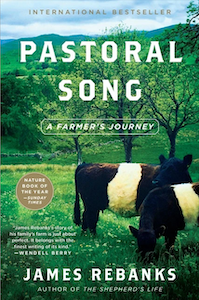 From the book PASTORAL SONG: A Farmer's Journey by James Rebanks. Copyright © 2020 by James Rebanks. From Custom House, a line of books from William Morrow/HarperCollinsPublishers. Reprinted by permission.
---