Indies Recommend: Penn Book Center
10 Small Press Books to Read this May
As the nation's only non-profit distributor, Small Press Distribution is dedicated to getting small press literature to the people who want to read it. As such, we're grateful to our main customers—indie bookstores—the outward-facing purveyors who present our books to the public with flair and aplomb. To celebrate the great individuality of our favorite indie stores across the country, SPD's asked a few of them to shine a monthly spotlight on their ten all-time favorite SPD-distributed titles. This month, we're excited to host Philadelphia's Penn Book Center.
Founded in 1962 as an independent bookstore on the campus of University of Pennsylvania, Penn Book Center is firmly established as the store for poetry in the city. And Philadelphia is a great poetry city. The scene is vibrantly ever-changing, and the openness and welcoming nature of the poetry community is often remarked upon. Perhaps it's a reflection of this tendency-towards-poetry in Philly that the Book Center has typically employed two or more poets at any given time, which by extension we like to think makes our staff about 1/4 poet. Or perhaps our lodestar has been the legend of one of the store's founding owners having allowed Delmore Schwartz to run up a tab. Penn Book Center prides itself on just this sort of unusual connection.
Starting with a well-curated selection of academic, trade, and small press books, we're known for our Philosophy, African-American Studies, Literature, Poetry, and Cultural Studies sections, as well as an ever-expanding Children's section. Our knowledgeable booksellers are adept at sussing out books that customers "may not even have known they wanted." We consider this high praise and would love to thank our customers, since it's the voracious demand of local readers who have made us what we are.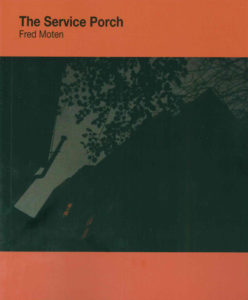 Fred Moten, The Service Porch
(Letter Machine Editions, 2016)
The Service Porch, the final volume in the trilogy including The Feel Trio and The Little Edges, is one of my favorite collections in a long while. As a cadenza to the set, it functions as a fine paean to the open/indeterminate. It is a rare thing to catch the tone of the social in its intimacies and let it sound back on itself in as uncluttered and singular-yet-plural breath without snag as these poems do. Bird, Laura, the calls intended/missed, the litany of proper names and conversations recalled. A true document of the work of love in the indeterminate.
Jackson Mac Low, Representative Works: 1938-1985
(Roof Books, 1986)
Representative Works is the best place to dive into the expansive work of Jackson Mac Low, and Jerome Rothenberg deserves his credit for the selection and editing of these texts. From the earliest procedural poems, to the acrostic-play of the Asymmetries and the lineage of the Light Poems, there's much to get pleasantly lost in and with. It is also nice to have Anne Tardos' beautifully put together collections of Mac Low's work.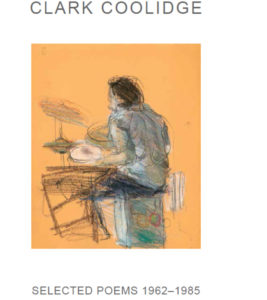 Clark Coolidge, Selected Poems: 1962-1985
(Station Hill Press, 2017)
This is a big block of a book and it just seems right. If you know his work, Clark Coolidge is a man with the tendency to stretch out and who it seems has never taken a break from writing since he first set word to paper. So it is only logical that this first selection of his early work clocks in at nearly 500 pages. There is much in here that has been long-unavailable in print form. Larry Fagin and Clark have done an admirable job selecting the texts. We are very excited about this one; we can never get enough Clark Coolidge.
Sara Nicholson, The Living Method
(The Song Cave, 2014)
Some of the poems in Sara Nicholson's The Living Method were likely drafted when she was employed at Penn Book Center. The aura of arcane knowledge that permeates this first collection works like a root not everyone would know to pull out for study. Naturally, it takes a seer to hold both the root and the space it leaves behind, but when we're lucky enough for this to happen, a friendship may form, like the stardust of printed matter.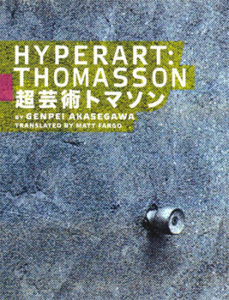 Genpei Akasegawa, Hyperart: Thomasson, tr. Matt Fargo
(Kaya Press, 2010)
What is a Thomasson? One answer is to read the artist Genpei Akasegawa's chronicle (circa 1980's Japan) of society's tendency to form architectural palimpsests out of "largely accidental" shifts in structure and space. The book is also an initiation into the understanding that Thomasson(s) are everywhere and thus named as an act of appreciation, so that we can both refer to their specifics and marvel at their origin. One favorite example: the Pure Staircase. A must-have for all lovers of spatial puzzles and psychogeography.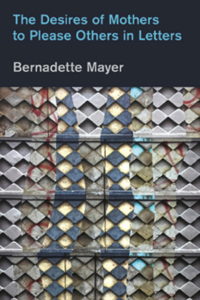 Bernadette Mayer, The Desires of Mothers to Please Others in Letters
(Nightboat Books, 2017)
Bernadette Mayer's recently reprinted The Desires of Mothers to Please Others in Letters is a prodigious encapsulation of time, which is always expanding. Its reappearance reminds us that the innocuous covers of a book can do little to contain a conversation which has truly been opened.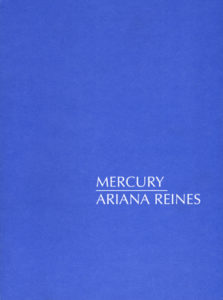 Ariana Reines, Mercury
(Fence Books, 2011)
In 2013, Ariana Reines read in-store as part of the Random Name poetry series (curated by then-employee David Hancock). We were already excited that Fence had issued the first printing of Mercury in an unabashedly silver jacket, and the reading was a re-acquaintance for those who'd known the poet when she lived here. But more than that, there was the brilliant rawness of Ariana's reading, a sort of coruscating blurring of public and private. And as an aftereffect, we think it safe to say more poetry was born.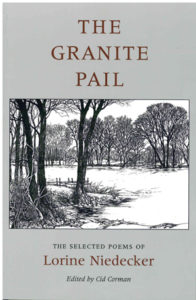 Lorine Niedecker, The Granite Pail
(Gnomon Press, 1996)
Why not buy the collected works? Perhaps you're a poet on a budget, or you value what has been carefully selected and can fit in your book-shaped pocket like a letter of recommendation. We think Lorine Niedecker would understand the value of what you can hold in your hand now, how it introduces the future as if pith were always first local and close to the heart.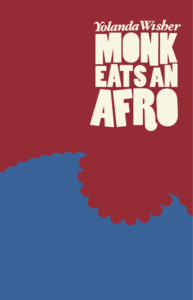 Yolanda Wisher, Monk Eats an Afro
(Hanging Loose Press, 2014)
Since her crowning as the third Philly Poet Laureate in 2016, Yolanda Wisher's poetry is finally garnering the attention it deserves. We love the way she celebrates all things Philadelphia, even its unglamorous aspects—for example the sights, tastes, sounds of an ethnically diverse West Philadelphia neighborhood known well to us in her poem "5 South 43rd Street, Floor 2″—and shows us that these, too, are beautiful and quintessentially American.  And we love how her work channels not only writers like Du Bois and Phillis Wheatley, but the rhythms of Thelonious Monk and hip-hop (Wisher is a gifted blues/jazz vocalist and musician). She reminds us that poetry is not only a solitary pursuit, but an art of collaboration and inclusion.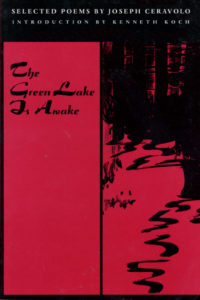 Joseph Ceravolo, The Green Lake is Awake
(Coffee House Press, 1994)
It's difficult when gushing over Joseph Ceravolo's poems to resist the temptation to quote directly. As Charles North has said, "His voice is unlike anyone else's, a combination of extreme dislocation and disjunction of language with pure lyric." He might also be said to have successfully captured the essence of haiku in poems which are sometimes short and sometimes a lyric linking towards greater length. The 'personal' in these poems has the same elements as the 'natural' so that when the lines click for us as readers, he is not speaking to us, but through us, and we are gathering our thoughts together while living in them. By way of example from a letter to David Shapiro, Ceravolo ends a list entitled "News Items:"
9. Poetry is a flock of geese flying out of formation being in formation.
10. This news is bullshit. But it was real?
---