Indies Recommend: 10 Small Press Books You Should Read
Green Apple Bookstore Picks Its Favorite SPD Titles
As the nation's only non-profit distributor, Small Press Distribution is dedicated to getting small press literature to the people who want to read it. As such, we're grateful to our main customers—indie bookstores—the outward-facing purveyors who present our books to the public with flair and aplomb. To celebrate the great individuality of our favorite indie stores across the country, SPD's asked a few of them to shine a monthly spotlight on their ten all-time favorite SPD-distributed titles, starting with San Francisco local, Green Apple Books.
Green Apple turns 50 next year. Millions of books have passed through the store in the last half century, from international bestsellers to staple-bound zines. What they all have in common is this place: a dusty, labyrinthine, creaky-floored hub of literary culture, where readers gather to discover something new. Green Apple booksellers are proud to present the following list of their favorite small press gems.
–Small Press Distribution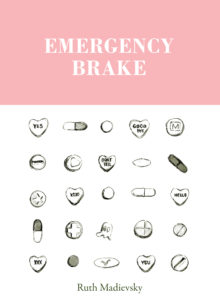 Ruth Madievsky, Emergency Brake
(Tavern Books, 2016)
Sammy says: "Emergency Brake is the best new collection I've read in a long time. These poems will break your heart, make you laugh, turn you on, stain your teeth, open all the windows inside you just to scratch at all the doors with their little kitten claws."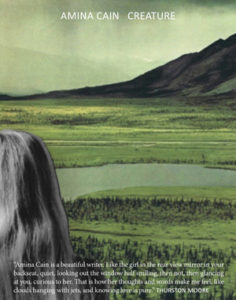 Amina Cain, Creature
(Dorothy, a Publishing Project, 2013)
Stephen says: "I endorse all of Dorothy's titles with great enthusiasm and no reservations, but if forced in some sort of cruel exercise to recommend just one, I'd pick Amina Cain's Creature. This collection of stories is as muted as falling snow and, like snow, drapes a reader's mental landscape in hushed mystery."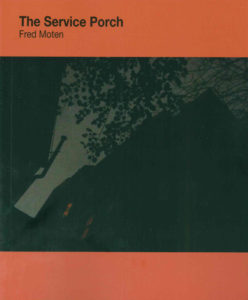 Fred Moten, The Service Porch
(Letter Machine Editions, 2016)
Max says: "This book is both wildly improvisational and tremendously focused. Moten's work trades (evades) syntactic logic for a more intuitive, cellular logic. It's somehow both opaque and crystalline. Reading his poetry is like walking through a cloud. His jazzed-out meditations stun, enlighten, confound, disassemble. Do yourself a favor and read this book and everything else he has ever written."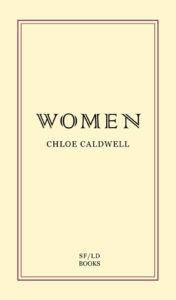 Chloe Caldwell, Women
(Short Flight/Long Drive Books, 2014)
Emily says: "How do you make a reader love someone? How do you make them feel those dizzying, crazy-making pangs of a relationship's beginning and end? Chloe Caldwell has all the answers. This is a book that, more than anything, feels completely real."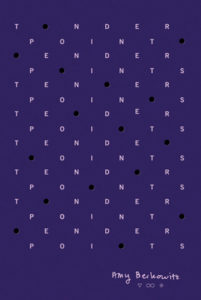 Amy Berkowitz, Tender Points
(Timeless, Infinite Light, 2015)
Matt says: "In Tender Points, Amy Berkowitz offers a brilliant and searing exploration of trauma and chronic pain that maps out personal and political topography with waypoints ranging from noise music to Twin Peaks to Ninja Turtle villains. Maggie Nelson called it 'firm, high-stakes speech speaking truth to power' and any fans of The Argonauts or Bluets will absolutely find something to love here."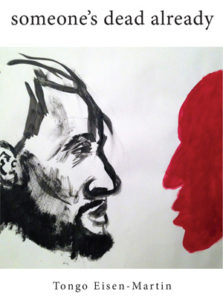 Tongo Eisen-Martin, someone's dead already
(Bootstrap Press, 2015)
Max says: "someone's dead already  is a tour-de-force that explores cities, violence of cities, voices of cities. Bobs and weaves, all these voices coming together, all these voices one voice, all these voices an act of survival, bobs and weaves form and style. Tongo Eisen-Martin, poet and educator, in this exploration/documentation, has created something moving—the movement of survival—something beautiful—the beauty of the voice, of the book."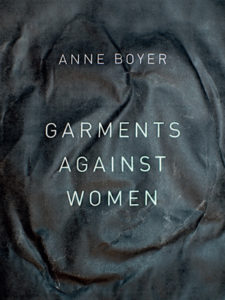 Anne Boyer, Garments Against Women
(Ahsahta Press, 2015)
Anna says: "'I feel I read some, but still there are so many things of such importance about which I have never found a book'—except this is that book, the exact one I've been searching for, for so long. After all, the point is to find new ways of being alive, and in this book, Anne Boyer gives us everything we could ever ask of from literature—most importantly, the desire to destroy the conditions that harm us, to seek a radical reordering of the world: everything for everyone."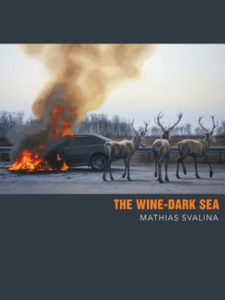 Mathias Svalina, The Wine-Dark Sea
(Sidebrow, 2016)
John says: "How does one write a book of poems composed only of poems entitled The Wine-Dark Sea? I'm still not quite sure, but Mathias Svalina has pulled off that feat spectacularly in this collection. Read in succession, the titular wine-dark sea morphs and somersaults in the reader's mind until we're completely lost (drunk?) in the moment. Images coalesce and the individual poems themselves invite rereading and recitation. I found myself having subconsciously memorized a few passages upon finishing."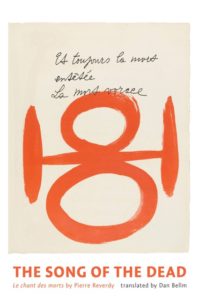 Pierre Reverdy, The Song of the Dead, tr. Dan Bellm
(Black Square Editions, 2016)
Stephen says: "The Song of the Dead, written in northern France as WW2 drew to a close, is a haunting collection of poems about mortality and loss. Reverdy, whose late style often verges on the mystical, though he maintains a strong sense of an inner and outer landscape torn asunder by war."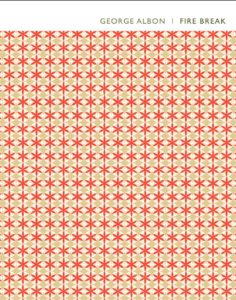 George Albon, Fire Break
(Nightboat, 2013)
No list of small press books at Green Apple would be complete without a collection written by one of our own booksellers, George Albon. Fire Break is a suite of poems that hearkens back to the abstractions of Wallace Stevens while forging distinct poetic ground.
---