In Vigdis Hjorth's Norway, Perfect Happiness Amounts to Complacency
Charlotte Barslund on "A Social Democracy Fraying at the Edges"
Being Norwegian is both a blessing and curse. It means living in one of the wealthiest and most progressive countries in the world, while despairing at the state of the rest of the planet. It means hoping to spread your beliefs in freedom, democracy and equality to others so that they, too, can live in the wonderful society that you inhabit, and experiencing frustration when people choose to go their own way.
But even in Norway, the risk of improvement fatigue lurks under the surface. After all, it's easy to get complacent when you live in a near-perfect country. Long Live the Post Horn! by Vigdis Hjorth is the story of one person's journey from complacency to activism. It's the story of a privileged but bored PR consultant, Ellinor, who ends up working for a trade union, an organization she initially regards as pointless and obsolete. The trade union hires Ellinor to devise a campaign to protect their jobs and wages which are threatened by an EU directive.
As Ellinor commits to a cause in which she has absolutely no interest and which stands little chance of success, she discovers that she is indeed capable of real passion and anger. She is horrified at the Norwegian Labour Party's betrayal of its workers and wonders how the Left has ended up spending most of its time debating marginal issues rather than coming up with a new financial world order to rein in greed and exploitation. She wonders how her affluent, idealistic country lost its appetite to fight for social justice.
Vigdis Hjorth often writes with an everywoman as her central character through which a problem or an idea is explored.
By now I have translated quite a few books by Vigdis Hjorth and I regard her as one of Norway's foremost novelists today. Her books attract controversy and in her homeland her presentation of Norway and Norwegian values has earned her many fans, but also some critics. She explores, with pinpoint accuracy, the dilemmas of life in a privileged country; of interacting with those who have less. Hjorth captures the claustrophobia of liberal, middle-class people better than any Norwegian writer I know, and I'm convinced that many non-Norwegian readers will relate to her character's problems and thoughts.
She illuminates global issues through the efforts of agonized individuals who try to make sense of these issues, tormented by the wish to do the right thing, while at the same time feeling hopelessly trapped in a quagmire of conflicting values and emotions. Hjorth holds a magnifying glass to her characters and they fry like ants under the merciless sunlight of her writing. No one of them escapes unscathed, there are no heroes or villains; what we get is a picture of life in a social democracy that is fraying at the edges.
Long Live the Post Horn! is a quirky book which in the hands of a lesser author could easily descend into sentimentality, but this isn't just a story of one woman's political awakening. Hjorth often writes with an everywoman as her central character through which a problem or an idea is explored. Her novel A House in Norway, which I translated a few years ago, examines the relationship between landlord and tenant when a textile artist rents out a room to a Polish immigrant.
It questions how much we owe other people, and whether we can ask anything in return for our help. In 2019 I translated her novel, Will and Testament, for which she is possibly best known in English, where four siblings' fight over a modest inheritance. Their conflict reveals unhealed childhood rivalries and trauma, and chronicles the consequences of family estrangement for several generations.
Long Live the Post Horn! combines societal and familial themes as Ellinor discovers that her sense of detachment from society, friends, and family may not be quite the proof of strength and self-sufficiency she initially thinks it is.
As Ellinor's narcissism gives way to a sense of belonging and participation, she grows closer to her sister, Margrethe, whose obsession with organically-grown food masks her quiet despair at yet another miscarriage. Ellinor also starts paying attention to her nice, considerate boyfriend, Stein, who works in banking and sees his little son every other weekend. These are modest, decent people she has long ignored, but who could provide her with the intimacy she craves, if only she would try to connect with them.
We do have a responsibility to each other, we can make a difference and some ideas are just plain stupid and must be fought.
Increasingly consumed by self-loathing, Ellinor begins to confront her own life choices as she is jolted out of her comfort zone. Her sarcastic and witty observations about how a pampered generation's quest for self-knowledge became translated into an identity based on organic food, city breaks, designer goods and media jobs, gradually turn into heartfelt and honest statements about the need to strive for a better way to live for all.
It becomes clear that we do have a responsibility to each other, we can make a difference and some ideas are just plain stupid and must be fought. At the end Ellinor concludes that "I must make my contribution, step up to the podium, show my face rather than hide away, depressed and repressed, because my apathy was one of the reasons why the number of things I couldn't stand was growing."
Hjorth is a confident writer and she is particularly good at capturing the claustrophobia of intelligent, privileged and articulate characters who understand their dilemma only too well, but fear that they might never find a way out. In Long Live the Post Horn! Hjorth tracks the unintended consequences of globalization with forensic insight, but never lectures or badgers the reader. Instead she gives us front row seats to Ellinor's life and thoughts and lets us draw our own conclusions.
__________________________________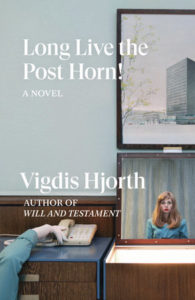 Vigdis Hjorth's Long Live the Post Horn!, translated by Charlotte Barslund, is available from Verso Books.
---