In the Opioid Epidemic Prosecutions Don't Always Help Victims
Former Federal Prosecutor Valena Beety on the War on Drugs
After working as a Rape Victim Advocate, I knew that I wanted to become a prosecutor. I saw how violence impacts survivors. I wanted to end the cycles of violence and stop the perpetrators. I thought prison was the answer, and that I could be a protector.
We all have origin stories. Mine began in the Midwest. I grew up, went to school, and worked in Indiana, Illinois, and Ohio. My dad and grandfather worked for ACDelco, a car parts manufacturer, in Anderson and Kokomo, Indiana. Kokomo, the "City of Firsts," was a pioneering automotive town, and their Delco Radio Division developed the first push button car radio. We were a General Motors family, relying on the company that, in our words, "put every meal on the table." My mom was a high school teacher with the Indianapolis Public Schools system, where she taught home economics and child development. I was a Midwesterner at heart, and in my family history.
When I was twenty-seven years old, I made a big move to Washington, D.C. There, I would finally start my career as a federal prosecutor. I was confident, righteous, and excited, armed with my newly minted law degree and job experience clerking for federal judges. I was proud to be an Assistant U.S. Attorney in the nation's capital, proud to be fighting for others.
But that wasn't necessarily the job. My year as a prosecutor brought me face-to-face with how prosecutions did not always help victims. In fact, victims often resented me.
Of course they did. I quickly learned to have the police arrest victims in order to make sure they showed up in court to testify against the defendant. That was just one of the common and callous tactics adopted in the office. Yet I continued to cloak myself in a shroud of righteousness.
I never thought about being wrong. I didn't think about charging the wrong person as the perpetrator, or about prison as the wrong solution.
I saw prison as the answer through my own experiences growing up. As a kid, I didn't see many men in my family and family circle go to prison. In my neighborhood, I didn't see many harms from far off prisons and over-policing. So I superimposed my own past and my own view on survivors—that they undoubtedly would benefit from incarcerating the person who hurt them.
My year as a prosecutor brought me face-to-face with how prosecutions did not always help victims.
I remember one incident, when a victim called a prosecutor down the hall from me. The victim was calling from the lobby of our office building, just downstairs. Her boyfriend was with her. He was the charged perpetrator in her domestic violence case. Together, they wanted to talk with the prosecutor about dropping the charges.
At the time, D.C. had a mandatory arrest law that required police to arrest someone if they received a domestic violence call. After the arrest, a local court would frequently impose a no-contact order. As prosecutors, we then brought charges against people who violated these initial no-contact orders, or orders of protection. When a defendant contacted "our" victim, it became a criminal charge.
In this case, there was a civil order of protection in place after the domestic violence arrest. The survivor's boyfriend could not legally be in touch with her—let alone stand next to the victim in the lobby of the prosecutor's building.
The prosecutor called the police, who promptly arrested him. Now he had another charge—violating the order of protection.
We saw police and prisons as the solution to domestic violence and sexual violence.
I ignored survivors' concerns that the charged person was the coparent of their children. I discounted that the alleged assailant provided a salary and funds for the family. And I diminished that they provided and could provide companionship and support.
I was averse to compassion or sympathy for anyone other than the few people, and few situations, I decided deserved it.
Instead, the common refrain was that if the defendant didn't do this crime, they did something else. He was a bad guy. If she didn't assist with the case, she was a "crack-whore."
*
At the time that Kim, Tami, and Leigh were in rehab, the national overdose crisis was in its beginnings. Notably, Tami, Kim, and Leigh were all white women—in what grew to be an epidemic centered on whiteness, white addiction, and white suffering.
They also lived in rural Mississippi. "Rural" frequently, and inaccurately, read as white. Rural people of color remained overlooked. Mississippi's population is almost 40 percent Black in a state where the largest "city" is 100,000 residents. In rural areas like the Black Belt, the majority of residents are Black. Yet while the whitewashed opioid overdose crisis brought attention to rurality, overdose victims of color were sidelined.
Drug use was stigmatized, but so was rehab. Federal law prohibited doctors from prescribing methadone or buprenorphine to treat opioid use disorder (OUD) at outpatient treatment facilities. Rehabilitation centers like Cady Hill instead relied on abstinence-only treatment models: the Alcoholics Anonymous 12 step method, group therapy, and individual talk therapy. At the time, the prevailing—and antiscientific—view was that substance use disorder was a moral failing. As such, the cure was individual willpower.
Yet while the whitewashed opioid overdose crisis brought attention to rurality, overdose victims of color were sidelined.
But the definition of addiction is doing whatever it takes to obtain the object of addiction, no matter the consequences. As it turned out, willpower was a weak match for OUD, which is more severe than alcohol use disorder.
In the 2000s, the tide began to turn in favor of enhanced access to evidence-based treatment.
Today, rehab for opioid use disorder includes medication, where patients in recovery receive doses of a prescription opioid agonist, which can break the cycle of addiction. The Cady Hill Recovery Center still provides an intensive residential treatment program but has incorporated medication as well.
Providers can still be hostile to medication treatment, criticizing that it just swaps out one drug for another. Worse yet, there's more stigma in the treatment community for methadone, the medication most frequently used to treat opioid use disorder by people of color, than buprenorphine, the less effective analgesic used by white people. Significant drug policy changes have occurred since Leigh, Tami, and Kim were in rehab, but what a difference those advances would have made for these women. What if they had all received medicine to overcome their addictions?
If someone used and overdosed, the reality was bleak. People overdosing were hastily dropped off at a hospital or a public park. Worse, sometimes the person overdosing was left to die alone. Anyone using a drug with the overdosing person could be charged with possession of drugs, distribution of drugs, or even worse: drug-induced homicide. Drug-induced homicide is a charge that an individual is responsible for the overdose death because they gave drugs to the person—regardless of whether there was any intent for that person to overdose and die. The intent doesn't matter, just the act. Criminal drug laws were discouraging reporting overdoses, and instead leading to more people dying.
________________________________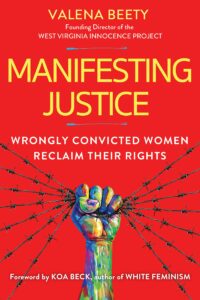 From Manifesting Justice: Wrongly Convicted Women Reclaim Their Rights. Used with permission of the publisher, Citadel Press. Copyright 2022 © Valena Beety.
---