In Praise of the Graceless Literary Exit: A Reading List
KT Sparks Catalogues the Truly Messy, Human Moments
Many years ago, I hosted a holiday party for my daughter's Brownie troop. One of the first to leave was the troop's co-leader, a particular DC type I'd always envied: lobbyist for something inoffensive (i.e., not drugs or guns) but lucrative (i.e., not starving children or melting ice caps). Bouclé silk suits in salmon, bespoke and neat. Natural blonde hair swept into a classic updo that looked effortless and also, not effortless. She departed early and with her eight-year-old daughter in arms. The girl was red-faced, rigid in the way of corpses and children melting down in public, screaming and spitting bits of masticated candy cane. "Here we go again," her mother chirped, flicking a speck of peppermint off her cheek with a French manicured nail. "Leaving five minutes past the possibility of a graceful exit."
Since that day, I've been on the lookout for literary characters who depart with that same lack of grace. I do so partly to inform my own writing: Black comedy is my bailiwick and undignified departures a hallmark of the field.  But I also enjoy watching characters leave the page this way, neither all King Lear nor all Keystone cop. The graceless exit is complex, messy, sometimes earned, sometimes not—in other words, deeply human. And because of that, it is hallmark of some of the most memorable characters in literature. Here are seven of my favorites.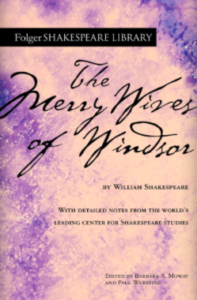 William Shakespeare, The Merry Wives of Windsor
(Simon & Schuster)
Each of Sir John Falstaff's three graceless exits, the weft to the Merry Wives of Windsor's rom-com warp, scores a perfect ten on the slapstick scale: stashed in a laundry hamper under a pile of "foul linen" and dumped in the Thames "like a barrow of Butcher's offal;" disguised as "the fat woman of Brainford" (one imagines the Marx Brothers' favorite foil, Margret Dumont) and driven from the stage; and dressed in a super-sized Bambi costume, pinched by children, and taunted by the titular merry wives ("puffed man," "a bag of flax," and my favorite, "old, cold, withered, and of intolerable entrails").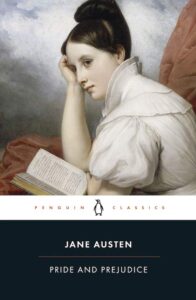 Jane Austen, Pride and Prejudice
(Penguin Group)
Mr. Collins personifies the "five minutes past the possibility" aspect of the quintessential graceless exit. He spends an entire chapter proposing to, being refused by, and refusing to accept the refusal of Elizabeth Bennet. To her first rebuff, he responds as stalkers have throughout the ages: "…it is usual with young ladies to reject the addresses of the man whom they secretly mean to accept." She pushes him out the door, re-rebuffing him with every shove, exclaiming: "I know not how to express my refusal in such a way as may convince you of its being one."
Charles Dickens, Bleak House
(Penguin Group)
Like that of my friend's squalling daughter, most graceless exits involve some measure of fireworks and drama, but none so much as that of Krook, the illiterate, uncouth, and mean drunk who runs a shop-cum-boarding house in Bleak House. Krook spontaneously combusts, leaving the page in a ball of fire, fueled, it is postulated, by burning greed and a belly full of rock gut.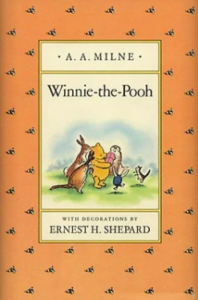 A.A. Milne, Winnie-the-Pooh
(Dutton Books for Young Readers)
Though lacking the explosive qualities of Kroop's exit, Winnie-the-Pooh's departure from elevenses at Rabbit's house, recounted in "In Which Pooh Goes Visiting and Gets Into a Tight Place" from the first volume of A.A. Milne's classic collection, checks all the boxes on the graceless exit pre-flight list: rooted in self-indulgence, fed on blinding hubris, finished in public humiliation. Pooh gorges on honey and gets stuck in the hole leading out the burrow. He is only able to dislodge after a week during which his front end undergoes an open-air weight-loss cleanse, and his back end serves as Rabbit's laundry rack. "'It all comes,' said Pooh crossly, 'of not having front doors big enough.'"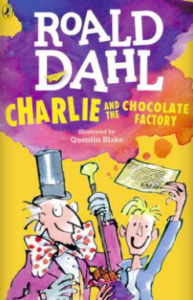 Roald Dahl, Charlie and the Chocolate Factory
(Puffin Books)
Veruca Salt, the iconic Roald Dahl's enfant terrible, pulls off one of the messiest exits in all of literature. After throwing a tantrum in the nut sorting room of Willy Wonka's chocolate factory, she is chucked down a garbage chute by trained squirrels. She stumbles away from the dumpster covered in (an excerpt from a list provided by the Oompa Loompas): "A bacon rind, some rancid lard, a loaf of bread gone stale and hard…a rotten nut, a reeky pear, a thing the cat left on the stair." Rejected by rodents and thrown in the trash—departures don't get uglier than that.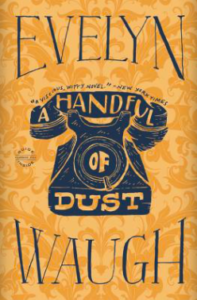 Evelyn Waugh, A Handful of Dust
(Back Bay Books)
Tony Last—the genial exemplar of a social set in which "any sin is acceptable provided it is carried off in good taste"—spends the second half of A Handful of Dust trying hard to leave—his marriage, his faithless friends, his country—with the greatest dignity and refinement. And yet each of his attempts at grace only move him closer to one of the funniest—and saddest—graceless exits in print: declared dead back in Britain, Tony's last scene is in an Amazonian village, far from his beloved country estate, forced to re-read Little Dorrit to his captor, an illiterate Dickens fanatic.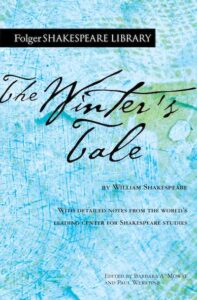 William Shakespeare, The Winter's Tale
(Simon & Schuster)
In The Merry Wives of Windsor, Shakespeare gave the world an entire play built on Falstaff's expansive graceless exits, each one more elaborate, ridiculous, and delicious than the last. In The Winter's Tale, the Bard does the opposite, bestowing on the cursed Antigonus the briefest graceless exit in the Western canon—and perhaps the most perfect, encompassing surprise, violence, comedy, and tragedy in a stage direction of only five words: "Exit, pursued by a bear."
__________________________________
Four Dead Horses by KT Sparks is available via Regal House Publishing.
---