In Praise of Bob Dylan's Narrative Strategies…
and His Verbs
Tony Conniff Goes Deep on "Tangled Up in Blue"
A while back I produced an album for an artist who recorded a cover of "Tangled Up In Blue," an epic Bob Dylan song spanning years of a couple's meetings and partings. After listening to it a few hundred times (which is what happens when you make an album) I was more convinced than ever of the song's greatness.
"Tangled Up in Blue" is one of the songs Dylan has rewritten numerous times and recorded several times over a period of years. To this day he still changes some words and phrases. All of the variations he's made are of interest but here I'm going to use his very first recorded version.
I could rhapsodize about many aspects of the song—title, melody, momentum, structure, rhyming, singability, etc. But for the moment let's look at… the verbs.
Here's a verse; the second of the song's seven—sometimes six—verses (which ends, like all the verses, with the title):
She was married when they first met
Soon to be divorced
He helped her out of a jam,
I guess
But he used a little too much force
They drove that car as far as they could
Abandoned it out West
Split up on a dark sad night
Both agreeing it was best
She turned around to look at him
As he was walkin' away
She said this can't be the end
"We'll meet again someday on the avenue"
Tangled Up In Blue
Look at the action in the verbs:
was married  
divorced  
helped (her)
  used (force)  
drove
  abandoned  
split up
  agreeing  
turned around
walkin' away  
said
 (we'll)  meet
  Tangled Up
So much of the story is in the rich, vivid, and active verbs. It's something you can find in almost any Dylan song. He rarely wastes an opportunity to use verbs as a way to convey activity, drama, conflict, motion in the story.
The narrative strategy Dylan employs in this song is fascinating. After telling the story of the couple in the third person (see above), in the fourth verse he makes a bold move. He introduces an "I"… who seems to be the same person as the previous "he."
When the song moves to the first person, the man meets another woman in a topless place ("I must admit I felt a little uneasy / When she bent down to tie the laces of my shoes…"). Then, in the next verse (5), at the woman's home…
She lit a burner on the stove
And offered me a pipe
"Thought you'd never say hello" she said
"You look like the silent type"
She opened up a book of poems
And offered it to me
Written by an Italian poet
From the 13th century

Every one of them words rang true
And glowed like burning coals
Pouring out of every page
Like it was written in my soul
From me to you
Tangled Up In Blue
Again, the verbs…
lit
  offered
  opened up
  offered
  written  
rang (true)
 glowed
  pouring 
 written (in my soul)
  Tangled Up
The verbs tell the story… the story of how being with this other woman, probably for a one-night stand, led his thoughts back to the one he couldn't forget or let go… Every verse, every chapter of the story, leads back to the same woman and the same impossible emotional place—Tangled Up In Blue.
In the next verse, in what is the most audacious narrative stroke (and a move that Dylan removed in later versions) two-thirds of the way through the verse he blends the "I" and the "he."
He was always in a hurry
Too busy or too stoned
And everything she ever did plan
Just had to be postponed
He thought they were successful
She thought they were blessed
With objects and material things
But I never was impressed
And when it all came crashing down
I became withdrawn
The only thing I knew how to do
Was keep on keeping' on
Like a bird that flew
Tangled Up In Blue
In songs it's not at all unusual to change narrative point of view. But it almost always happens between sections—the verse being "he" or "she," for example, and the chorus being "I," or the bridge being "they." It's not common to do what Dylan does here—switch in the middle of a section. For obvious reasons—it's usually confusing. But in this instance there's a purpose to having the listener momentarily say, "What the…?"
"He" thought they were successful. But "I" was never impressed. Picasso-like, he splinters the same character in two. (In later versions they became two different men in love with this same woman.)
The final verse has the singer "going back" to try to reconnect with this woman ("And me I'm still on the road / Heading for another joint"). He ends with as accurate and telling a description as I've ever heard of the timeless plight of lovers who just can't seem to get it together in the same place at the same time…
We always did feel the same
We just saw it from a different point of view
Tangled Up In Blue
Hard to beat that!
___________________________________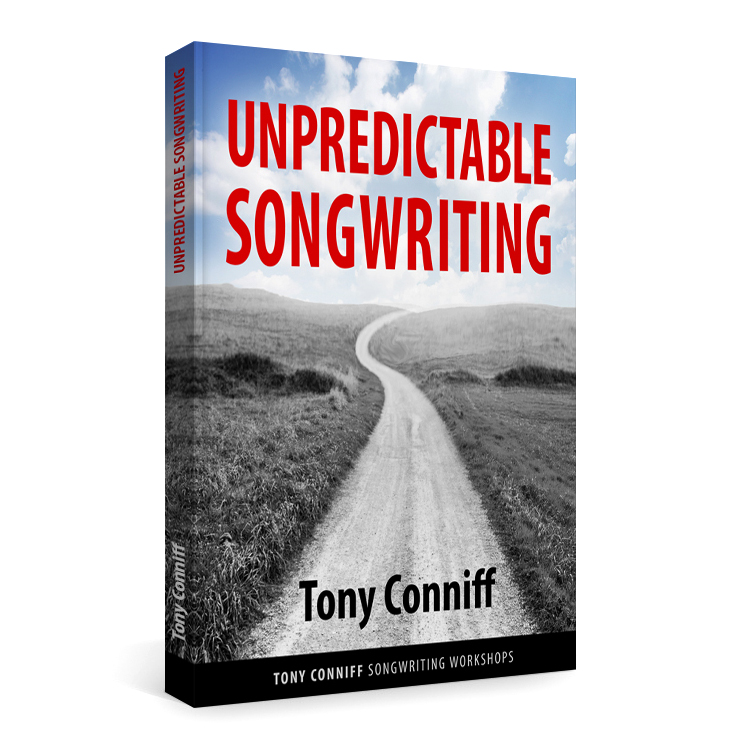 The preceding was adapted from Unpredictable Songwriting by Tony Conniff. Copyright 2020 Tony Conniff.
---