In Order to Write, I Had to Break a Family Curse
Amanda Yates Garcia on Witchcraft and Writer's Block
Witchcraft and the craft of writing share important correspondences: evoking, invoking, conjuring, traveling between the worlds, searching for the sympathy between things, creating relationships, slipping our fingers around the head of our ideas and midwifing them into the material world—both witches and writers do this. Sometimes I use the tools of writing to help me be a better witch, sometimes it's the other way around. In the final stretch of writing my book, Initiated: Memoir of a Witch, I used the tools witchcraft to help me break a writer's curse that had been tormenting my family for generations.
While sweating over the final draft of the book, I found it necessary to begin my workday with the invocation of Mercury, a Roman god, cognate of the Greek Hermes. Fleet-footed messenger and god of eloquence, his sharp wits give him the ability to heal wounds and solve all riddles. Astrologers look to the dignity of the planet Mercury when assessing one's ability to communicate. Queer, swift, sometimes untrustworthy, Mercury is a psychopomp, able to speak to the dead and guide them through the underworld. Before I sat down to write, to that winged messenger I chanted:
"Mercury come to me and be my guide… assist me in my work, make my speech graceful, guide my soul through the underworld and bring me what is necessary to my thriving."
To call him in, I rang a bell four times, burned frankincense—his favorite incense according to the Orphic hymns—and lit a novena candle on which I'd pasted a color copy of the Mercury card from Penny Slinger's Tantric Dakini Oracle deck: a caduceus, two snakes spiraling up around a wand, with an enflamed ring of a solar eclipse blazing in the background. I always think of eclipses as moments when curses can be broken, when the ordinary order of things is interrupted. At the time, an eclipse seemed necessary if I were to break my case of writer's block, supernatural in its proportions.
"Curse" is a fantastical word for a pattern of events that doesn't occur to your favor. The particular "pattern of events" I was experiencing was characterized by self-doubt and anxiety. It went a little something like this: get excited about an idea, scribble down pages of notes, search for the thread that holds them together, worry that my ideas don't make sense, have visions of all my critics and past failures, get distracted, get demoralized, and then, get mute. I practiced this pattern daily, and so diligently it would have put the most advanced yogi to shame.
Family curses don't just spring up from nowhere.
I come from a family of frustrated writers; folks who aspired to write and publish their work, but who, for various reasons, were unable to get it out into the world. My stepfather was a playwright who became an engineer, abandoning his literary aspirations at the behest of his parents. My father's 30-year-old novels sit in a drawer of his desk, and every time I see him he laments the fact that his manuscripts were returned from the publishers with form letters: thanks, but no thanks. "You can tell they didn't even read it!" he still cries. But it was my mother's curse that felt most acute.
When I was growing up, my mother had a contract with Beacon Press for a book about our family tradition of witchcraft… but she never finished it. She also worked on another book, an historical epic. I'd spy on her through the cracked door of her office, scribbling thousands of pages of notes. But some shadow always stood between her and her finished manuscript: depression, divorce, a daughter who stayed out all night clinging to the backs of strangers on motorcycles. And so, when it came to the closing stretch of writing my own book, for which I had a deadline, I approached that deadline with a special—a cursed—kind of anguish. I didn't believe I'd be able to finish it.
Family curses don't just spring up from nowhere. The painful patterns in our lives are usually attendant to some kind of trauma. My memoir is a testimony to the ways witchcraft helped me escape from that trauma, from the underworlds of sex work, misogyny, family legacies of abuse, patriarchy, and shit jobs. To write the book, I had to descend again into that labyrinth in search of the lost fragments of myself. But in retreading those grounds, I got lost again. I drew towards the mouth of the cave. I glimpsed my finished book dancing in a meadow above. But then a fog of uncertainty would creep in to disorient me. I'd almost make it, then whispers of self-doubt would make me look back. I'd be dragged back down, reaching towards a completed manuscript slipping perpetually from my grasp. I couldn't work. I'd slouch in front of the screen and nothing would come, or only mess would come. I'd drift there for hours, panic mounting, deadline approaching, terrified the curse would get me too. The words and ideas were there, I could see them, welling up, pounding on the glass walls of my consciousness, but somewhere between my imagination and my fingertips my ideas would dissipate into the underworld.
Some astrologers say the underworld appears in the 4th House, the house of the ancestors. To enter the mouth of the underworld is to descend into our genetic history. The underworld is caves and darkness; it's the place where things get buried. Literally, the underworld is dirt. It's fossils and magma and tectonic plates. Great masses shift there beneath the surface of the earth. Fault lines appear, impassable mountains erupt from the ground. It's a place inhabited by the dead, our old stories, our old wounds and gods. In the underworld, we're haunted by ghosts and monsters and the things we've repressed, by the things we yearn for but can no longer have. They appear as wraiths drifting listlessly through labyrinths from which we fear there is no escape.
To leave my underworld labyrinth, I knew I had to be able to choose a path and trust that it was the right one. I'd have to be able to trust my inner voice. Writers, and artists of all kinds, need to be able to trust the choices they make in order to complete a project. My curse made me doubt myself. I couldn't choose a path and stick to it. I needed a psychopomp, a guide whose map I could trust. I chose Mercury, he's had the job of psychopomp for thousands of years. He has experience. He felt friendly to me, queer, and with a good sense of humor; he encouraged me not to take my curse so seriously. The rites of witchcraft can help us take writing back into our own hands. I wasn't at the mercy of the muses, Mercury told me laughing. I didn't need to wait helplessly for inspiration to come. I could conjure the allies I needed. I could forge the path myself through the power of my craft.
Craft has several meanings, all of which I love and want to dwell in. The most common usage referring to skill in making—a dexterous use of tools, a practiced ability to solve problems. A craft is also a vessel: an airplane, or a spaceship… or a boat—the kind that ferries you across the River Styx for example. Finally, craft is something that requires manual skill. So not just knowledge then, but also physical ability.
Calling spiritual powers into the room—protective deities, wise allies—brings us literary witches strength.
Discussions of the craft of writing often leave out the body, as if it were all just knowledge and disembodied language booming out like a voice from the sky. But writing doesn't just happen in our minds, bodies are a requirement. And in the depths of my writers block, as I chased my deadline through its corridors, my cursed body thwarted me. My back would spasm and my wrists would cramp—I couldn't get comfortable or stay put. To write, a body must show up, it must sit down, it must stay in the place where the writing happens, even when all our fears, anxieties, and insecurities come shouting at us to leave, to go make ourselves coffee, to do our dishes, to garden, to avoid. My cursed body resisted, but witchcraft soothed me. For witches, our bodies, these gifts of the earth, are numinous sites of pleasure and grace. Our body is the sacred site where the transmutation from imagination to materiality occurs— witches call that transmutation magic.
In witchcraft, we use our craft to bring what is in our imagination into the material world. We use scent and breath, stones and bells. We use our words, our chants, to evoke the spirit of the thing we desire from within ourselves. Words have the power to conjure the spirit of a thing: an ocean fog seeping through the eucalyptus leaves; a jeweled skull; the drug war; Greta Thunberg. Say the name, and the thing appears. To chant the name "Mercury" brings alchemy and quicksilver into the room, a connection to the planet astrologers say rules our faculties of speech. Mercury hastens ideas. Call his name and he zaps out like the volts of a Tesla coil, making quick connections between things, illuminating the room. To break my curse, before I began writing, I'd spray blessed water into the four directions. I'd breathe those vapors into my lungs, my brain, my bones, and my fingertips. I'd dance through the room, charging the space, chanting Mercury's name as I listened for his arrival.
So many of the techniques of magic and ceremony are related to space, to place, to situating oneself within reality, to calling ourselves back into our bones, our viscera. It's surprisingly difficult to go back to procrastination, social media addiction, and other forms of trauma-based avoidance after you've performed the rites and invocations of witchcraft. Our gods are our guides, leading us by torchlight towards our desired outcome. Calling spiritual powers into the room—protective deities, wise allies—brings us literary witches strength.
I invoke Mercury because to do so means something to me. Practicing my craft gives me confidence. Through my craft, I bring the ideas hovering in my imagination onto the page where they can do their work. For me, the craft of witchery and the craft of writing are the same craft: a vessel that sails me between the worlds, a craft that guides me back to my body, my earth, my place of power. From that place, I can trust my inner voice to lead me home.
__________________________________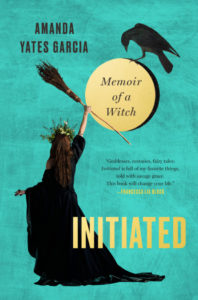 Initiated: Memoir of a Witch is out now via Grand Central Publishing.
---