Important: 50 Literary Cameos in 90s Movies
Or, An Elaborate Excuse to Revisit 10 Things I Hate About You
I don't know about you, but whenever I see a character on screen reading a book, I squint and peer and rewind and pause and google until I have figured out what book, exactly, they are reading. Sure, it's probably not important to the plot (though sometimes it is), but I can't help it: I want to know. I'm nosy like that.
So, what do people read in movies? Lots of things, of course. To narrow it down for this list, I decided to look at only a small segment of the fictional reading public: those reading their books in 90s movies. After all, as you well know, the best category of movie is the 90s movie. Don't @ me. Just enjoy the stroll down literary and cinematic memory lane below. (My thanks to Cinematic Literature, People Reading in Movies, Fictional Characters Reading Books, who have already done a lot of the legwork on the internet, and also to the freakish, encyclopedic mind of Dan Sheehan, who suggested most of these.) [Ed. note: Dan is an actual genius at this one very specific thing.]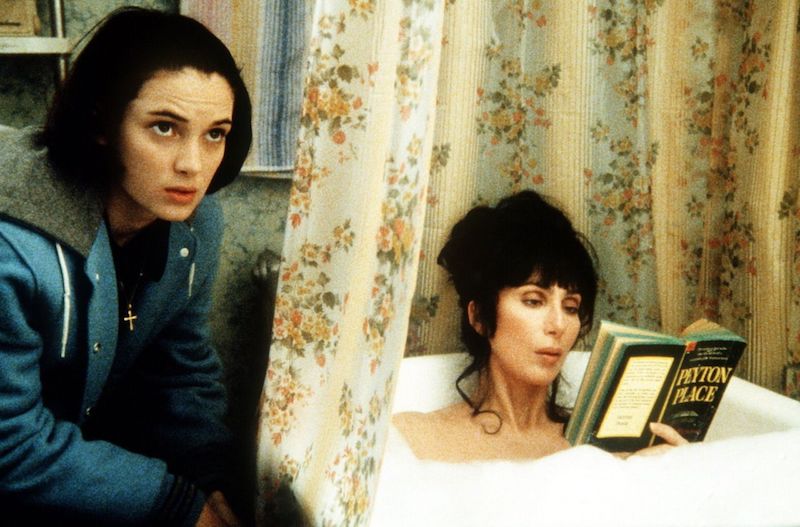 Cher (aka Mrs. Flax) reading Grace Metalious's Peyton Place in all-time classic Mermaids (Richard Benjamin, 1990). Charlotte also reads Lives of the Saints, for what it's worth.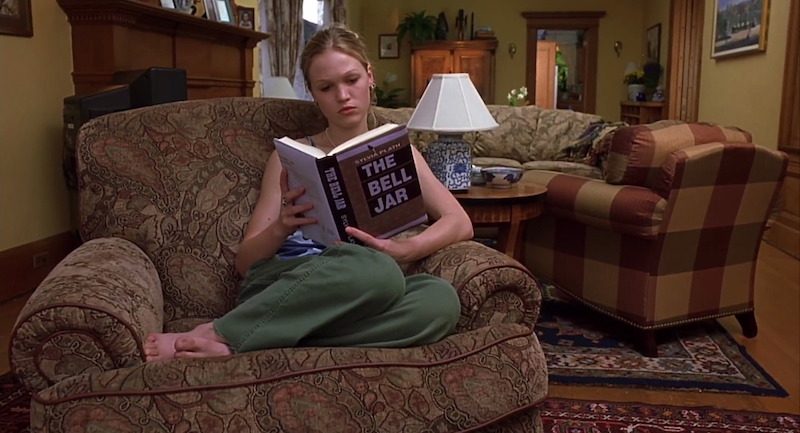 My favorite 90s film and yours is obviously 10 Things I Hate About You (Gil Junger, 1999), which features Sylvia Plath's The Bell Jar . . .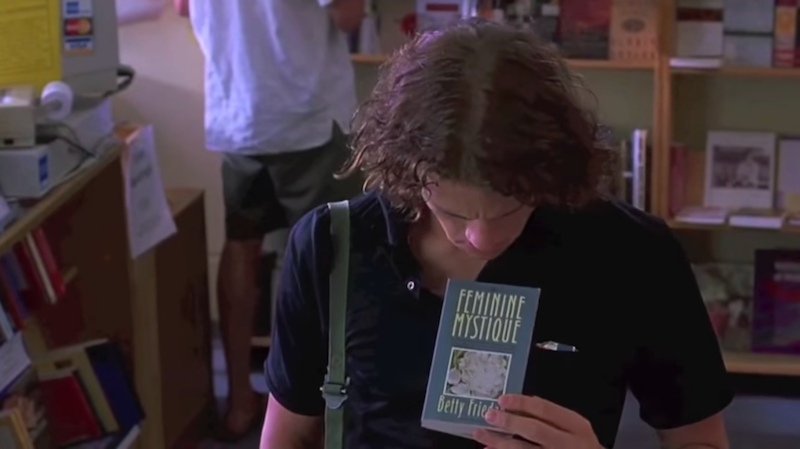 . . . and Betty Friedan's The Feminine Mystique, which, who knew, is a highly effective flirting tool. And that's even besides all the Shakespearean rapping.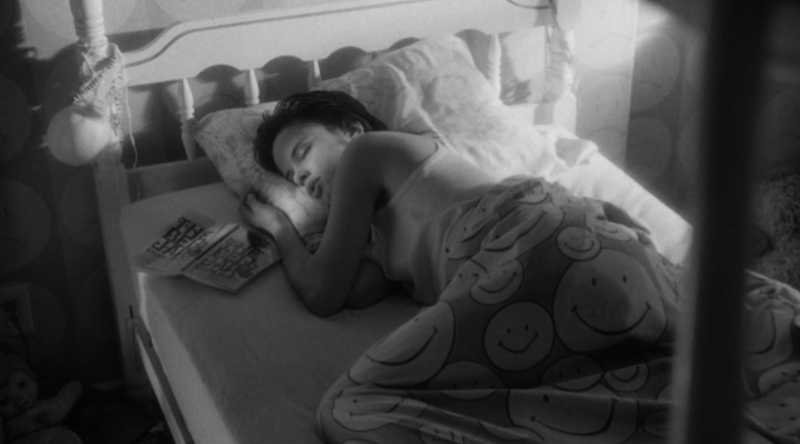 A well-read copy of The Bell Jar can also be found in Natural Born Killers (Oliver Stone, 1994).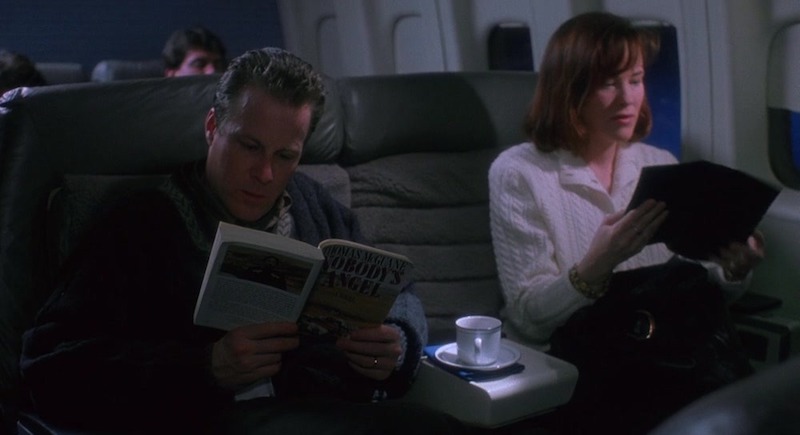 Witness John Heard, who plays the father in Home Alone (Chris Columbus, 1990), reading Thomas McGuane's Nobody's Angel on the plane to Paris. Fun fact: John Heard and Thomas McGuane were both once married to actress Margot Kidder (though in Heard's case, it was only for six days.)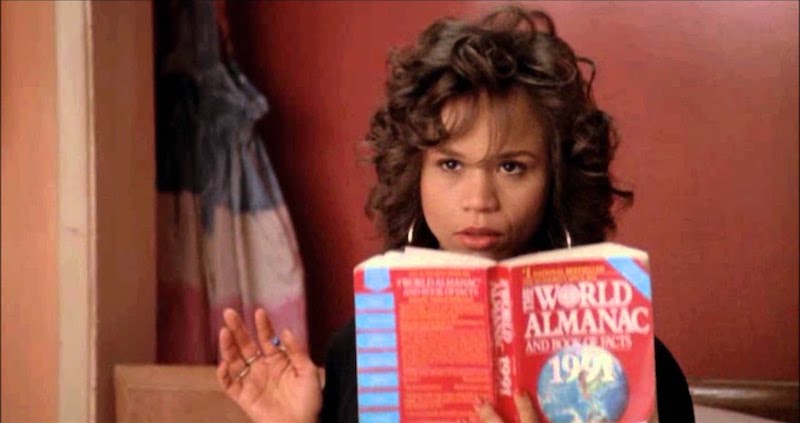 Gloria reads the World Almanac in White Men Can't Jump (Ron Shelton, 1992)—the only proven way to win on Jeopardy!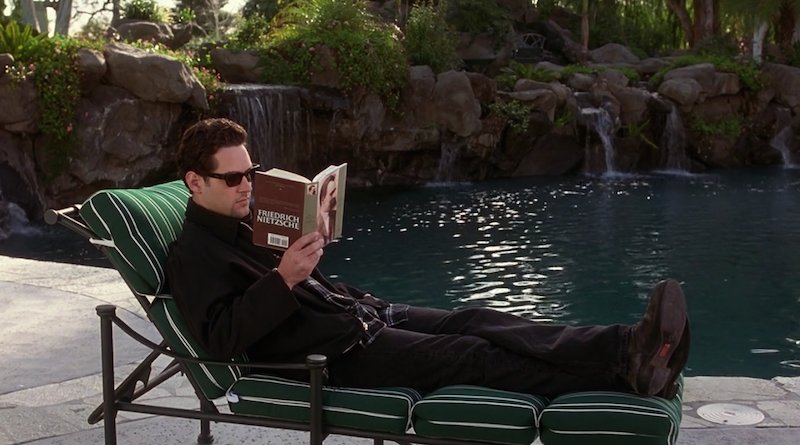 Paul Rudd as Josh reading some Friedrich Nietzsche by the pool in Clueless (Amy Heckerling, 1995). You know, as you do.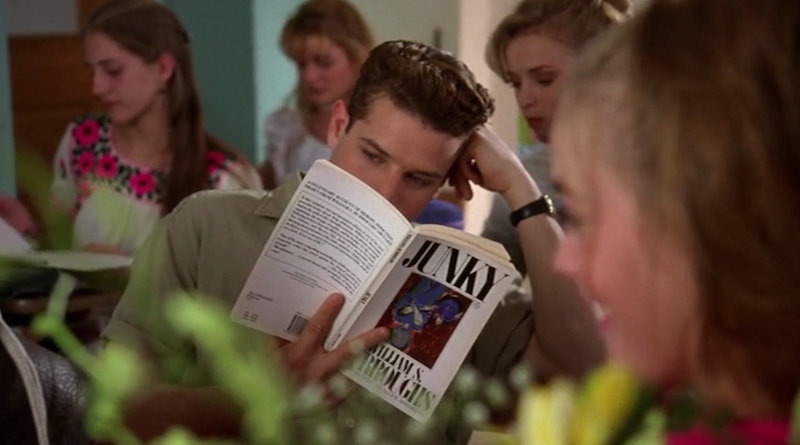 Also in Clueless: Christian Stovitz ready William S. Burroughs's Junky. Hint, hint, Cher.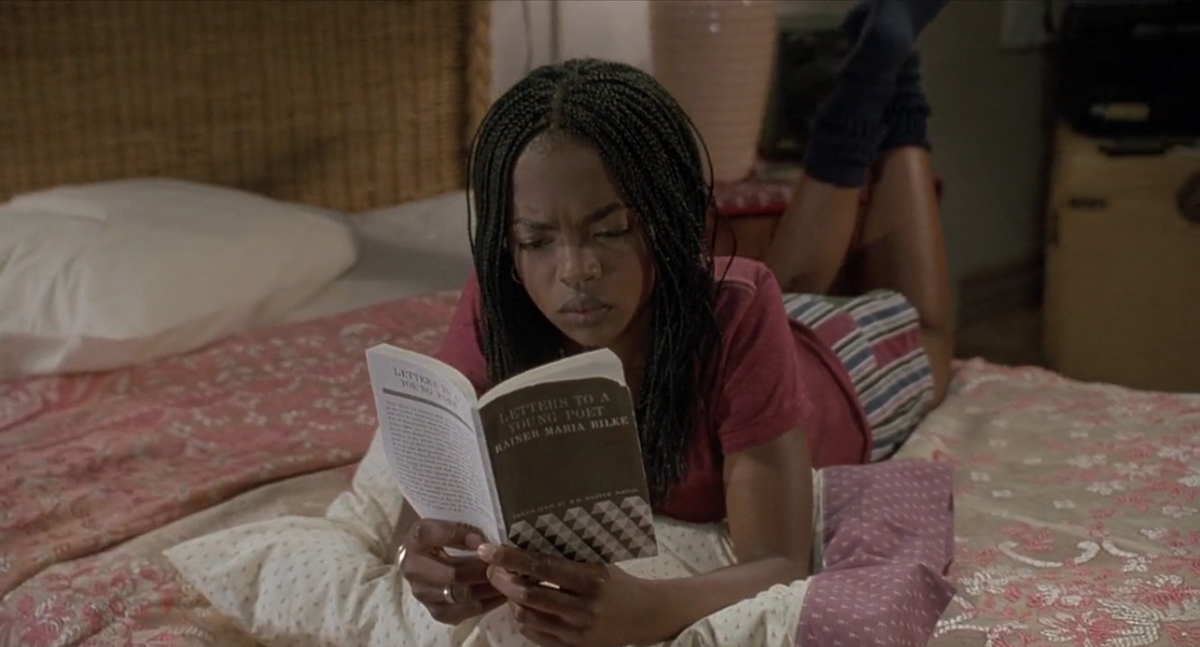 Why yes, that is Lauryn Hill reading Rilke in Sister Act 2 (Bill Duke, 1993). And it comes complete with some pretty damn good advice from Whoopi: "Rainer Maria Rilke. He's a fabulous writer. A fellow used to write to him and say, 'I want to be a writer. Please read my stuff.' And Rilke says to this guy: 'Don't ask me about being a writer. If when you wake up in the morning you can think of nothing but writing . . . then you're a writer.'"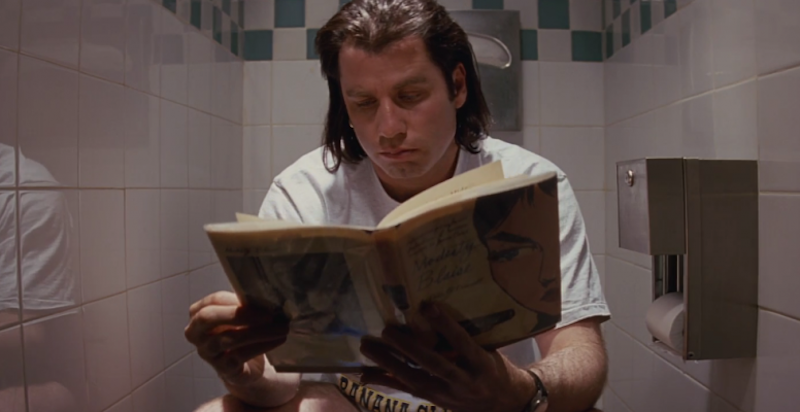 Vincent Vega reading Modesty Blaise on the toilet in Pulp Fiction (Quentin Tarantino, 1994), right before the end.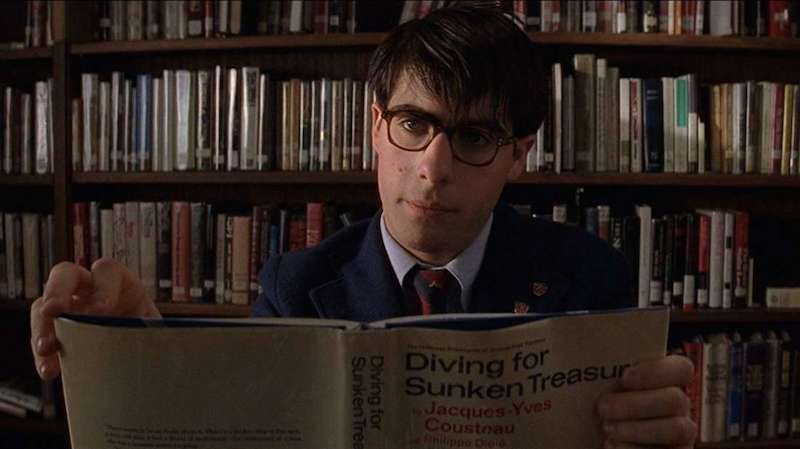 Max Fischer reads Diving for Sunken Treasure by Jacques Cousteau in Rushmore (Wes Anderson, 1998) . . .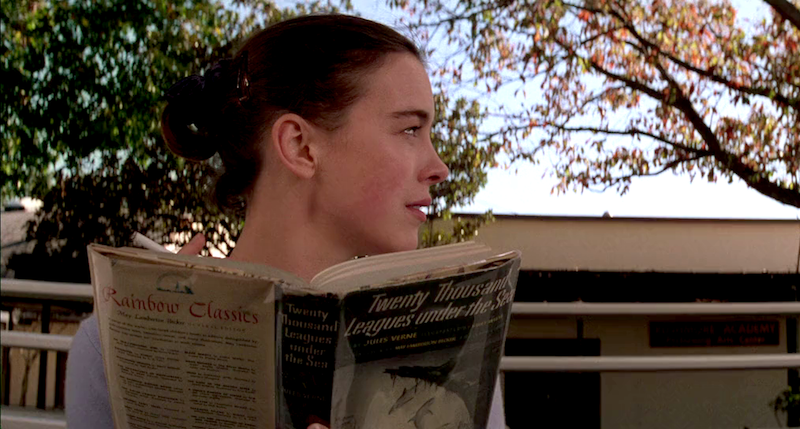 . . . whereas Miss Cross reads Jules Verne's Twenty Thousand Leagues Under the Sea.
Nancy is not so immersed in the Qabalah at this moment in The Craft (Andrew Fleming, 1996).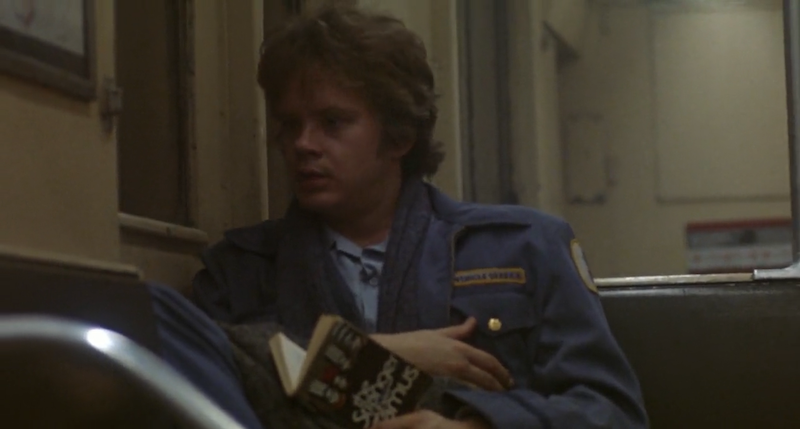 Jacob reading Albert Camus's The Stranger on the subway in Jacob's Ladder (Adrian Lyne, 1990). The book also appears later in the film.
"Oh no. He lives." Morticia Adams reads Dr. Seuss's The Cat in the Hat with great disappointment in Addams Family Values (Barry Sonnenfeld, 1993).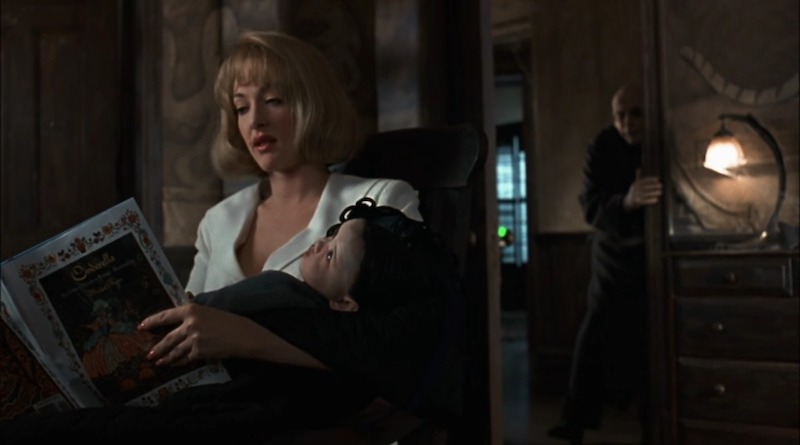 And it only gets creepier from there, with Cinderella.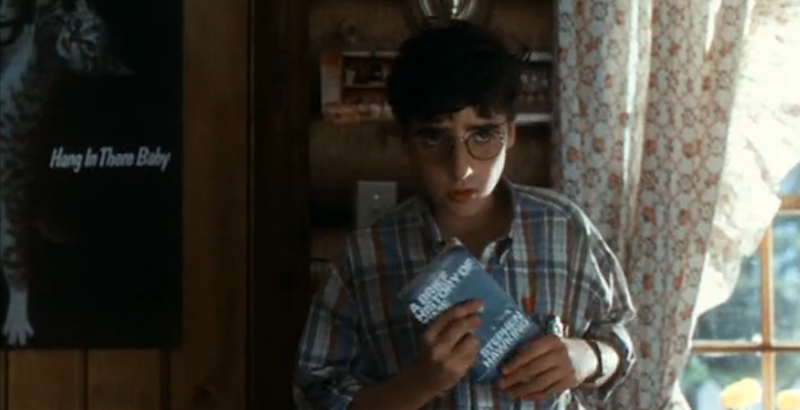 Which is not to forget Stephen Hawking.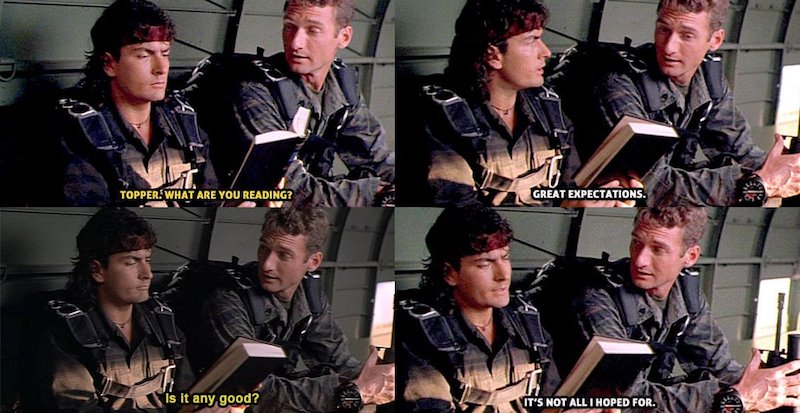 Expectations are not met in Hot Shots! Part Deux (Jim Abrahams, 1993).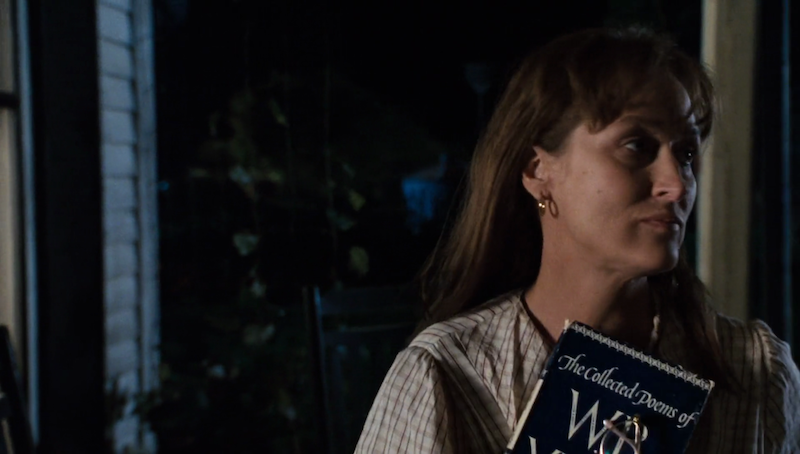 William Butler Yeats is all over The Bridges of Madison County (Clint Eastwood, 1995), which is based on the novel by the same name by Robert James Waller. Meryl Streep was nominated for an Oscar for her excellent reading of The Collected Poems of W.B. Yeats. (That is not why.)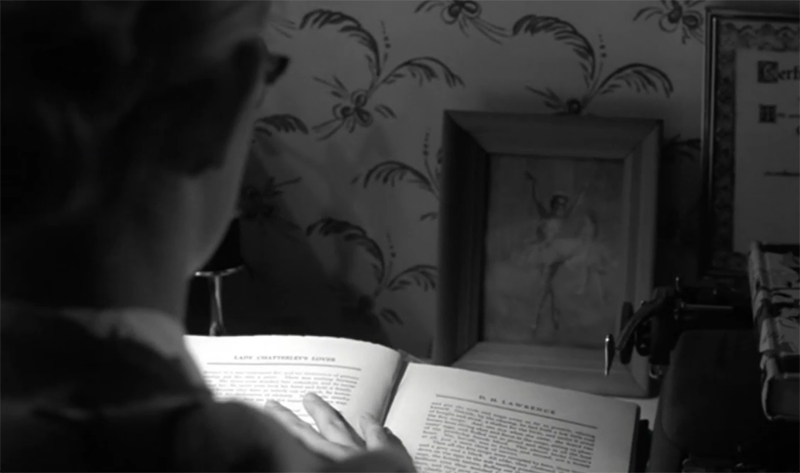 In Pleasantville (Gary Ross, 1998), literature is one of the many things that brings color (and sin!) to the eponymous TV town—David (aka Bud) reads the oft-banned The Adventures of Huckleberry Finn and The Catcher in the Rye to his classmates, and Jennifer (aka Mary Sue) has her own transformation while reading D.H. Lawrence's Lady Chatterley's Lover.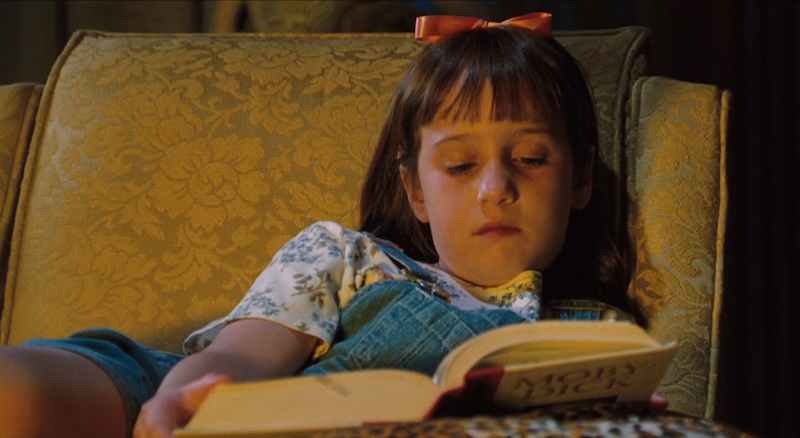 But of course: Matilda herself reading Herman Melville's Moby-Dick in Matilda (Danny DeVito, 1996).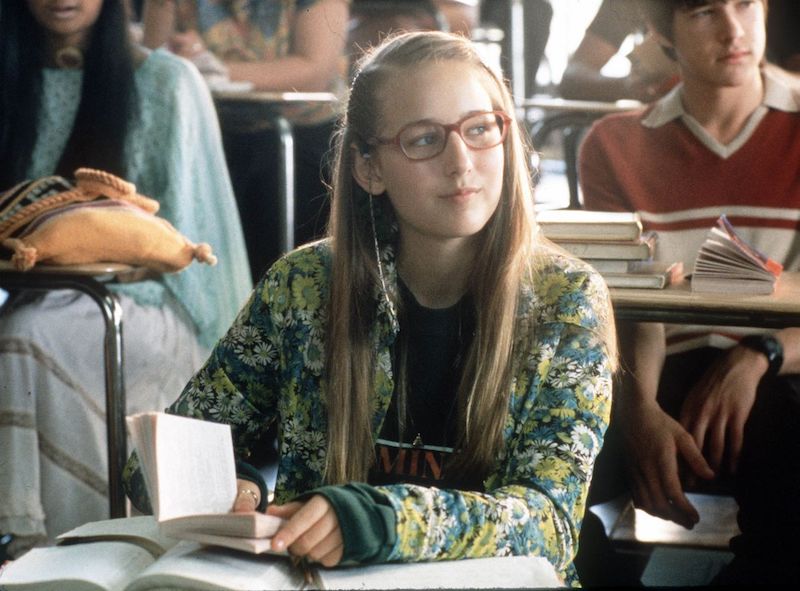 Aldys reading As You Like It, the only book ever read or discussed in the film Never Been Kissed (Raja Gosnell, 1999). Fun fact: this movie is the film debut of James Franco.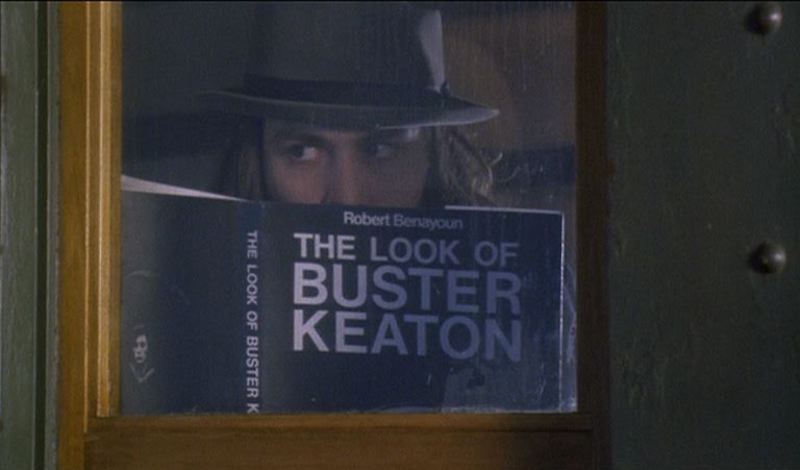 Sam reading up on Buster Keaton in Benny & Joon (Jeremiah S. Chechik, 1993).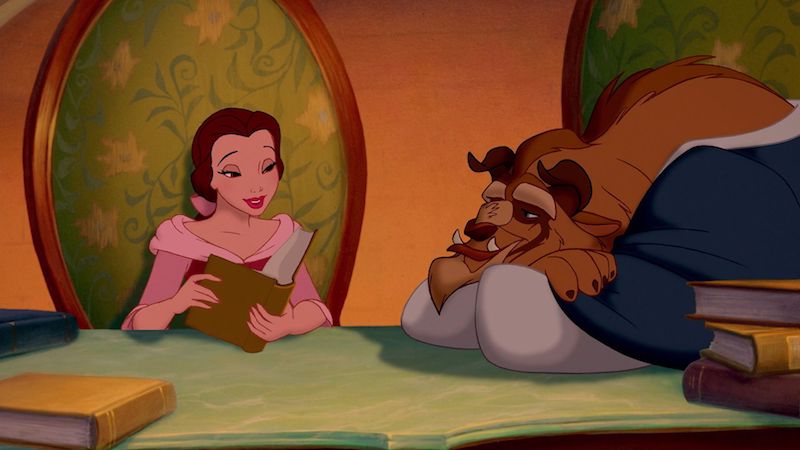 Belle reads Romeo and Juliet to the Beast in Beauty and the Beast (1991)—it's a cartoon Romeo and Juliet, but it's Romeo and Juliet all the same.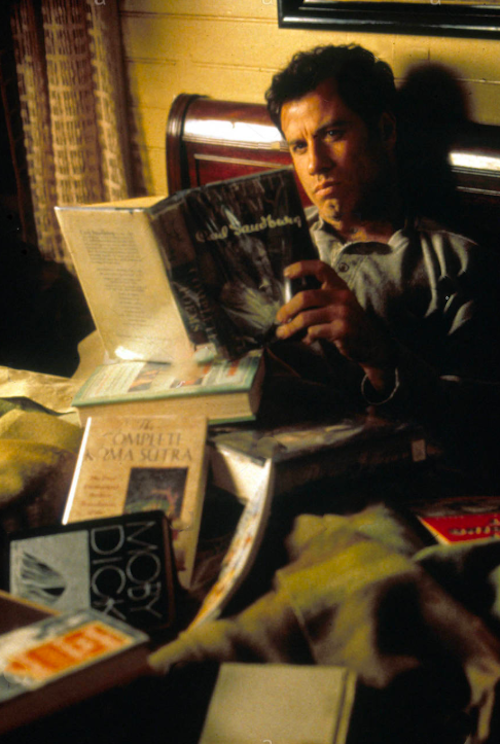 John Travolta displays his genius by reading The Collected Poems of Carl Sandburg in Phenomenon (Jon Turteltaub, 1996).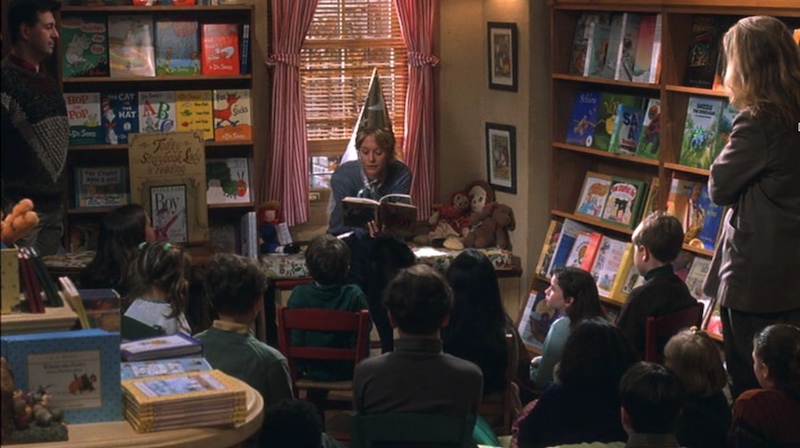 There are quite a number of literary cameos in You've Got Mail (Nora Ephron, 1998)—it's a rom-com about a bookstore, after all. But the one that sticks in my mind is Kathleen reading from Roald Dahl's Boy during story time, wearing a fun hat.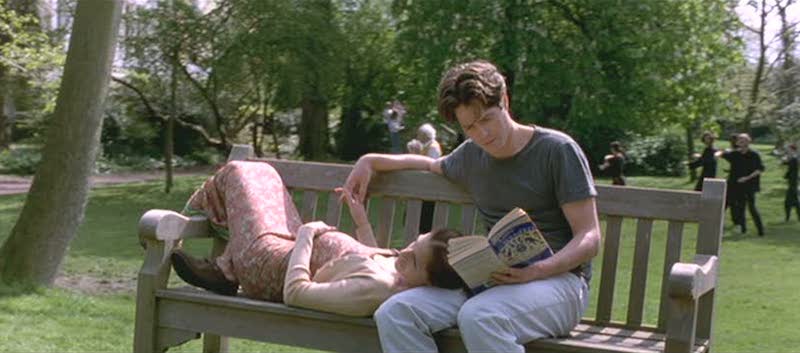 Don't sleep on the final scene of Notting Hill (Roger Michell, 1999), in which all is bliss and Hugh Grant has the perfect wife and also tons of free time and money to sit in the park reading Captain Corelli's Mandolin, by Louis de Bernieres. The UK edition, obviously.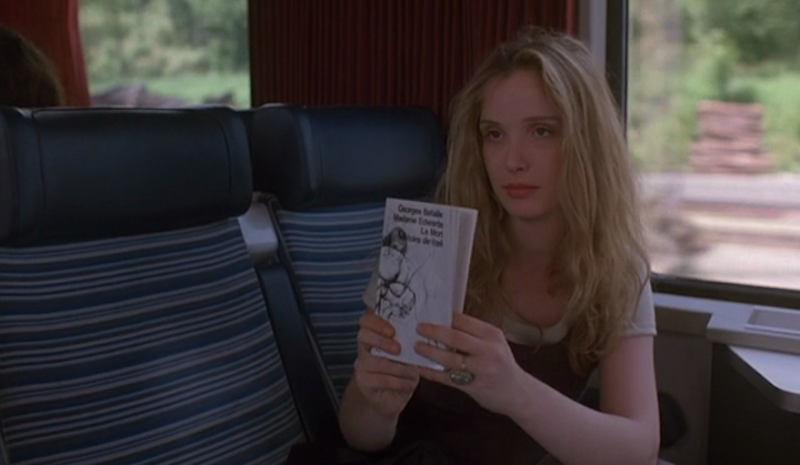 In Before Sunrise (Richard Linklater, 1995), Celine reads Madame Edwarda, Le mort, Histoire de l'oeil by Georges Bataille . . .
. . . and Jesse reads Klaus Kinski's memoir All I Need is Love. Match made in heaven.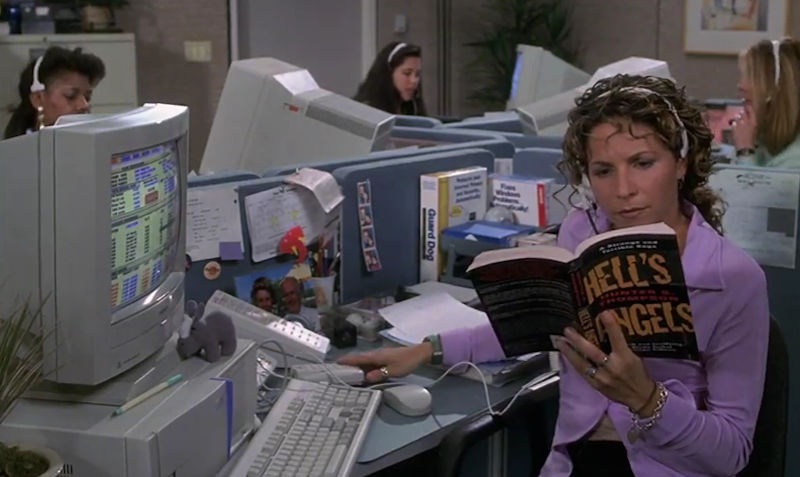 "Credit Vixen's" extra-curricular activities (at work) in A Night at the Roxbury (John Fortenberry, 1998) include reading Hunter S. Thompson's Hell's Angels.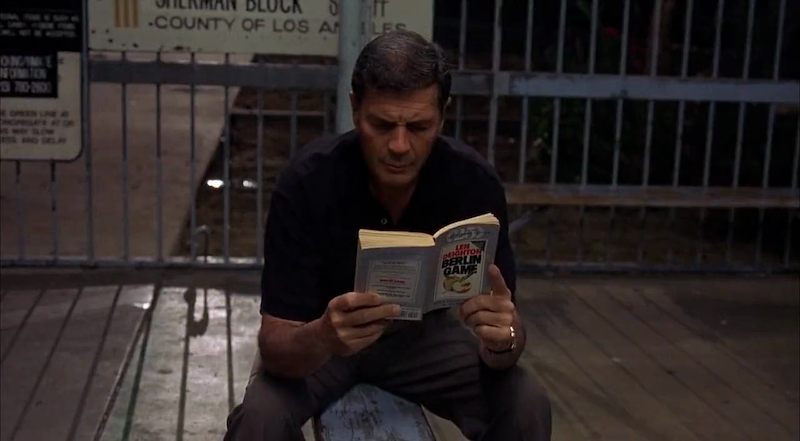 Max Cherry reads Len Deighton's Berlin Game in Jackie Brown (Quentin Tarantino, 1997).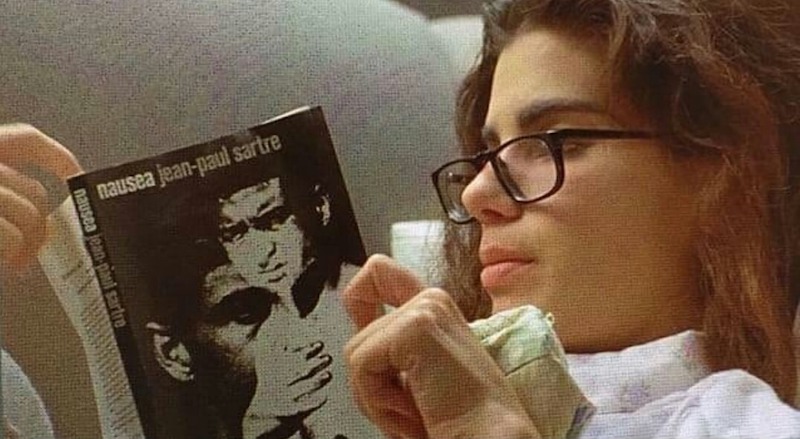 A very young Sandra Bullock reads Sartre's Nausea in Love Potion No. 9 (Dale Launer, 1992).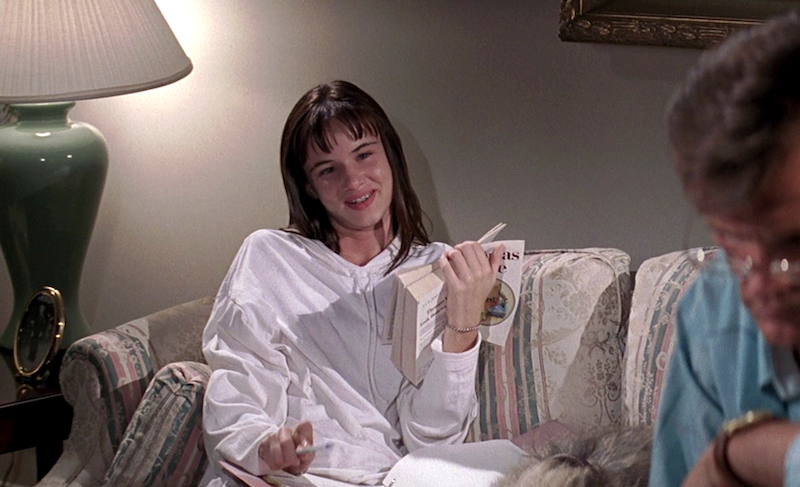 A very very young Juliette Lewis as Danielle in Cape Fear (Martin Scorsese, 1991), reading Thomas Wolfe's Look Homeward, Angel.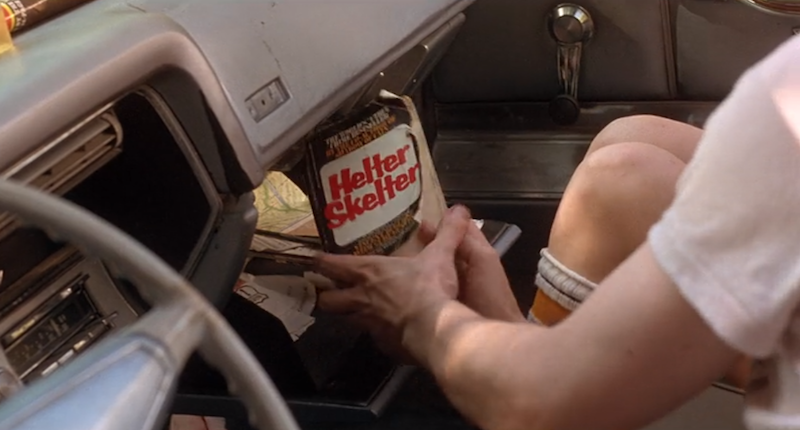 The most important thing to keep in your glove compartment: a copy of Helter Skelter. What else do you expect from the Slums of Beverley Hills (Tamara Jenkins, 1998)?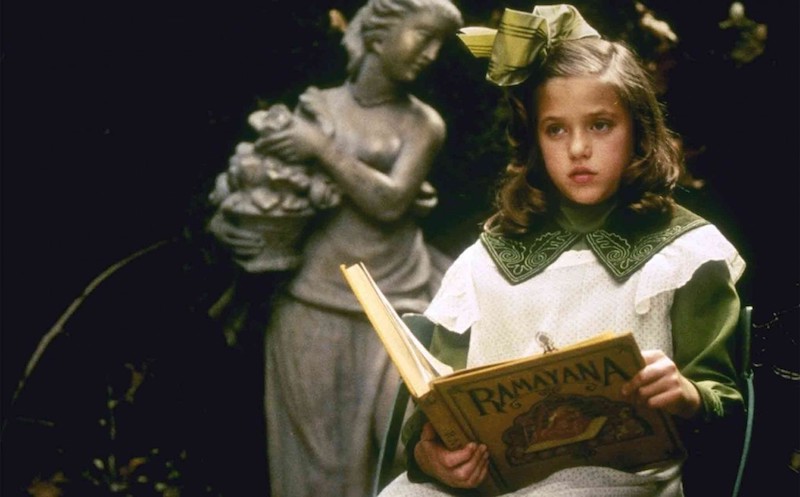 Poor Sara Crewe reads (and relates to) the Ramayana in A Little Princess (Alfonso Cuarón, 1995)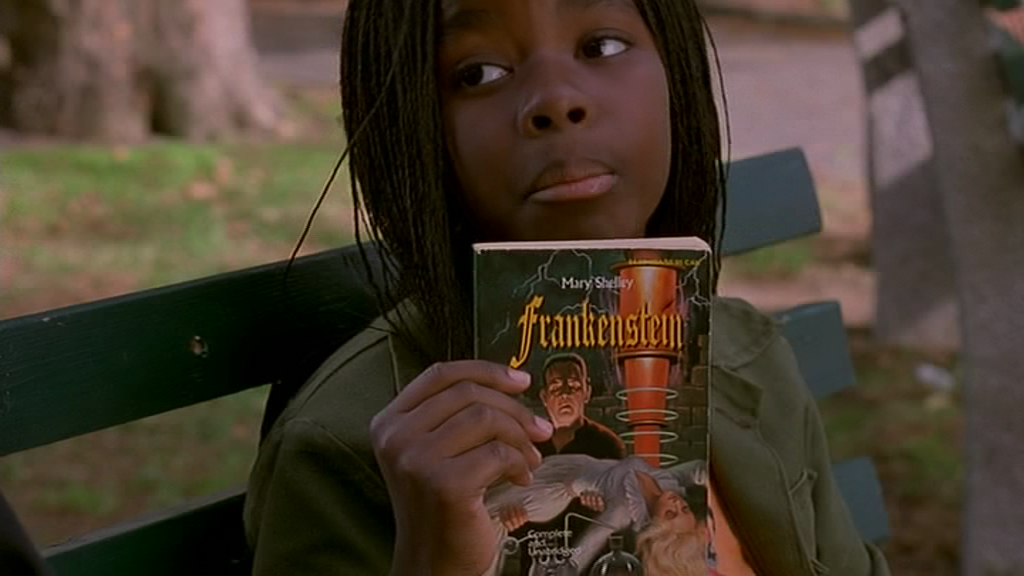 Who could forget the girl with the lunchbox full of books in Ghost Dog: The Way of the Samurai (Jim Jarmusch, 1999)? Camille Winbush, as Pearline, proudly displays Kenneth Grahame's The Wind in the Willows (Ghost Dog: has read), W. E. B. Du Bois's The Souls of Black Folk (Ghost Dog: has read, and wants to know where she got it), David Holmes's Night Nurse (Ghost Dog: "You read that?" (Nope, she just likes the cover)), Mary Shelley's Frankenstein (Ghost Dog: "Now that's a good book." (She knows, it's even better than the movie)). For his part, he lends her Rashomon.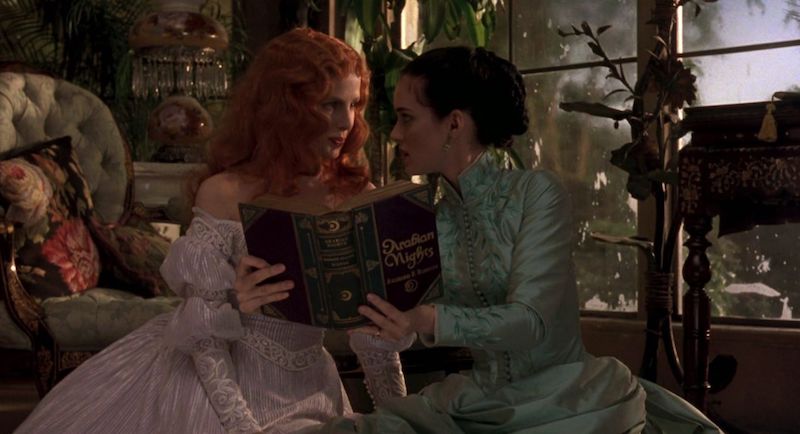 A classic sparks some feeling in Bram Stoker's Dracula (Francis Ford Coppola, 1992).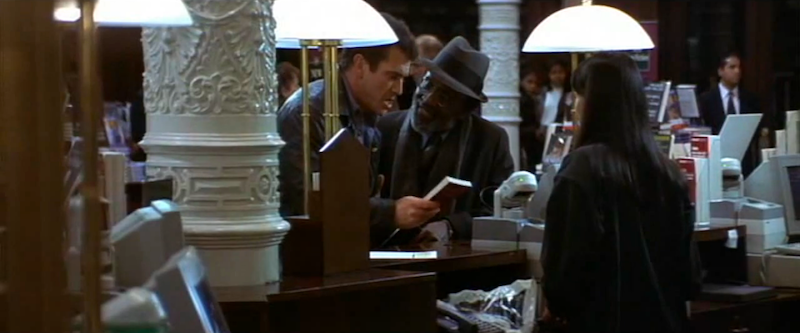 In Conspiracy Theory (Richard Donner, 1997), Mel Gibson's character compulsively buys copies of The Catcher in the Rye, ostensibly to prevent future assassinations.
Dopey dopey Chris Klein in the middle of reading The Celestine Prophecy in Election (Alexander Payne, 1999).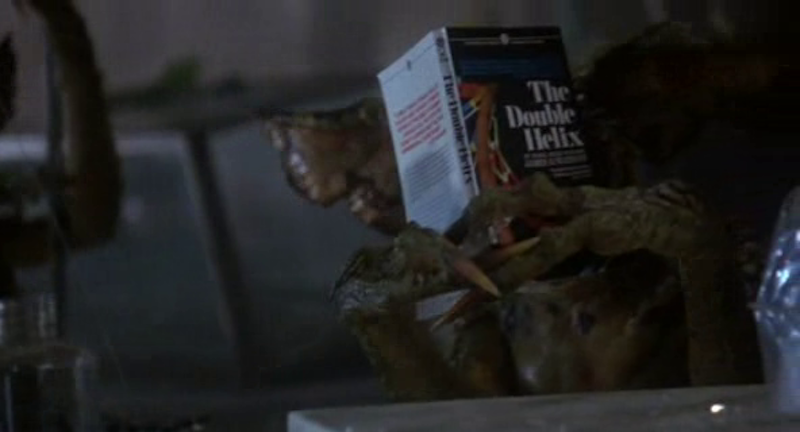 Gremlins like to read too—especially about the origins of humanity. Or at least according to Gremlins 2: The New Batch (Joe Dante, 1990), which features this copy of James D. Watson's The Double Helix.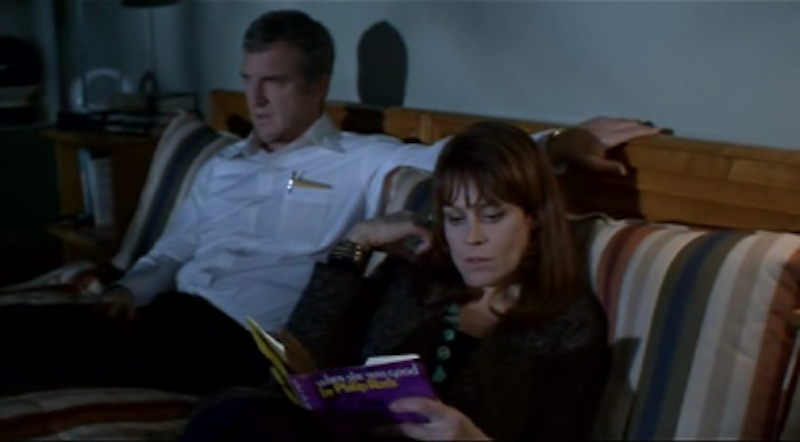 The Ice Storm (Ang Lee, 1997) may be based on Rick Moody's novel, but it features Philip Roth's When She Was Good, which—fun(?) fact—is Roth's only novel with a female protagonist.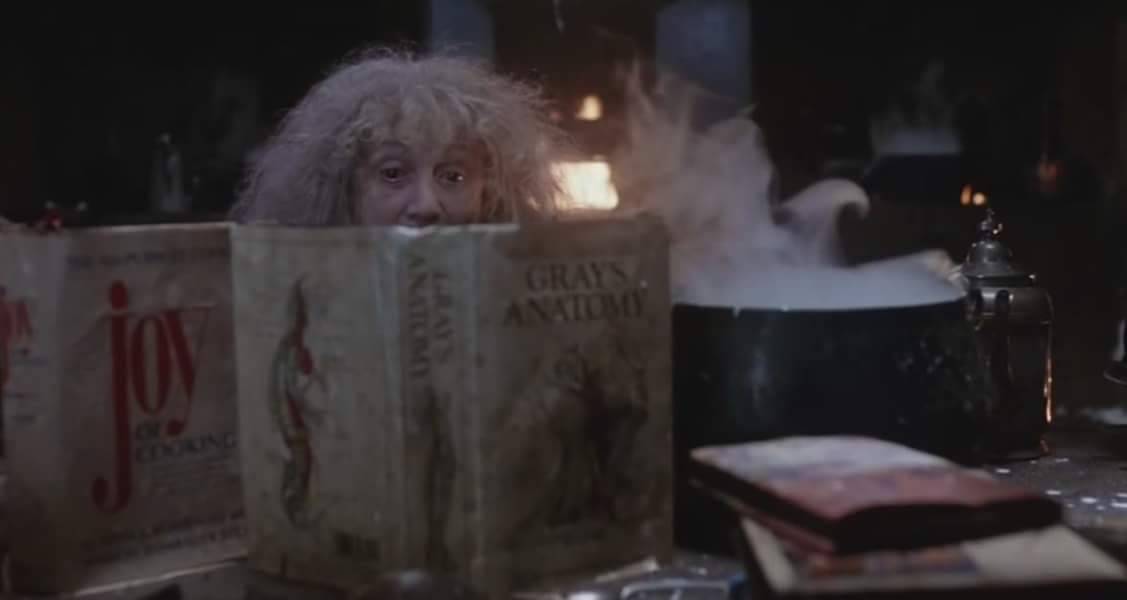 Irma S. Rombauer's The Joy of Cooking and Henry Gray's Gray's Anatomy have equal value in the kitchen of The Addams Family (Barry Sonnenfeld, 1991).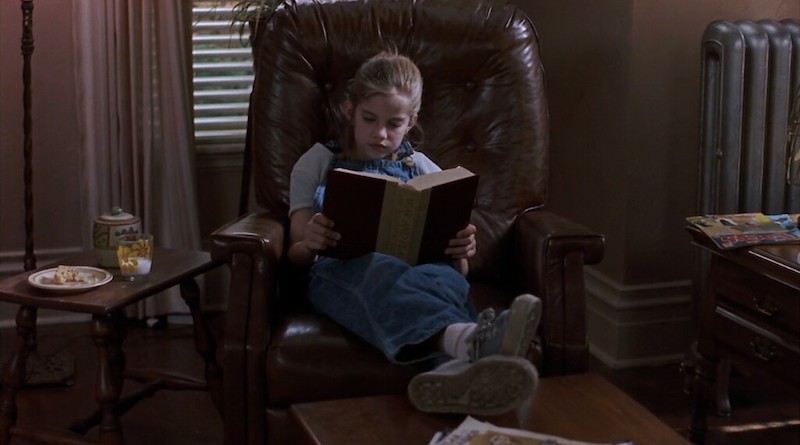 Oh my heart: 11-year-old Vada Sultenfuss reading Leo Tolstoy's War and Peace in My Girl (Howard Zieff, 1991).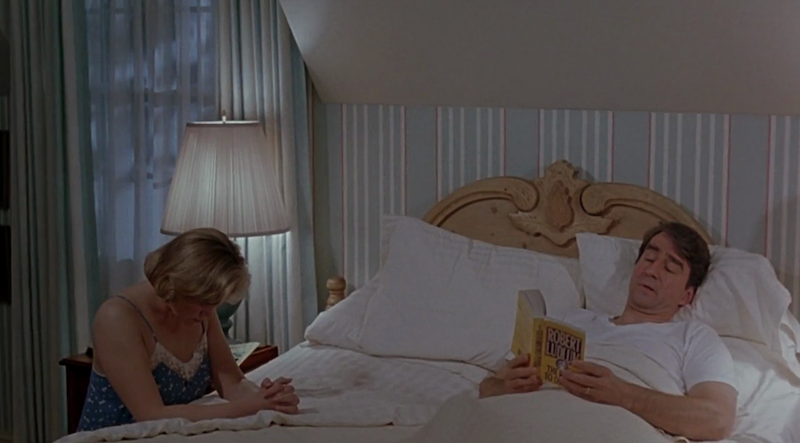 If your wife is a serial killer, as Sam Waterston's is in Serial Mom (John Waters, 1994), I suppose all you really can do is read Robert Ludlum books in bed.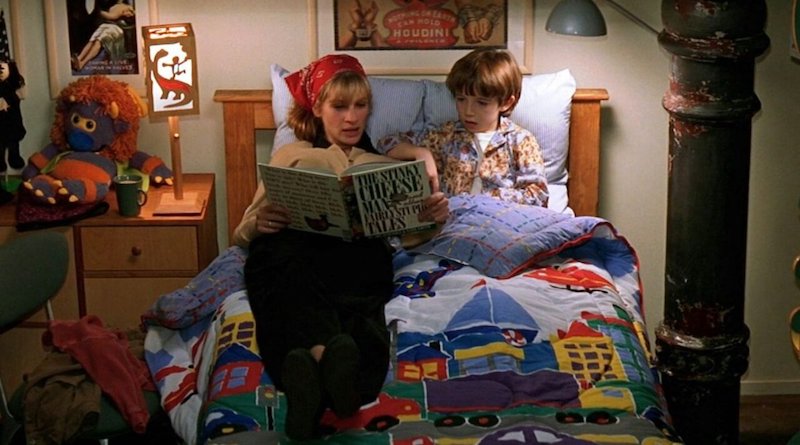 Isabel reads my own favorite picture book, Jon Scieszka's The Stinky Cheese Man and Other Fairly Stupid Tales, to little Ben in Stepmom (Chris Columbus, 1998).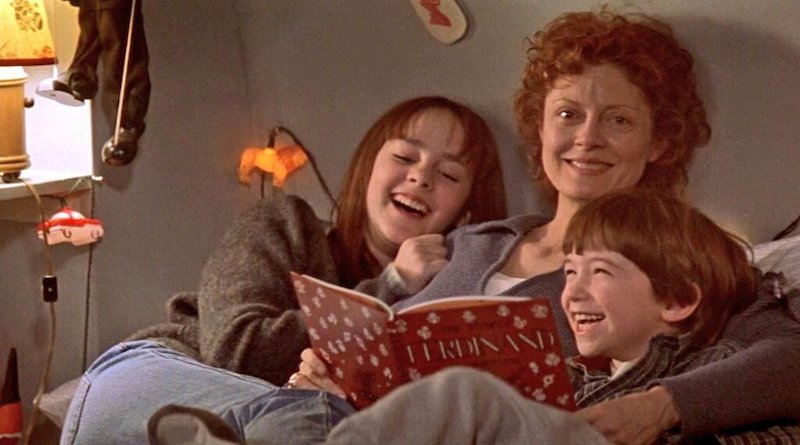 . . . but their REAL mom reads them The Story of Ferdinand, by Munro Leaf.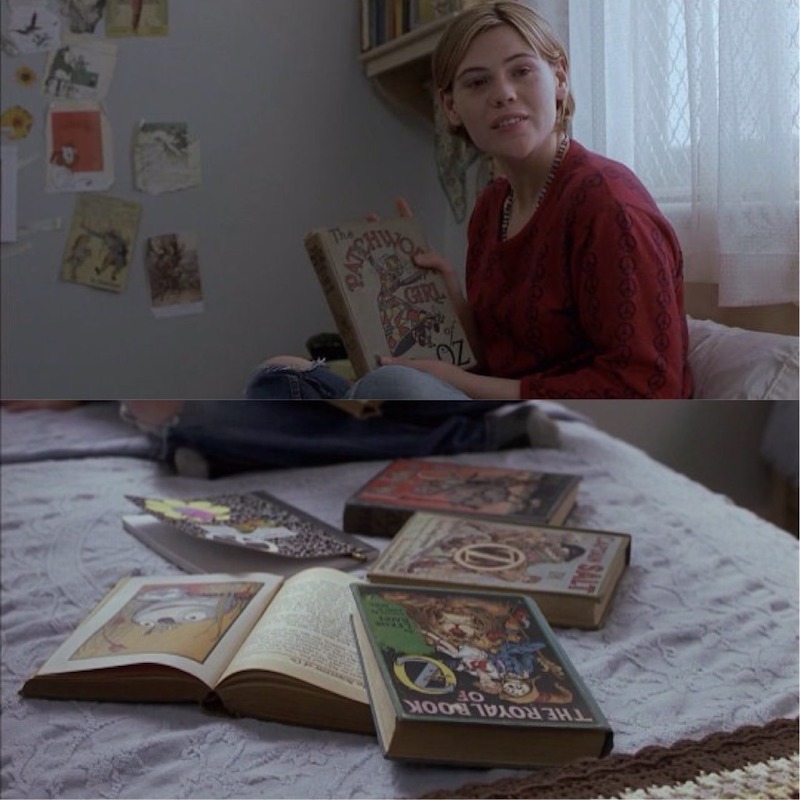 In Girl, Interrupted (James Mangold, 1999), based on Susanna Kaysen's 1993 memoir of the same name, Georgina takes solace in the works of L. Frank Baum.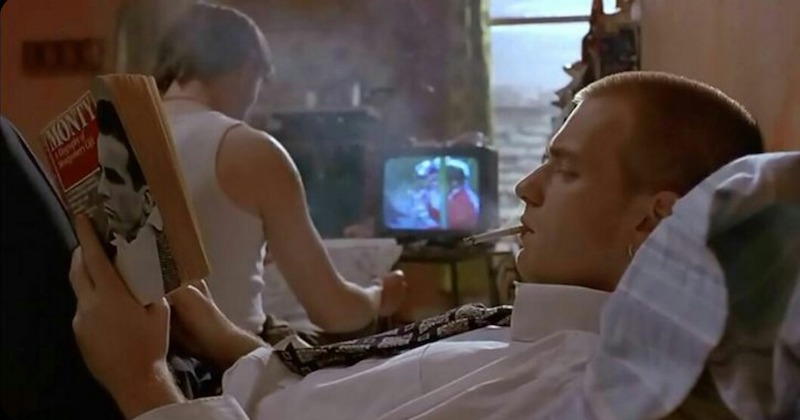 In Trainspotting (Danny Boyle, 1996), Rent Boy reads Robert LaGuardia's biography of legendary actor Montgomery Clift.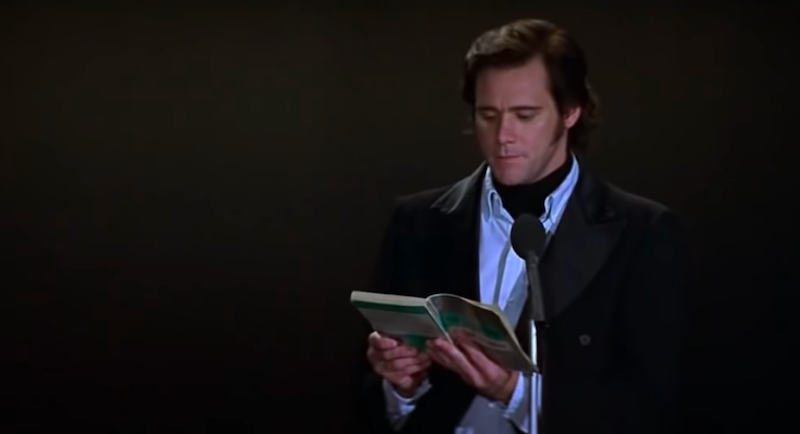 Jim Carrey reads from The Great Gatsby as Andy Kaufman in Man on the Moon (Miloš Forman, 1999). The real Kaufman does something similar here.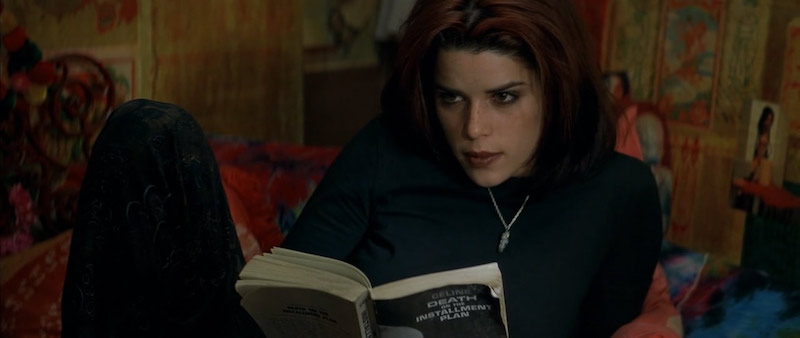 Neve Campbell's Suzie Toller reads Céline's Death on the Installment Plan in Wild Things (John McNaughton, 1998).
---