Imaginary Histories: How Tolkien's Fascination with Language Shaped His Literary World
Damien Bador on the Origins of a Fantasy Classic
Translated by Tina Kover
JRR Tolkien disliked novels that tended toward autobiography, though he did not dispute the fact that an author has no choice but to use his or her own experiences in writing fiction. The Lord of the Rings is most assuredly not an allegory for the 20th century, nor are any of his protagonists a reflection of Tolkien himself. Yet, if there is a domain inextricably intertwined with the life of our author, it is linguistics: comparative philology, to be precise.
For Tolkien, language and literature necessarily go hand in hand; this is the only way to ensure proper understanding of a text, particularly in the case of ancient texts. Tolkien conveyed this point of view in his analysis of Beowulf, published in The Monsters and the Critics: And Other Essays, which combined philological rigor with literary appreciation at a time when critics generally saw the epic poem merely as a source of historical information distorted by myth.
The importance of language is easily discernible in Tolkien's obsession with finding the perfect turn of phrase, even if it meant reworking certain sentences countless times. His preoccupation with linguistic detail also found its way into his stories themselves, focusing on the languages spoken by the various characters. No one who has read The Lord of the Rings can fail to have been struck by the passages in Quenya or Sindarin, the two main Elvish languages, and in perusing the novels' appendices, it becomes clear to the reader that these are true languages, each with its own specific grammar and vocabulary, and that Tolkien also paid close attention to the evolution of these languages, and to their relationships to one another.
Indeed, the words spoken by the hobbit Meriadoc Brandybuck and the herb-master of Minas Tirith show that many of Tolkien's characters possess great linguistic sensitivity. The Elves are no exception; it is among them that we find the first guild of linguists, the Lambengolmor. From here it is no stretch to qualify Tolkien's inspiration as "fundamentally linguistic," particularly as his letters show a deep interest in the subject.
*
By his own admission, Tolkien's fascination with languages began very early in life. His mother Mabel introduced him to Latin, French, and German. Later, he studied ancient Greek, and then Old English, Norse, Gothic, Welsh, and Finnish. Tolkien's first job after World War One consisted of writing definitions for the Oxford English Dictionary, then being prepared for re-edition, and where he became known for his thorough etymological research. In 1920 he obtained an associate professorship in English at Leeds University; he would teach English and the ancient Germanic languages throughout his academic career. However, he had also nursed a passion for the invention of imaginary languages since childhood.
After his young Incledon cousins introduced him to the private language they had created, which they called Animalic, Tolkien collaborated with them to invent the more sophisticated language of Nevbosh. Next he created Naffarin for his own amusement, developing its vocabulary and grammar as well as its phonology. The discovery of Gothic impelled him to invent a fictive Germanic language, but his attention was soon fully taken up by Finnish. Strongly attracted by this language and the legends of the Kalevala, he threw himself into his first attempt at a novel, an adaptation of the tragic story of Kullervo. This endeavor also represented an initial effort to bring together his two favorite subjects; in it, he began to develop a specific nomenclature based on Finnish.
At the same time, Tolkien was also writing various fantasy poems, which gradually gave rise to a fictional universe in which the Elves met a tragic fate. His forced 1917 convalescence in a military hospital bed provided him with the time to draft several of these stories; they were the earliest of the Lost Tales, the first seeds of The Silmarillion, and the first tales centered on Middle-earth.
Most of Tolkien's creative energy was soon being poured into this work. He invented two languages in succession which were purported to be related, Qenya and Gnomish. Each with their own grammar and phonology, these languages encompass several dialects, and Tolkien took care to outline certain aspects of their semantic and phonetic evolution, enabling him to explain, for example, how the Qenya word apaire ("victory, conquest, subjugation") corresponds to the Gnomish abair, and how the Qenya héru, "lord", is linked to the Gnomish hîr (care, anxiety).
As with his books, Tolkien revised his linguistic inventions endlessly. His languages were soon joined by several alphabets, which could be used to transcribe both English and the nascent Elvish tongues, not to mention Old High German! During the 1930s, the initial conceptual framework became insufficient, as Tolkien began to take an interest in the languages of the Valar, orcs, Dwarves, and even humans. It was at this point that he began writing The Etymologies, a dictionary tracing the roots of primitive Elvish and listing a large number of derivatives in various languages. He also wrote a history of languages entitled Lhammas, said to be the work of the elf Pengolodh. What could be more logical? Of course a people as advanced as the Elves would count linguists among their numbers.
For Tolkien, language and literature necessarily go hand in hand; this is the only way to ensure proper understanding of a text.
The books themselves further influenced the languages, and Tolkien reviewed his own creation more than once, which occasionally led him to remove a language family completely, to modify relationships among languages, or simply to rename them. He also began exploring the narrative avenues offered by the wide variety of languages in more and more depth; thus a king's anger forces the Elves of Ñoldor to abandon the common use of their mother tongue, while the Dwarves' mistrust of strangers manifests itself in a certain reluctance to teach their language to others. Conversely, knowledge of ancient languages helps to resolve the mystery of the secret door to Erebor.
The publication of the appendices to The Lord of the Rings forced Tolkien to stop altering the major lines of his linguistic history. These appendices contain a significant amount of information about the languages spoken in the west of Middle-earth at the time of the War of the Ring. The two main alphabets used are described in detail. Tolkien would have liked to add a linguistic glossary that would define all of the invented words used in the novel; however, this plan never came to fruition, as it would have taken too long, and threatened to delay the publication of the final volume of the trilogy, and was never finished.
For all that, Tolkien retained his habit of revising his grammatical concepts and continued to develop certain aspects of his two principal languages, now called Quenya and Sindarin, and very different from what they had been 40 years earlier. This included playing with those parameters that did not hinge on the forms published in the Elvish poems that pepper The Lord of the Rings. The 1965 re-edition allowed him to alter some narrative passages and to make certain linguistic changes; for example, the Quenya omentielmo, "of our meeting", became omentielvo, a seemingly minor modification, but one behind which lay a complete revision of possessive suffixes and verb endings.
__________________________________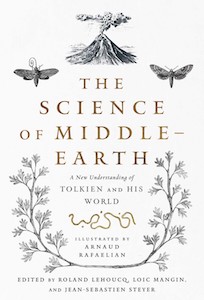 Excerpted from The Science of Middle-Earth: A New Understanding of Tolkien and His World. Used with the permission of the publisher, Pegasus Books. Copyright © 2021 by Damien Bador.
---