Guess who made it out of committee? On Wednesday, the Illinois state legislature passed House Bill 2789, which would ensure libraries or schools that remove books from their shelves do so with the knowledge they shall ~shelve~ the state grant money they would otherwise have received.
Governor J.B. Pritzker has indicated he will sign the bill into law, POLITICO reports. "Banning books is a devastating attempt to erase our history and the authentic stories of many," he told the press.
In legalese, the bill is designed to:
encourage and protect the freedom of public libraries and library systems to acquire materials without external limitation and to be protected against attempts to ban, remove, or otherwise restrict access to books or other materials. Provides that the State Librarian shall prescribe rules concerning the development of a written policy declaring the inherent authority of the public library or library system to prohibit the practice of banning specific books or resources. (emphasis: mine)
Submit to the inherent authority of your local librarian!
In response, Republican state Sen. Jason Plummer told POLITICO it was "offensive to take away public funds from people whose taxes paid for these grants." He joins with gifted legal minds like the Proud Boys, who showed up to a school board meeting to bloviate (can you even read, bro) over children offering plaintive arguments against book bans.
Pen America has highlighted the growing focus on book bans by intolerant citizens, noting that over 70% of parents who responded to a 2022 opposed book banning, while a record 1,477 individual books have been banned in 2022-2023 school year.
No surprises, almost a quarter of bans focus on books with racial themes and around a third include on LGBTQ+ themes, per a Pen analysis: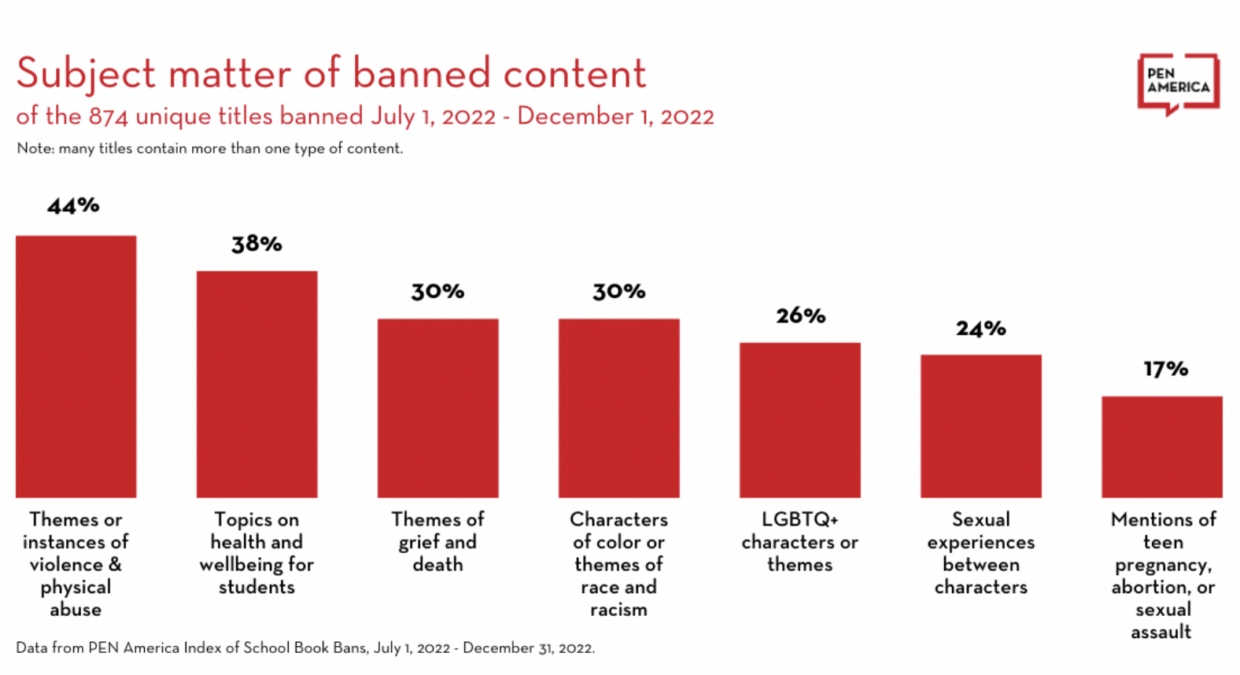 Pen also noted that the states leading the charge to ban books were Texas, Florida, Missouri, Utah, and South Carolina. So, where will it end? Likely in a human pyramid of constitutional lawyers who get richer every hour the culture wars tick on.
Forty-one years ago, student Steven Pico challenged his Long Island school district over the removal of books from libraries (books that the district claimed were "just plain filthy"), becoming the petitioner in a case, Island Trees School District vs Pico, that went before the Supreme Court.
Pico won, and Justice William Brennan wrote in a majority decision that "Local school boards may not remove books from school libraries simply because they dislike the ideas contained in those books and seek by their removal to 'prescribe what shall be orthodox in politics, nationalism, religion, or other matters of opinion.'"
It's certainly a precedent, but we seem to be in a different era now.