If You Want to See Who Someone Really Is, Get Them on a Tennis Court
Professional Tennis Player Andrea Petkovic on Reading Philip Roth
and Finding Hard Truths
I have always had a thing for what David Foster Wallace called "the great male narcissists," such as Norman Mailer and Saul Bellow. Philip Roth, however, is my favorite. I love how funny he could be, how crisp his language is, and how neurotic his whole aura seemed—at least on the page. He was misogynistic, moody, and allergic to happy endings, and was steadily nurturing a panicky fear of age and anything faded or about to fade. "Old age isn't a battle," he said, "it's a massacre," a quote that rings especially true to a professional athlete, for whom old age comes early in life.
In other words, he was my kind of guy.
I fell in love with Roth once and for all when I read his short novel Goodbye, Columbus. It's the story of a summer romance told from the perspective of Neil Klugman, a lower-middle-class kid from gritty Newark, New Jersey, who pursues, wins, and then loses Brenda Patimkin, a college girl from the tony suburb of Short Hills. They meet for the first time at the tennis courts, where Brenda invites Neil to pick her up for their first date. If you thought I wouldn't be moved by a layman's tennis metaphor, you're mistaken. This one hit me right on the nose, so to speak.
Here's Roth describing Neil's first impressions of Brenda:
I parked the car under the black-green canopy of three oaks, and walked towards the sound of the tennis balls. I heard an exasperated voice say, "Deuce again." It was Brenda and she sounded as though she was sweating considerably. I crackled slowly up the gravel and heard Brenda once more. "My ad," and then just as I rounded the path, catching a cuff full of burrs, I heard, "Game!" Her racket went spinning up in the air and she caught it neatly as I came into sight.
When she wins a game and goes up 5–4, presumably breaking the serve of her opponent, Laura Simpson Stolowitch—"Simp" to her fancy friends—she turns and announces, "One more game, Neil."
We all know those people who loudly announce the score as long as it is in their favor, and we all know what that tells us about them. Brenda is that kind of a person. She calls out the score loudly and clearly because she is winning, behavior that could tip you over into the abyss of insanity that you have been balancing on so bravely for the past hour or so.
She is cocky and self-assured; a bit of a bad sport. Annoying, right?
What is even more surprising here is that even though Brenda does not come across as a very likable person, her admirer, Neil, is still smitten. So not only does Roth tell us everything about Brenda, he also says a lot about Neil, who still wants her very much even after seeing through her like glass.
Philip Roth says everything and more about Neil's love interest without ever using an actual adjective, but only by placing her on a tennis court.
Roth presents Brenda's behavior as cocksureness, but to me it reads as bourgeois privilege. I once had a really good friend from a wealthy background who always made me dodge paying the fare when we took the train or the tramway to get to places when I was a teenager. I would have gladly paid any amount, no matter how large, to save me from all the stress I had to go through during these trips. I sweated, panicked, cried internally—you name it.
When we finally did get caught, I ran home from school every day for two weeks to be there before my parents and to open the mailbox until I finally found the €40 fine we had to pay. I saved whatever money I could get my hands on, and each day I walked to the station where the fines were settled, paying what I owed over possibly the worst month of my life. Sometimes I brought them 70 cents, sometimes €5, literally whatever I could scrounge. I will never forget the pitiful glances and barely noticeable headshakes I got.
When I told my friend about this and asked her how she had handled the whole thing, she looked at me in awe—and not the good kind. She said her parents had mildly admonished her and then simply paid her fine. Brenda reminds me of her.
What I am trying to say here is, there is a certain kind of recklessness in people who've never had to face consequences for their actions, and people often mistake this for actual courage or boldness. But it is easy to be bold when you don't have to fear for your existence. And if you think I am being dramatic, then rest assured that I would not be walking among the living today if my parents had ever found out that I'd been caught stealing rides.
Roth says everything and more about Neil's love interest without ever using an actual adjective, but only by placing her on a tennis court. As the light fades, Brenda shortens the points by rushing the net—a smart tactic, but Roth suggests Brenda's motives aren't sporting. He writes of a chipping and charging Brenda: "Her passion for winning a point seemed outmatched by an even stronger passion for maintaining her beauty as it was. I suspected that the red print of a tennis ball on her cheek would pain her more than losing all the points in the world."
Me? I have more in common with Simp, whose pride prevents her from accepting Neil's offer of a ride home, indicating "with a quality of speech borrowed from some old Katherine Hepburn movie that she could manage for herself."
All the romantic moves in my playbook I have acquired from the books I have read and the movies I have seen. It is no surprise, then, that I've taken a page from Brenda's book in my own life, too. Whenever I want to really get to know someone, I get them out on a tennis court.
I used to hang out with a guy—for those of you who are in a happy relationship or are not part of Gen Y, hanging out with somebody is more than friendship and less than love—who was awesome and so awful at the same time. He was talented, witty, funny, and incredibly beautiful. He always wore black from head to toe and his favorite poet was Dylan Thomas. He was also lazy, unfocused, and shallow, and he never ate. He did drink and smoke in abundance and he adored Morrissey. What could possibly go wrong?
I took him to the court, put a racquet in his hand, and sat back and watched him reveal himself to me. And what do you know, all of a sudden, the earth stood still. Birds stopped singing, the East River rose, and heaven opened up above those quite dilapidated public courts of New York City. That lazy, unmotivated guy showed persistence and bite, a willingness to learn and determination, seemingly out of nowhere.
Being on a tennis court and playing a match is mentally and emotionally challenging, no matter how accomplished a player you are.
He put his male ego aside and listened patiently to what I had to say. I was hooked. I believed I had caught a glimpse of his essence—the real one, the one you cannot hide under the books you read, the music you like, or the beer you drink.
We still managed to gloriously crash and burn, whatever it is we had going up in flames, but at least I knew who I was crashing and burning with.
I've always found it incredibly interesting to see people's real nature come out on the tennis court, even among my colleagues on tour. Tennis is a very difficult sport that is rarely ever picked up easily by anyone, even genuinely athletic people. It is a sport that is technically and mentally challenging and tends to bring out the true colors of anyone who attempts it. It can tell you a lot about a person's persistence and determination and how willing they are to accept failures and mistakes in order to move forward.
It also boils down to an individual's general state of competitiveness and which states of mind he or she prefers to be in. Is it something more peaceful and comforting, or is it the friction and tension that bring out the best in somebody? It is non-negotiable what a person feels is better for them; different stimuli are required for different types of people. It really does throw us back into a weird kind of childlike state of mind in which we are in some way closer to our true essence than after years of living under society's influence.
Being on a tennis court and playing a match is mentally and emotionally challenging, no matter how accomplished a player you are. At one point in a relatively even match you will always have to face some personal angst that may present itself in the form of simple fears that can have nothing to do with tennis.
Brenda Patimkin's biggest fear is about her nose, which she had some work done on. She avoids the net and only rushes it when night begins to fall and she assumes she cannot be seen and hit in the face as easily. It is a simple fear, but it tells us that Brenda's angst may be related to potential cracks in the facade she presents to the world, which is a herald of things to come in their love affair.
If you ever are unsure about a person, drag them to the tennis court of their choice and in a matter of minutes everything will be laid out in crisp clearness before you.
__________________________________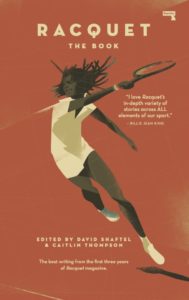 Excerpt from Racquet Magazine: The Book, edited by David Shaftel and Caitin Thompson, published by Repeater Books. 
---