If You Want to Ruin Bookstores for Yourself, Become a Writer
Jana Casale on Browsing Bookstores Before AND AFTER Debuting as a Novelist
Everyone knows bookstores are the greatest places on earth. Having a terrible day? Go to a bookstore. Need something to do to end a lovely day, go to a bookstore? I love the smell and the sounds the way it feels to walk around and I love all the knick-knacks and if there's a café? Heaven. But if you want to ruin bookstores for yourself, become a writer.
Once your first novel comes out you will never experience a bookstore the same way again. Writers might not tell you this. In fact, I find writers don't tell you anything about what it's like to be a writer because everyone is so focused on their own slog through this incredibly brutal industry; when your debut novel comes out, you either sink or swim and, truthfully, will likely do both.
I remember the very first time I went into a bookstore after my debut novel was published. I had envisioned myself walking in and going up to that flashy new fiction table and there my book would be, front and center, and I would feel all the feelings I'd been dreaming of feeling since I was ten years old. But it was not at all like that. I walked in and my book was not front and center. It was tucked away on the shelf, not even facing outwards. "How is anyone going to find it back here?" I asked my husband. "You wouldn't even know to look." I left feeling defeated.
But I immediately went to another bookstore where thankfully it actually was front and center, and so I was able to properly indulge in the moment. I took a million pictures and bought a copy. I so hoped that the man who was ringing me up would somehow realize I wrote the book, a feat that looking back would have been incredibly unlikely in the best of circumstances.
We search for ways to find what's wrong and maybe that's what keeps us going, keeps us striving, keeps us shooting for the stars.
In the weeks that followed, whenever we had a few free hours, my husband and I drove around from bookstore to bookstore. Sometimes I'd offer to sign copies of my books, usually in an effort to engage with a bookseller, something writers are told to do by our editors, publicists, marketing team—virtually everyone. Sometimes it was great, and I'd meet a fellow book lover and we'd chat and they'd be so incredibly kind and generous; other times I felt like what can only be best described as an asshat. I remember once being handed a pen with a level of disdain that looking back maybe was warranted.
Most of the time though I'd just walk around and allow whatever position my book had in the store to dictate how I felt that day. If it was out front, great, beautiful, what a stunning day. If it was tucked away, awful, nightmare, how do I go on?? And if I was feeling super sorry for myself and my book was stacked somewhere sad in the store, I'd stealthily move it to a more desired location (if a writer tells you they haven't done this, they're either lying or are so incredibly lucky to not face this dilemma that I and every other writer I know hates them).
I always hoped more than anything I'd see someone pick up my book and buy it. Something about that fantasy felt like the epitome of what being in a bookstore as a writer could be. I never did, of course. As time went on rather than go to bookstores to try to indulge, I avoided them like the plague. The thought of things going poorly was just too depressing. It's funny how easily we can hurt ourselves. I had achieved my lifelong dream: my book was published. My book. I had worked so hard for it and yet there I was finding a way to let the magnitude of that moment slip through my fingers.
It's true that a person can feel the most vulnerable at the highest point in their life. A new mother finds fault in how she breastfeeds her baby, a student gets into college and thinks of nothing but the institution that rejected them, a bride cries on her wedding day, someone makes it to the moon and dreams of nothing but home. We search for ways to find what's wrong and maybe that's what keeps us going, keeps us striving, keeps us shooting for the stars. Maybe it's good, but it's certainly not kind. And the older I get, the more I feel that kindness is what is supremely linked to happiness. Kindness to others, kindness to ourselves. No accomplishment feels greater or bigger or more real.
As for me, in time I started to enjoy bookstores again. Now I go and look for my friends' books, on the new fiction table, or scan all the book jackets in search of new design trends with my future books in mind. God knows if there's a café I'll fully indulge in a scone. But the experience will never be the same. Just as a flower is less beautiful with its roots exposed, I can't reclaim the magic of a less aware me. There is no going back. I can't be me before I was a writer.
But I will tell you this, when I look back on that first day that my book came out, I hardly remember the disappointment of going to that first store and seeing my book buried in the back. I instead remember the feeling of my hands reaching down and picking up something beautiful that was my own. Holding it, feeling it, seeing all the hard work manifested into reality. Dreams do come true. Something to remember.
__________________________________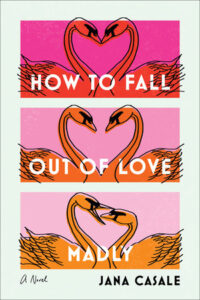 How to Fall Out of Love Madly by Jana Casale is available from Random House, a division of Penguin Random House, LLC.
---