If I Miss a Writing Day, I Have to Pay Donald Trump
How Tommy Schnurmacher Defeated Writerly Procrastination
"One of these days I am going to write a book." If I had a dollar for every time I heard someone say that, I'd never again have to worry about checking royalty statements.
People who make such a remark are not professionals—they're never really going to write a book. Professional writers—we're different. We do write books. We have no intention of putting it off forever. We just want to put it off for today.
If procrastination were an athletic event, I would be an Olympic contender. Usain Bolt can run 100 meters in less than ten seconds. That's how long it takes me to come up with an excuse to stop writing and do something else. Anything else.
I often talk to myself while finding ways to delay my memoir, which I started writing when Martha Stewart was still in prison.
"You do realize that one cannot write without being properly prepared."
"Stop it. You are already well prepared. You own more books on writing than Chapters and Indigo combined."
"But what about an agent?"
"You already have The 2018 Guide to Literary Agents. In case you forgot, the last time you were on Amazon, you ordered How to Write a Book Proposal and Build Your Author Platform."
I promised to write at least 1,000 words a day to be made available for all to see every weekday by noon at the latest.
Having worked as an open-line radio talk show host in Montreal for more than 20 years, I had the opportunity to speak to many authors. My boss was proud when I landed Mordecai Richler
but considerably less enthused when I chatted with one Mahesh Grossman, author of Write a Book without Lifting a Finger.
Grossman was singing the praises of hiring ghostwriters. I did not want to hire any ghostwriter. I wanted to do my own writing. After avoiding writing by spending several weeks haunting a midday lecture series at the Atwater Library in downtown Montreal, I headed for the tiny Argo bookstore right nearby to some more delaying. That is where I had my epiphany.
I knew I could not be trusted to be my own taskmaster so I posted a personal vow on Facebook. I promised to write at least 1,000 words a day to be made available for all to see every weekday by noon at the latest.
It worked. I often had my quota posted as early as 9 am.
This was my literary version of the sample tables at Costco. I kept at it religiously but only for a few weeks. Hors d'oeuvres are one thing but I had no intention of giving away the entire roast.
But then I started making excuses again until I came up with Epiphany 2.0.
I gave my friend, Francine, a large brown envelope. Inside was a smaller envelope addressed to an of office in downtown Washington D.C. The small stamped envelope contained a check for $100.
I would have to email my daily writing output to Francine every weekday by 5 pm at the latest. If I ever failed to do so, she had strict instructions to immediately pop the small envelope into a mailbox.
The check inside is made out to "Campaign to Re-Elect Donald Trump."
So far it works like a charm. I have not missed a single day.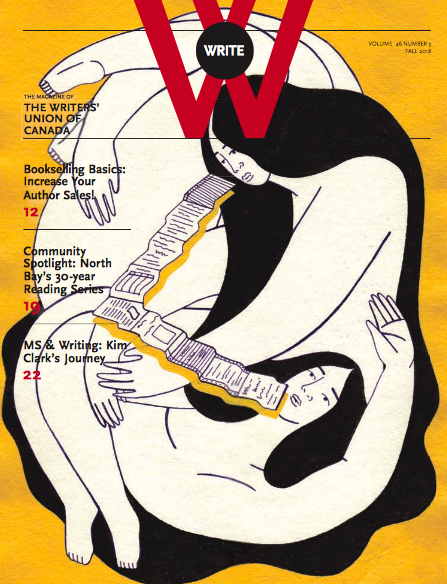 This appears in the current issue of Write, the magazine of the Writers Union of Canada.
---