If Bruce Springsteen Wrote a Short Story Collection…
Presenting New York Times Bestseller, Everything That Dies Someday Comes Back
Though known primarily for his raging, elegiac novels about the daily struggles of working-class American life (most notably the 1979 National Book Award-winning Washing the Sins Off Our Hands, which later became an Oscar-winning film starring Willem Dafoe and Jessica Lange, and 2003's epic ode to post-9/11 resilience and recovery, Sky of Mercy, Sky of Fear), Bruce Springsteen's status as one of the country's most accomplished and prolific short story writers is sometimes overlooked. With the release this week of The Boss's much-anticipated memoir, Born to Run (Simon & Schuster), we thought the time was right to take a quick glance back at his, to date, only short story collection: Everything That Dies Someday Comes Back. Drawn from a career spanning four decades and almost 300 published stories, the 12 tales that make up this slim volume (recipient, by unanimous decision, of the 2012 Pulitzer Prize for Fiction) showcase, in his trademark poetically dirty realism, the full power and humanity of Springsteen's sweeping vision of America.
In this age of encroaching Trumpian terror, we need his words now more than ever.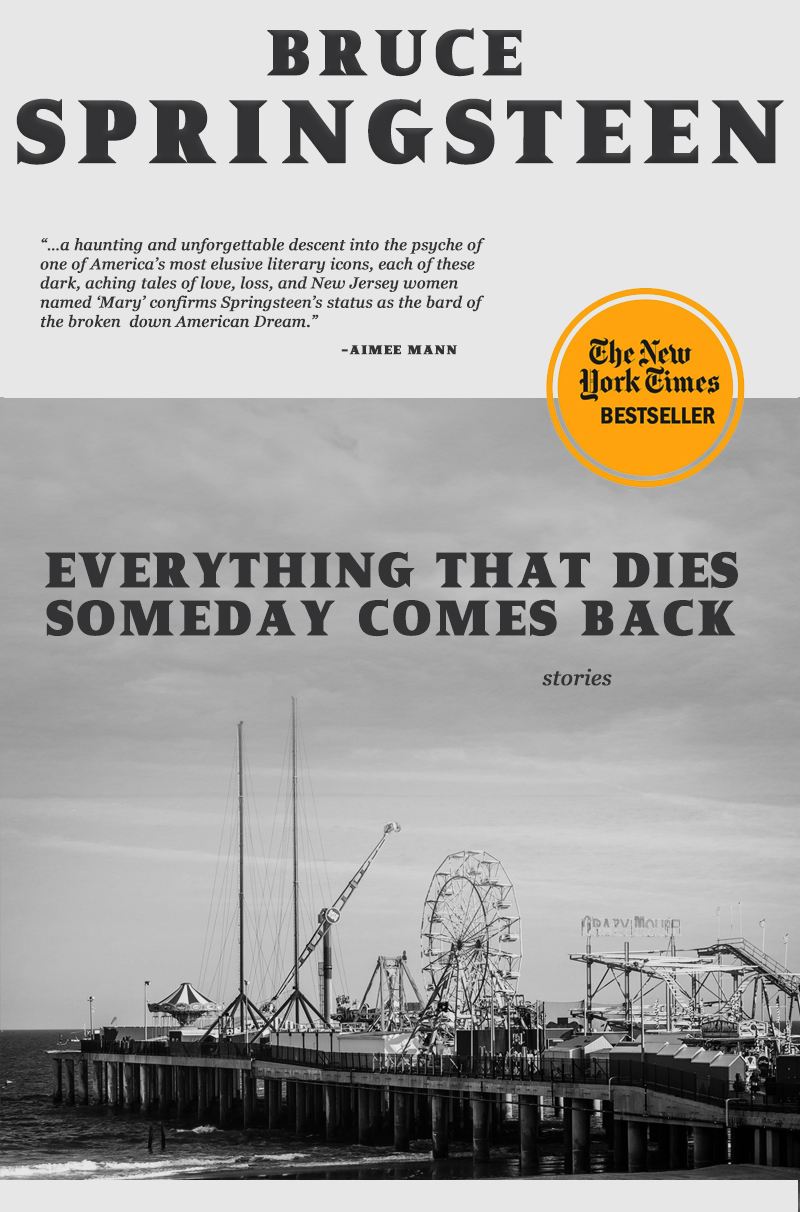 THE STORIES
I.
Glory Days
Middle-aged nostalgia is generally an ugly thing: its overcooked stew of self-pity and sentiment can make for the worst kind of pungent cliché. Just because something is universal doesn't make it interesting. And yet, somehow, Springsteen makes it interesting. All the usual Big American Tropes are here: baseball, beer, high school as the height of life. But then he interrupts it with an improbably powerful scene: two bottles of beer at a kitchen table, another man's children asleep upstairs, things said but more left unsaid, and the realization that the best of life might be right there in front of you . . .
II.
Candy's Room
"Man falls in love with prostitute" is a tale as old as time, and one that's been taken up by several titans of the contemporary short story, such as Lydia Davis ("Break it Down") and Mary Gaitskill ("Something Nice"). But what Springsteen's take might lack in originality it makes up for in narrative drive, imbuing an otherwise well traveled subject with excitement and suspense. The story refuses to resolve before its conclusion, and we're left wondering if the narrator's obsession with the eponymous Candy is mere romantic naïveté, or something darker altogether.
III.
Mansion on the Hill
Originally published in the Stone Pony Review way back in the bleak winter of 1982, "Mansion on the Hill" is the quiet, mournful story of a working class family destined to be forever on the outside looking in. As children, a boy and his sister project their imaginings into the rooms of the titular mansion, from which they can enjoy only the table scraps of music and distant laughter. Their father, meanwhile, gazes upward, night after night, with a mixture of resentment and wonder. Why does he bring his son here, to the edge of this alien world of privilege? Why does it transfix him so? Why do the lights not shine for him?
IV.
The River
Purportedly inspired by the early life of Springsteen's sister Ginny, "The River" is an aching case study of a couple for whom escaping on a last chance power drive proves impossible. Stunted from the start by a small town in which outsized ambitions are discouraged, "The River"'s young lovers find the cathartic passion of their relationship begin to fade when an unplanned pregnancy forces them into an early marriage and an economic downturn puts pressure on the husband's construction job. Nostalgia functions in this story not as a source of comfort, but a reminder of things lost and things that could have been, leaving readers to ponder a haunting question: "Is a dream a lie if it don't come true, or is it something worse?"
V.
Bobby Jean
Wistful but not despairing, heartfelt without being indulgent, "Bobby Jean" is generally believed to be Springsteen's paean to the bond he once shared with the now reclusive novelist Steven Van Zandt. After a particularly acrimonious falling out with his US publisher, Van Zandt cut ties with the industry and moved to Norway, where he resides in seclusion to this day. In the thinly fictionalized story, originally published in The New Jerseyer under the title "They Pull Me Back In," the narrator recalls the early days of a friendship and "all the miles in between" the two men, now that their paths have diverged.
 VI.
Highway Patrolman
Written during his infamously brief stint at the Iowa Writers' Workshop (details remain hazy on whether he was an instructor or a student) this darkening tale of a deep, brotherly bond touches on themes that have occupied Springsteen throughout his career: the disappointment of the American working class, the violence that dwells therein, and the moments of transcendent happiness that can redeem even the hardest lives. Some have called this his greatest, single story (including director Terrence Malick, who's said to have been working on an adaptation for the last 25 years).
VII.
I'm on Fire
This brief, unflinchingly carnal classic first appeared in Playboy's infamous 1985 special issue, "Porn in the USA," and arouses, in a mere five pages, all the raw sexual energy of a classic 80s erotic thriller. Its unnamed protagonist wakes in the middle of the night, pining for a mystery woman, overcome by lust to such an extent that his very skin seems to burn for her. Its experimental structure and provocative blending of darkly sexual invocations with violent religious imagery famously drew the ire of several conservative televangelists at the time, which only served to consolidate the story's cult status.
VIII.
Youngstown
One of Springsteen's more overtly political stories, "Youngstown" charts the rise and fall of Youngstown, Ohio's steel industry through the lens of one family's experience as factory workers. Veterans of World War II and Vietnam, respectively, the father and son at the center of "Youngstown" return home only to toil at tough factory jobs that fatten the pockets of nameless executives, all while deindustrialization slowly puts them out of work. In a moving show of solidarity, Springsteen connects their story to similar labor struggles in Pennsylvania's Monongahela valley, Minnesota's Mesabi Iron Range, and elsewhere.
IX.
Jack of All Trades
Written during a period when Springsteen was spending a lot of time in taverns and at tractor pulls with fellow chronicler of working-class woe, Tom Waits, it's easy to see the exchange of influence between the two writers. But where Waits has been justifiably accused of fetishizing the details of beer-soaked semi-employment, Springsteen goes beyond the hollow totems of the down-and-out to write an emotionally resonant story. Further distinguishing himself from Waits' apolitical atmospherics, Springsteen takes a clear snapshot with this story, of a hand-to-mouth America that remains all too real, but not always seen. (Ironically, Springsteen's early success as a writer meant he never really had to swing a hammer to make ends meet.)
X.
The Ghost of Tom Joad
Originally appearing in the seminal anthology Writers, Work, Woe, and Worth, it's startling to realize that this iconic tale of economic devastation and systemic inequality was written over 20 years before the Great Financial Collapse. Sadly, though, its starkly realized themes—generational poverty, widespread injustice—are as timely today, perhaps even more so, than they were two decades ago. Once again, through some unseen alchemy, Springsteen fits the macro into a series of micro moments, balancing the felt human emotion of the individual with the plight of an entire underclass of American society.
XI.
Devils & Dust
Set during a post-apocalyptic shootout, this tense offering is foremost an elliptical meditation on the nature of trust. Splicing macabre dream sequences with an increasingly hazy reality, Springsteen elevates the landscape to character, and casts doubt on the narrator's reliability, sanity and intentions for his fellow-wanderer, Bobbie—who may or may not have abandoned him sometime in the past, after shedding the surname Jean.
XII.
Thunder Road
One of Springsteen's most anthologized stories and the recipient of an O. Henry Prize, "Thunder Road" is a welcome bright spot in a collection that can occasionally feel weighed down by an excess of lost love, unfulfilled dreams, and economic calamity. Imagistic and romantic, "Thunder Road" elevates what could come across as the desperate pleading of a down-on-his-luck ex-boyfriend to a kind of redemptive nobility: it's impossible not to root for Mary and her unnamed suitor, their hair blowing wildly in the wind of impulsive escape.
---