"I'd Read Her Grocery Lists." On Cooking with Sylvia Plath
Eliza Dumais Navigates the Intersection of the Domestic and the Literary
Sylvia Plath is the sort of writer for whom the idiom, "I'd read her grocery lists" was conceived. On this point, however, she has an edge: You can, indeed, read her grocery lists.
Plath's journals, published posthumously, are filled with granular detail: Amidst dramatic entries on feminist doctrines and suicidal ideation, she penned shopping lists, recipes, and musings about what to bake for forthcoming dinner guests.
"The prospect of continually eating cake and continually having more of it always appeals to the feminine-logic side of my nature," she mused in a 1954 entry—precisely the sort of intellectual mergance that characterizes her notebooks: Part philosophical inquiry, part cake. And regardless of the tactile pleasure that comes with reading her copy on oranges, on steak, on glasses of milk, her note-taking tells us far more about her diet than it does about her prose.
We know, from the dates on her entries, that she made lemon pudding cake on the day she wrote "Lady Lazarus"—in which she grapples with her own repeated, unsuccessful suicide attempts. "Dying / Is an art, like everything else / I do it exceptionally well" she wrote, while beaten egg whites stiffened in the oven. In the process of drafting "Death & Co"—a poem as cutting and nihilistic as its title suggests—she prepped tomato soup cake, blood red and bittersweet. A signature recipe of hers, it requires, among other things, two cups of butter and one can of condensed tomato soup.
She hardly documented the details of her writing life: We don't know where, exactly, she sat down to work, or the order in which her stanzas were drafted. We don't know how many stray lines were conjured then cast aside. We do know, however, what the kitchen smelled like. Which cans lived, stacked like totem poles, in her pantry.
For Plath, domestic duty wasn't so separate from the realm of the literary. She read The Joy of Cooking as if it were canonical fiction—"like a rare novel," in her words. Famously, The New Yorker and Ladies' Home Journal were the imprints in which she most longed to publish. Her notebooks are stacked with mixed metaphors, opposing forces. The "I" slips back and forth between mother, baker, poet, wife, nihilist, novelist, hostess. I picture her like this: in the kitchen, double-fisting Proust's Swann's Way and The Joy of Cooking. A radical academic with a bend towards baking banana bread.
All the same, it's a failure of imagination on our part that this reads as a contradiction. Even now, in the year of our lord 2022, collapsing the firmly domestic housewife and the canonical, tortured author into the same human vessel requires some mental finagling. In the 1950s, however, domesticity was still incontestably central to a woman's role (only 1.2 percent of American women attended university at the time). As a result, Plath, herself, often considered the ways in which she might be pushing against the currents of feminism: "You will escape into domesticity & stifle yourself by falling headfirst into a bowl of cookie batter," she wrote in 1941. Similarly, in 1957: "I was getting worried about becoming too stodgily practical. Instead of studying Locke, for instance, or writing—I go make an apple pie."
The kitchen was the axis on which her whole world spun. It was where she wrote, stood, boiled, diced, longed, mourned, revised.
It wasn't just productive procrastination. While mourning rejection letters from Harper's, she documented the process of cooking as coping: Frying sausage and haddock; reading Virginia Woolf. In an essay for Christian Science Monitor, the first journal to publish her work, she reminisced about the three kitchens in which she lived her adult life. Standing over her sink in Boston, gazing out the window, she wrote that she felt like a passenger aboard an airplane rather than "an aproned housewife."
It's not lost on me that looking for cooking inspiration from a woman whose last great baking project was, well, her final act, is a questionable project (whether or not we can joke about the matter is another complicated question). But for Plath, the stovetop was an altar of a kind, the kitchen, a chapel—the whole room wreaked of guilt, shame, wickedness, tomato soup—as restrictive as it was holy.
Without being crass, then, her chosen death trap makes sense: The kitchen was the axis on which her whole world spun. It was where she wrote, stood, boiled, diced, longed, mourned, revised. Where she read rejection letters and published pieces; stored cookbooks, lists, novels. Where she fell in love; out of love; baked birthday cake. Where she set out manuscripts and preserves to marinate; desserts to cool; dirty dishes to soak. "Write about… the smell of vanilla flavoring in a brown bottle. That's where the magic mountains begin," she wrote in 1957. Four years later: "We should have nothing to do but write and dream of strawberries and cream."
Confronting personal chaos is a universal project; we've all got our tender, cursed demons to spar with (even for all the ways that Plath's demons may outnumber them). So perhaps it's not surprising that we turn to great artists for guidance on how to cope. Shouldn't a person with a propensity to express themselves via oil paint or iambic pentameter know better than most how to sift through a doubtlessly significant amount of internal mayhem?
On the contrary, it would seem that, for most, making art is not coping mechanism enough: As an ancillary activity, poet Mary Oliver worked with wood, constructing with 2x4s in lieu of stacking stanzas. Naturally, Hemingway's prescription called for martinis by the pitcher: equal parts avoidance campaign and creative catalyst. Eve Babitz partied; Joan Didion chain-smoked and ate salted almonds from the can. There's no hierarchy, so long as the world continues to be a livable place. It works until it doesn't—and the proof is in the lemon pudding cake, so to speak.
"Woman at end of rope with husband: Loose ends, pills, problems, dead-end," Plath wrote in a 1957 journal entry titled TWENTY-FOUR CAKES:
Wavering between running away or committing suicide. Stayed by need to create an order: slowly, methodically begin to bake cakes, one each hour, calls store for eggs, etc, from midnight to midnight. Husband comes home: New understanding. She can go on making order in her limited way: Beautiful cakes, can't bear to leave them. Try both styles: Do it to your heart's content.
Cooking, like writing, was her mode of tidying up her own loose ends. She gave her chaos a shape by way of measuring spoons.
______________________________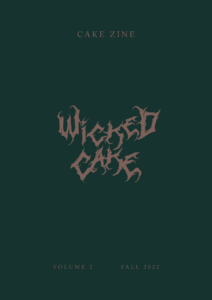 Excerpted from Cake Zine, a hedonistic exploration of history, pop culture, literature, and art through dessert. 
---