I Was Already Leaving Florida When I Arrived
Lidia Yuknavitch on Abuse, Love, and How to Gut a Largemouth Bass
One
The largemouth bass is an olive-green fish. In the North East right after ice-out, it most often has a gray color, marked by a series of dark, sometimes black, blotches forming a jagged horizontal stripe along each flank. The upper jaw of a largemouth bass extends beyond the rear margin of the orbit. In comparison to age, a female bass is larger than a male. The largemouth bass is the state freshwater fish of Florida. The fish lives 16 years on average.
I'm 16 and we move from the cool, rain-soaked evergreen mountains of Washington state to the sinkholes and sand and heat wet of Florida. I can't breathe right. The air is too thick, too heavy, carrying some trace of a colonizing history, or just the weight of father that I can finally name. My father's story is that we moved to Gainesville, Florida for me. For my swimming career. So that I could train with Randy Reese at Florida Aquatic Swim Club. That's what he tells me over and over again. It's a sacrifice. For me.
In reality, he is transferred from his job at CH2M Hill from Washington state to Florida, where he will be lead architect in their engineering firm. It's a step up for him.
More money. More prestige. Bigger projects. But that is not the story he tells his daughter.
Why do fathers tell their daughters lies that they have to carry the rest of their lives? What is the weight of father on a daughter?
He is no longer abusing me. I am very strong. Swimmer strong. I am away from the house a lot. Swimming. I am filled with a rage muscling up my biceps and thighs. Almost animal. My eyes are steel blue. When he stares at me I don't flinch. Anymore.
No one knows what our next moves will be.
Two
Largemouth bass are keenly sought after by anglers and are noted for the excitement of their fight. The fish will often become airborne in their effort to throw the hook, but many say that their cousin species, the smallmouth bass, can beat them pound for pound. Large golden shiners are a popular live bait used to catch trophy bass, especially when they are sluggish in the heat of summer or in the cold of winter. Largemouth bass usually hang around big patches of weeds and other shallow water cover. These fish are capable of surviving in a wide variety of climates and waters. They are perhaps, one of North America's most tolerant fish.
The first week of high school in Gainesville, Florida, two alarming things happen to me. The first thing is accidental. I am standing too near a girl brawl in the hallways between classes. I'm the only white girl there in that moment. I'm new. I haven't figured out where to stand, what to do with my hands, how to carry my body through the rivered hallways of this new place. I sweat too much because my clothes are not Florida yet. I smell like chlorine. I get punched in the nose, clocked a good one, hard enough that I fall to the ground. Next to no one notices—nothing about the girl brawl has a single thing to do with me. I was just a body in the way, a face that connected with a fist. Even though at 16 I don't yet know a god damn thing, like my father tells me all the time, I know this: take it.
My eyes well up and my nose and skull hurt and all I see is feet. Down there on the ground. But I do. I take it. I say nothing. I get up quietly and walk away. I have nothing to do with the action, the characters, the story. I go into the bathroom and lock myself in a stall and cry, but only a little. When I go to French class my teacher asks me what on earth happened to my nose and eyes, which must be starting to turn colors. "Nothing,"I say, and bury my face in my books. The second thing that happens the first week of high school is that I fall in love completely with a boy swimmer. Not only is he on my swim team, but he is an artist, and art is my favorite place to be besides inside books or in water. I will spend every single day possible with this boy until the day I leave Florida to go to college. The boy becomes a world to me. A body that makes it possible to bear my own. The story doesn't go anywhere though. He will never love me. I haven't yet learned a god damn thing about love, mine or anyone's. I wouldn't know love if it punched me in the nose.
Three
How to gut a largemouth bass: Use a quality fish scaler to scale fish you are planning on cooking with their skin on. Remove the gills, guts and kidney as soon as possible because these spoil fast in a dead fish. You can remove the gills by cutting the throat connection and along both sides so that the gills pull out easily.
1. Insert the knife blade in the belly and run it up to the gills.
2. Pull the guts and the gills out.
3. Cut the membrane along the backbone.
4. Scrape out the kidney and bloodline from underneath the membrane.
I think it might be true that arriving in Florida was a leaving. I was already leaving the moment I got there; I hated it passionately. Those scant years, between high school and college, everything in me was about leaving. I left my father's house forever. I left my alcoholic mother. I left the boy I loved. I left the girl I was, the girl who did not know a god damn thing, in our garage next to my father's Camaro. I left ever being abused again—except that isn't true, is it—I found other fists later in life, I found other ways to punish myself when no one else was around to do it. And, the truth is, I left a bloodline near a sinkhole near my house in Florida.
The sinkhole is called Devil's Hole. The water was aquamarine. People used to be able to swim in it. Like I did. It also has an underwater cave system. I was swimming there with the boy I loved who would never love me when I started bleeding.
I bled late, likely due to competitive swimming workouts, running, and weight training six out of seven days a week. I was training with Randy Reese of F.A.S.T., after all. So the fact that my periods didn't show up until I was nearly 17 is not as odd as it sounds. But I bled that day, and since no women anywhere including my mother or sister ever educated me about my own body, I thought I was dying of cancer. When I crawled out of the waters at Devil's Hole, between my legs blood rivered. The boy I loved said I turned white as a sheet, oh my god he said, white like a girl from Washington state, white like the white people who eventually consumed Florida.
The history of Florida can be traced back to when the first Native Americans began to inhabit the peninsula as early as 14,000 years ago. They left behind artifacts and archeological evidence. Written history begins with the arrival of Europeans to Florida; the Spanish explorer Juan Ponce de Leon in 1513 made the first textual records.The state was the first mainland realm of the United States to be settled by Europeans. From that time of contact, Florida has had many waves of immigration, including French and Spanish settlement  during the 16th century, as well as entry of new Native American groups migrating from elsewhere in the South, and free blacks and fugitive slaves, who became known as Black Seminoles. Florida was under colonial rule by Spain, France and Great Britain during the 18th and 19th centuries before becoming a territory of the United States in 1821. Two decades later, in 1845, Florida was admitted to the union as the 27th US state. Since the 19th century, immigrants have arrived from Europe, Latin America, Africa, and Asia.
Florida is nicknamed the "Sunshine State" due to its warm climate and days of sunshine, which have attracted northern migrants and vacationers since the 1920s. A diverse population and urbanized economy have developed. In 2011, Florida, with over 19 million people, surpassed New York and became the third largest state in population. In 2015, the percentage of white people was recorded at 77%. The American Indian population was recorded as .4% in 2010. The African American population was recorded at 16% in 2015. The Hispanic or Latino population was recorded at 24% in 2015.
The economy has developed over time, starting with natural resource exploitation in logging, mining, and fishing, as well as cattle ranching, farming, and citrus growing. The tourism, real estate, trade, banking, and retirement destination businesses followed.
I've not been able to go back since I left. I don't know why.
Except that the heat and afternoon storms gave me headaches so bad I threw up.
Except that my mother tried to kill herself. Twice.
Except that I loved someone who was never going to love me back . . . at least not in the way that 16-year-old girls could understand, until I did.
Except that my last showdown in the garage with my father is an image emblazoned forever on my brain, his fist hanging suspended in the air like love gone wrong, my face so close, so close, so red and hot, my breathing caught in my lungs the moment before the rest of my god damn life.
__________________________________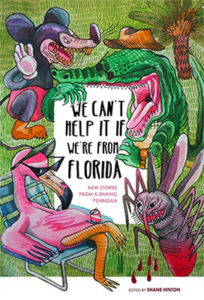 From We Can't Help It We're From Florida: New Stories from a Sinking Peninsula, ed. Shane Hinton. Used with permission of Burrow Press. Copyright © 2017 by Lidia Yuknavitch. 
---