I Knew How to Play Bach, But That Didn't Mean I Was Good
Dan Moller on the Technical Challenges of Bachian Trills
After a year or so, I was ready to try Bach's two-part inventions, written for students just like me. This seemed a momentous step, since the music was now evenly distributed between the left and the right hand, and began to sound like art, not just exercises. And because they were written for people destined to be composers—his children and other students—they also gave insight into composition and how Bach went about constructing a piece.
My initial plan was to skip all of the major key numbers, but that proved impossible, despite myself, once I stumbled through the opening bars of the first invention in C major. The music was absurdly simple: just a few notes from the C major scale up and down, then a leap and a trill—an ornament consisting of the rapid alternation between two notes.
It was all so logical: figure out what key you are in, noodle around in the scale until you find something reasonably catchy, modulate to related keys now and then according to some straightforward rules, and return home.
But what about counterpoint? For the most part, the earlier exercises I had practiced were written for a single voice, with occasional accompaniment in the other hand. But now there were two living, equal lines, one for each hand, with their own identity, mind, and will. Where did the other voice come from?
The answer, I could now see, derived from the concept of imitation. For when the right hand was finished stating its homely theme, the left hand simply repeated it, harmonizing with the new material in the right hand, and similarly for a great deal of the piece; the two voices took turns as leader and follower, handing off material like a baton among relay runners, now cooperating, now teasing and taunting each other, before settling the rivalry in the last measure.
From one point of view, this imitative counterpoint was a sly, lazy trick: for the most part, it meant the composer only had to think up one set of musical ideas instead of two. But this was the wrong way of looking at things: figuring out how to make sure that everything harmonized by itself was no mean feat, since it meant the composer wasn't free to adjust his melody for the sake of harmonizing—one of those melodies was already fixed by what the leader had sung.
I began to appreciate that learning an instrument begins with self-revelation and then proceeds either to self-contempt or else to mediocrity.
The snake had to be ready to eat its tail. And in any case, as I began learning the piece, I found myself delighting in the interplay between the voices, by the sense of chase and drama, like two dogs tussling over the same bone. Since my sight-reading skills were poor, it was hard to translate all this into my hands, but I found that it helped to guess a bit where the music was going, checking the page every so often to be sure, though Bach seemed to notice this ploy, and threw in some nasty jumps to keep you honest.
The trill in this piece introduced me to the first technical skill that I found physically impossible. It was maddening: since a trill is just an ornament, akin to a grace note, it was in a sense trivial, yet crucial to the feel of the music, to adding a sense of polish and sheen to a surface otherwise too dull, like the flashes of light in the paintings of Rembrandt or Whistler. And yet my fingers simply would not play these rapid notes, at least not with the casual flourish they required.
This may not seem surprising since I was a rank beginner, and many such inabilities were to follow, but it perplexed me nevertheless: my brain instructed my fingers what to do, there was no question of strength or muscle power, and yet my fingers simply wouldn't obey. Mental causation failed me. I frowned sternly at middle and index fingers, issued dire imprecations, but they maintained their sluggish, vermicular form, and produced not so much a trill as a traaaalch.
I spent 20 minutes playing trill after trill to improve, but after a while there was a burning sensation in my forearms that frightened me, and I resigned myself to learning the rest of the music while practicing this technical problem on the side.
Trill aside, after a few more weeks I felt immensely proud of all the progress I'd made on my invention. By then I had memorized the music and could play nearly the whole piece with my eyes closed. It was time to formalize my triumph by making a recording and surprising Christopher with it. I found this a little difficult because setting up the phone to record made me self-conscious, as if someone else were in the room, and I avoided playing in front of others at all costs, but after a few practice runs I captured what I took to be a rather impressive version.
I played smoothly from start to finish at a rapid clip, made my little jumps, and when the fast section came, my fingers flew across the keyboard toward a conclusion that was at least trill-like. I pumped my fist in the air, trimmed the video, and without watching it much, messaged Christopher.
At first he didn't reply, and I was annoyed that he didn't seem interested in my important achievement. Then I began to worry. Was it possible I had made some sort of mistake? Perhaps I had missed an accidental somewhere and played a false note? I pulled up the video to study it more closely, and I couldn't believe it: somehow my rapid, elegant playing hadn't been captured by the camera at all.
Instead, I saw my fingers stumbling across the keyboard like a drunken octopus. The tempo was absurdly slow; the trills were awkward and strained; it barely sounded like music at all. But I quickly learned that this assessment was still much too generous. For when Christopher wrote back later in the day, his tone was equal parts pity, alarm, and professional disdain.
I shouldn't be too hard on myself—many students struggled with the concept of rhythm. Did I not own a metronome? Had I figured out how to use it? Still, he said, I should avoid suggesting three different tempos in the first two measures.
I was angry, and went back to the video one more time to confirm this was nonsense. Of course I had a metronome, of course I practiced with it—at least now and then, just as I flossed regularly if the dentist asked. But now it was as if I heard myself for the first time, really heard myself as others did, and it was horrifying, the way hearing our own alien-sounding voice on a recording can be, or the way overhearing our friends talking about us can jolt us to our core.
Christopher's detached observations had dissolved the layers of ego muffling my ears. Sure enough: I wasn't playing a single tempo, not even in the first bar. It was horribly uneven. When I was playing passages I found easy I sped up, and when I hit parts that were more difficult, or that required me to play with my weaker fingers, I either slowed down, or stretched out measures, or altered the force with which I depressed the keys, leading again to unevenness. The fact of the matter was that despite knowing the music, I was utterly incapable of playing it correctly.
At that point I couldn't be angry with Christopher any longer—it wasn't his fault that I had sent him this trash. Of course, if I had been playing with a teacher week by week, I would have been spared this sudden epiphany, but on the other hand getting the jolt all at once had more of an effect than a trickle of reproach. As it was, I could hardly forget that pride dulls the senses.
Playing the piano now became a spiritual exercise, practically Ignatian in its rigors—not that it was contemplative, but it meant continually failing (if you weren't failing, you were wasting your time) and trying to admit these failures and to correct them. Playing the piano meant seeing yourself for what you really were, and I began to appreciate that learning an instrument begins with self-revelation and then proceeds either to self-contempt or else to mediocrity.
I would wonder whether the metronome wasn't perhaps defective; it seemed to skip ahead impishly on certain beats.
After this catastrophe, I no longer trusted myself. Things might sound allright to me, but who could say? A certain paranoia set in, the skepticism of Descartes, who pointed out that the people around us could all beautomata for all we know, since what we really see are hats and overcoats, and the rest is dogma or inference. Sometimes this produced a sense of panic, like when Mother had died, and suddenly the possibility of death, which I had never taken too seriously, filled the entire field of view, and I couldn't understand why I was thought strange for being unable to sleep or eat.
In response, I took to recording myself frequently, and after a while I found that the mere threat of pressing "record" was enough for me to own up. I also kept the metronome running more or less permanently, tock-tock-tock. It was the sound of naked truth, the voice of God, though it was exhausting to fight against this objective pattern. I would come to one of those difficult passages and persuade myself that time itself had slowed down for a while so that I could get in all the notes, and yet the metronome disagreed.
After one of these conflicts I would wonder whether the metronome wasn't perhaps defective; it seemed to skip ahead impishly on certain beats, so that I was always slightly off. On other occasions, I developed wild suspicions that the metronome was plotting against me, or that it was a competitor I was racing against, whom I could conquer by playing faster than the beat.
Meanwhile, I kept working on that trill, and was amazed at how stubborn my hands remained. My conscious self would issue instructions through the pineal gland that were relayed by strings down through my limbs and into my fingers, which promptly froze up. I wished I could have been one of those mannequin musicians they built in the 18th century, not this concatenation of members that seemed so outmatched by the enemy, tock-tock-tock. And these failures seemed all the more puzzling once I found that passages that had seemed all but impossible practicing them the night before were playable the next day, as if a database on a server somewhere ran a batch of scripts overnight, and I had no choice but to wait for the update.
The gap between our aspirations and our abilities alienates us from whatever stands in the way, even, at the limit, ourselves. And yet, it was all so absurd, when I thought about it—the very meaning of my life seemed to depend on whether I could fling my fingers down just so, as if someone were to declare his life hinged on whether he could wiggle his ears a certain way or touch his nose with his tongue; it had all the vast consequence of nuclear war, but concentrated into something so small, so trivial-seeming.
The problem in ethics is to be neither too human nor inhuman, but just human enough, and the same in music. The radicals get this all wrong and declare humanity a mistake, and send millions to their deaths in search of the ideal, while the other party shrugs at our crooked timber and won't even straighten a plank. The problem of the piano is to become a part of the machine while retaining the sludge of organism, a hybrid that aspires to grow, but never beyond its roots.
__________________________________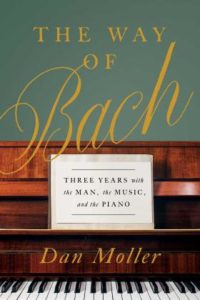 Excerpted from The Way of Bach. Used with the permission of the publisher, Pegasus Books. Copyright © 2020 by Dan Moller.
---