I Found My American Dream at the Public Library
Daniela Petrova's Love Letter to the Library
In his op-ed for Forbes last year, Panos Mourdoukoutas, a professor of economics at LIU Post in New York, suggested that Amazon stores should replace libraries to save taxpayers money. Following the backlash this preposterous suggestion created, Forbes took the article down. But the outpouring of love for libraries in response to the piece was priceless, reconfirming the intrinsic role of libraries in the fabric of American communities.
Libraries were instrumental to my experience as an immigrant and I rejoiced watching social media explode with messages in defense of the local library as a cornerstone of our democracy.
One of the hardest aspects in the life of an immigrant is not fully belonging anywhere. One foot stays firmly rooted in your country of origin no matter how hard you plant the other one in the host country. Even though I've lived in the United States for 24 years, the first thing people ask upon meeting me, courtesy of my accent, is "Where are you from?" And when I go back to Bulgaria, everyone calls me The American. But there is one place where I always feel at home—the library. Any library. Anywhere in the world. The familiar smell of books, the shelves packed with old and new tomes, the friendly staff eager to help.
I. Local libraries provide a refuge and a community
I grew up in Bulgaria during the Communist years and when, in the spring of 1995, I arrived in New York at the age of 22, barely speaking any English, the culture shock nearly knocked me off my feet: there were the skyscrapers (the tallest building I'd seen was 24 floors); the cars (my family didn't own a car and for the first year in New York, I considered it the greatest luxury to take a ride outside the city even if for only 30 minutes); the grocery aisles stuffed with all types of food, ten different brands for each item (in the years before I'd immigrated, we'd had a shortage of basic goods, like milk, and the government had issued a restriction on the number of bottles one could purchase). I didn't know what a credit card was, nor a check. I didn't understand the concept of health insurance. I'd never touched a computer. I'd never eaten a burger, a doughnut, a bagel.
Feeling lonely and isolated, I found refuge in the Yorkville branch of the New York Public Library. It was the only familiar place in this foreign land.
I didn't know a soul except for my husband. He was the superintendent of a luxury building on the Upper East Side where we had a tiny apartment on the ground floor. Our neighbors rode in limousines and if they ever encountered me in the lobby, they averted their gazes without so much as a nod in greeting. My job as a cleaning lady didn't exactly help in meeting people either. This was long before cell phones and social media. While many people in America had computers and some had AOL emails, I didn't even know what an email was. The letters I wrote to my friends and family in Bulgaria took two weeks to travel in each direction.
Feeling lonely and isolated, I found refuge in the Yorkville branch of the New York Public Library. It was the only familiar place in this foreign land. Here, among the shelves of books, even if I didn't speak to people, I felt comfortable. Like I belonged. We were a community of readers, regardless of our maiden tongues, our religion, our age or the color of our skin. The Yorkville library was not that different from the one where I'd checked out my first books as a kid in Sofia. All you needed was a library card, and you could read as many books as you wanted.
II. Libraries are free
Because libraries are free no one is excluded from their services. Children, people with disabilities, the elderly, the poor, the rich, everyone can join. In those early years in America, when I bought my clothes in thrift stores and furnished my apartment with the chairs and carpets my wealthy neighbors discarded, my local library was the only place where I didn't feel poor, foreign, lesser. As librarian Amanda Oliver pointed out in her Twitter response to the Forbes op-ed, the library is "one of few places in our society where the underserved can be treated with dignity and respect."
Public libraries erase privilege, providing access to information to those who cannot afford to purchase their own books, computers, WiFi. I learned a lot of my English by checking out novels I had previously read in Bulgarian—War and Peace, Crime and Punishment, Martin Eden—poring over the familiar stories, figuring out the meaning of the words as I went along.
III. Libraries can empower the disenfranchised
Libraries provide free access to information and that includes not only books and magazines, but also computers, WiFi, films, research databases, and invaluable human guidance. I learned how to write a resume by consulting different guides before sitting down at the automatic typewriter I had at home and typing it up using just two fingers. Following that experience, I checked out a book on how to type and started practicing.
While access to information is very important it is not enough. You need to know what to search for and where to search for it.
I'd dropped out of the architecture and civil engineering university I was attending in Sofia in my third year to come to New York, naively thinking that I would continue my education in America. It didn't take me long to realize how out of reach my goal was. I had difficulties finding a job as a cleaning lady; saving enough money for college was out of the question. My break came when I told one of my clients about my background in architecture. He'd recently made a donation to the Thomas J. Watson Library at the Metropolitan Museum of Art and asked the head of the Periodicals Department if they could use someone with a background in architecture who spoke Bulgarian and Russian. A couple of weeks later, I was accepted as a volunteer; and soon thereafter, I was offered a part-time job.
The Watson Library became my home, the staff my family. I learned to use a computer there, taking staff education classes in MS Word and Excel. I learned to make small talk. I made friends. My vocabulary expanded. I was using words like "acquisitions" and "deaccession" on an everyday basis. A couple of years later, the head of the cataloguing department, where I was assisting at the time and who knew I was eager to go back to school, sat me down at a computer with Internet access. She pulled up Columbia University's website and explained that if I worked for the university, I'd be eligible to take two classes per semester for free. She also showed me where to search for employment opportunities. Thanks to her, I applied and got a full-time job at the Butler Library. Soon after, I was accepted into the General Studies program of the university from where I graduated with honors, summa cum laude and Phi Beta Kappa.
I would have never known about any of these opportunities without the help of so many people who steered me in the right direction. Local librarians know the needs of their patrons and can guide them to the information that might be most helpful in their specific situation and where to look for it.
The libraries in New York provided me with community—both as a patron and an employee—engendering a sense of belonging at a time at when I knew close to no one in the country and felt foreign nearly 24 hours a day. Libraries are the cornerstones of democracy, where all people—regardless of income, race and religion—are welcome. To me, they're also the one place where I truly feel at home.
__________________________________________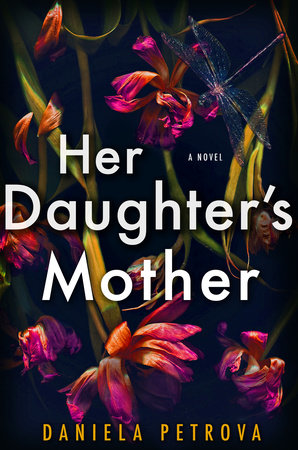 Her Daughter's Mother, by Daniela Petrova, is available from G.P. Putnam.
---