"I Do." "I Don't." 8 Wedding Novels for All the Lovers and the Haters Out There
Celia Laskey Reminds Us That Wedding Season Is Here, Ready or Not
Wedding season is upon us, and whether you choose chicken or fish, you're either a wedding lover who gets teary-eyed at every ceremony and hits the dance floor hard at the reception, or a wedding hater who begrudgingly buys plane tickets, bristling at the disturbing sameness of most weddings.
My own wedding novel, So Happy for You, could probably be classified as a chugging-haterade wedding novel. It's about Robin, a queer academic, who very reluctantly agrees to be the maid of honor for her childhood best friend, Ellie, who'd kill for the perfect wedding. The book is set in an alternate reality where marriage rates have declined and divorce rates have soared to such an extent that brides have resorted to extreme wedding rituals in hopes of making their union last. As the wedding weekend approaches, things start to get creepy, and it seems that everyone in the bridal party is out to get Robin. Maybe even Ellie herself!
No matter if you say I do or I don't to weddings, there's a novel for you, but since this is my list, we'll start with wedding haters and end with lovers, if we must.
*
FOR WEDDING HATERS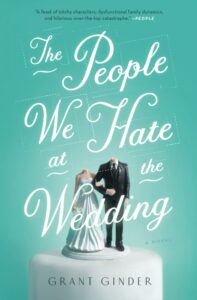 Grant Ginder, The People We Hate at the Wedding
(Flatiron)
If you've ever gone to a super uncomfortable wedding involving family members who are semi-estranged and due for a massive fight, this very-aptly-named one's for you. The dysfunctional family at the center of the novel consists of Donna, the clan's mother and a wine-drinking widow, her grown children Paul (who's not speaking to Donna) and Alice (who's having an affair with a married man), and their half-sister Eloise, the one getting married, who Paul and Alice are pretty resentful of due to her picture-perfect life. As you read, you'll alternate between giggling and being horrified, which I find is always a winning combination for a novel.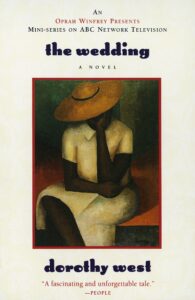 Dorothy West, The Wedding
(Anchor)
Dorothy West was an iconic member of the Harlem Renaissance, and this book is a classic about class and colorism within the Black community. The book starts with the Coles family, part of the East Coast's Black bourgeoisie, gathering for the wedding of the "loveliest" daughter, Shelby, who's marrying a white jazz musician. Unsurprisingly, the family has a lot of Feelings about that, and relationships were already strained before the wedding: Shelby's parents have essentially been living separate lives, and there's tension between Shelby and her less-lovely sister. The middle of the book is a fascinating deep dive into the history of the Coles family, then we end back at the wedding, and I only wished the book had gone on longer.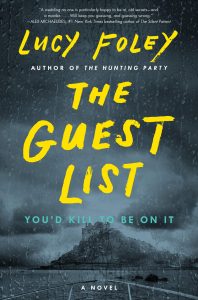 Lucy Foley, The Guest List
(William Morrow)
Wedding novel meets murder mystery in this thriller about a splashy wedding on a remote island off the coast of Ireland. The main characters include the bridezilla, the bridesmaid, the best man, the wedding planner, the plus one… and the body! Much like any novel for wedding haters, resentments and jealousies come to the surface over the course of the wedding, but these ones are big enough to propel a murder.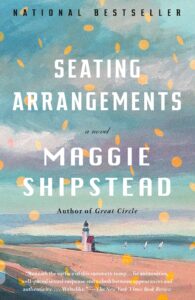 Maggie Shipstead, Seating Arrangements
(Vintage)
What do you know, another dysfunctional family at a wedding! Held on an island! Shipstead makes it feel fresh with sharp writing and sharp satire aimed at the type of wealthy WASPs who wear critter pants, mainly Winn, the father of the bride and our main character, who is obsessed with himself and his daughter's bridesmaid. The book takes place over the course of the wedding weekend, with the tension ratcheting up until it explodes, literally. You'll have to read the book to get this reference!
*
FOR WEDDING LOVERS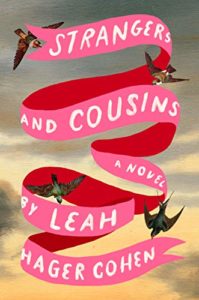 Leah Hager Cohen, Strangers and Cousins
(Riverhead)
Like many of the books in the "wedding haters" section, this novel focuses on a dysfunctional family, but in this case it's a charming one. Yes, they may be dysfunctional, but they also love each other and try their best. When the novel opens, Bennie and Walter are preparing to host the queer, interracial wedding of their eldest daughter Clem at their ramshackle house. Thankfully, none of the drama in the book comes from the queer interracial aspect of the wedding, but instead a secret from the past and a controversy in the small town. Despite these doses of drama, it's a very quirky, sweet book that will leave you feeling hopeful.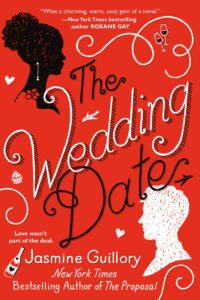 Jasmine Guillory, The Wedding Date
(Berkley)
Jasmine Guillory has become an absolute romance powerhouse, and this one is her first. It's about Drew and Alexa, who are stuck in an elevator together when Drew asks Alexa to be his fake date to an upcoming wedding. When they have a way better time at the wedding than they thought they would, they have to decide if they can make it work, despite distance, their high-powered jobs, and the challenges of interracial dating. The book is SENSUAL, focusing on both sex and food in a super pleasurable way.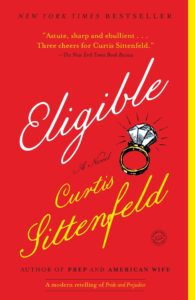 Curtis Sittenfeld, Eligible
(Random House)
Billed as a modern retelling of Pride and Prejudice, the book follows Jane, an almost-forty magazine writer who returns home after her father has a health scare. Her mom is obsessed with marrying off her five adult daughters, especially Jane, since she's the oldest. When Jane meets charming Chip, who was recently on a reality-tv dating show similar to The Bachelor, things seem promising, but maybe Chip's less-charming neurosurgeon friend will give him a run for his money. Like Pride and Prejudice, the book technically focuses on engagement more than weddings, but there's enough clever commentary about modern marriage to make this list!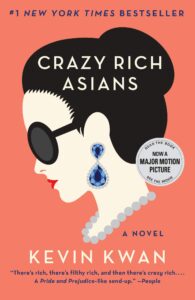 Kevin Kwan, Crazy Rich Asians
(Anchor)
Do I really need to recap the plot of this bestseller that became a blockbuster movie? Okay, fine. Nick Young brings Rachel Chu, his longtime American-born Chinese girlfriend, to Singapore to attend the wedding of an old friend and meet his family. Upon arrival, Rachel finds out that Nick lives in a palace and is heir to an obscene fortune, and tensions between them, their families, and their cultures arise. Like Shipstead, Kwan is satirizing a particular subset here—not WASPs, but crazy rich Asians, of course! And he does it all with humor and a light touch.
___________________________________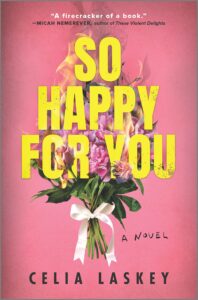 So Happy For You by Celia Laskey is available from Hanover Square Press
---