How Writing a Book Within a Book Saved My Novel
K Chess on the Importance Nested Narratives
As a reader, I've always loved the trickiness of a story within a story. Sometimes excerpts from fictional works make up the bulk of the narrative, like The Princess Bride, presented by author William Goldman as a book once read to him by his father, which he has rediscovered and is reproducing with minor edits and commentary. Sometimes, the inner narrative is only ever described or sought by the characters of the outer work. These works exist in relation to the fictional people who had a hand in their making.
In Lauren Groff's Fates and Furies, we learn more about puffed-up playwright Lotto, his marriage, and the state of his career by hearing about the various plays attributed to him. The ultra-racist details of the lost episodes of The Little Rascals, from Paul Beatty's The Sellout, are left to the reader's imagination, but cast member Hominy Jenkins' nostalgia for them characterizes him and the environment that formed him.
Other times, there's more of a balance between the inner story and the outer story. The author toggles back and forth, allowing the reader to feel the frisson between the two. The inner work isn't bound by the rules of POV or chronology or logic established elsewhere. It can feel like a departure, a wild escape.
I sat down to write my first novel, Famous Men Who Never Lived, over the course of a summer. I was living alone in a converted single-car garage in Carbondale, Illinois. The tiny kitchen came equipped with a bar-height table that folded down against the wall to save space when not in use. My girlfriend, who hadn't been able to find work while I was pursuing an MFA in creative writing, was 1,200 miles away. In the afternoons, I'd fold the table up to write, my overheated laptop buzzing, the dog at my elbow whining for attention as I worked to meet the arbitrary goals I'd set—words per day, hours per day.
I had a concept—a woman from an alternate universe, trapped in our New York City, risks it all to recover the only copy of a novel from her home. I'd even made a comprehensive outline on notecards, so I knew what needed to happen to her before the end. But how do you even write a novel? I didn't know. I hadn't learned in my classes. A real writer, I'd always thought, is motivated solely by the call of their art; they can't do anything but write. And yet, to my dismay, writing had become a form of clock-punching for me. I was doing it so I'd have something to show for the high-stakes detour I'd taken in life. Only 40 pages in, I felt lost.
Adding a book-within-a-book allowed me to surprise myself and invite intuition back into my writing process.
Then, one sweltering afternoon, I consulted my notecards and I found myself going somewhere else. "The interloper came over the ashy ridge one day while Asyl and John Gund patrolled," I typed. "When they spotted the figure in the distance, they stopped walking to watch his approach; a man, moving easily, unencumbered by a protective suit." What was that? Where did it come from? I wasn't writing Famous Men Who Never Lived anymore. I was writing the lost book itself, The Pyronauts, the story of a pair of rangers who wander a post-apocalyptic wasteland, burning every sign of new growth. The story wasn't in the plan, but it had a life of its own.
The Pyronauts is a mid-century science fiction novel from a parallel universe where the genre is studied more seriously than it is in our own. Since art is a reflection of those who create and consume it, any inner narrative can be a powerful way to give readers insight into the time and place and culture of the outer story. Meta-artifacts help authors with worldbuilding. They also offer opportunities for satire, and for gentler forms of commentary. In the Netflix show Dear White People, a group of politically engaged Black college students gather in their residence hall, which has been integrated recently, to watch TV with white classmates.
The series they watch include spoofs of real-life escapist fare like Scandal and Empire. Each show-within-a-show is fun on its own, but Dear White People creator Justin Simian points out that "one of the weird quirks about being black is that we have our little problematic faves that we love to watch, and suddenly, when we hear white people laughing at different things than we're laughing at … it suddenly makes us go, 'Wait a minute, I feel a little uncomfortable.'" It's easy to get caught up in The Princess Bride's romance and swashbuckling, but Goldman is also playing with the gulf that exists between generations when he recounts, in the frame narrative, how he procured a copy of the (fictional) S. Morgenstern classic for his (fictional) son and when he's surprised by parts of the book his (fictional) father once skipped over.
I finished the first scene of my missing sci-fi masterpiece in a rush of bewildered joy. I was a short story writer who'd never attempted a long form before, so using an outline was keeping me on track in an essential way. But without realizing it, I'd chosen predetermination for my main characters. Adding a book-within-a-book allowed me to surprise myself and invite intuition back into my writing process. As I went back to Famous Men Who Never Lived with renewed purpose, I let myself switch back to The Pyronauts when I needed a break. The plot of the meta-book emerged, unplanned, and I found it had little to do with the actions of the woman looking for it. But as I felt my way along—and as the two stories built to twin climaxes—I found the resonances. Why did the woman in New York care so much about The Pyronauts? By writing some of it, I found the answer.
Nested narratives and books within books offer subversive and wild pleasures to the readers who dive in. I guess it shouldn't have surprised me to learn that those pleasures are there for the writer, too.
__________________________________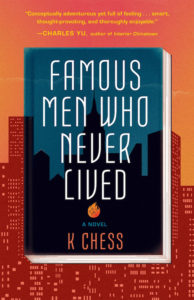 Famous Men Who Never Lived by K Chess is available via Tin House.
---