How Watching British Reality TV Helped Me Finish My Novel
Kirthana Ramisetti on Adapting to a New Set of Working Conditions in the Pandemic
If you pay attention to author interviews, a common question is how they get their best writing done. Do they prefer to write at home, or do they need to be out of the house? Do they like to listen to music, or do they need silence? Can they write while being around other people, or do they need solitude?
In each of these scenarios, my answer would be yes. Yes to every option. It's something I've learned about myself especially during the pandemic, when all my usual writing habits fell  into disarray, and I was able to regain focus by . . . watching a TV show.
I learned that recreating the newsroom experience by going to Starbucks suited me best;  I found my productivity heightened by being surrounded by others.
There was a time when I only needed constant access to caffeine and a ticking clock to get words down on the page. At my former job as an online entertainment reporter, I was used to filing five to seven stories per day about celebrities and pop culture. The job helped me cultivate an ability to write quickly, and also taught me not to overthink my ideas—because there literally wasn't any time. In a buzzing newsroom, with phones ringing constantly and a continuous hum of chatter, and during all kinds of hours—at the crack of dawn, nine-to-five, the graveyard shift—I wrote stories about weddings and breakups, award shows and reality TV families (one more than any other), and so much more.
Eventually, I got burned out and went freelance. But one aspect of my reporting career stayed with me: covering celebrity deaths. In the first few minutes when a story breaks about someone's passing, the social media reaction—shocked and sorrowful at first, before erupting with glowing, poignant remembrances of the deceased—always moved me, and impressed upon me the permanence of the loss. But it also raised questions for me about the nature of fame, family and legacy, which I ultimately decided to explore in a novel.
If I'm on a deadline, then I can work under almost any conditions, because the deadline is pushing me forward. But to work on a novel, when there are no expectations or accountability, I needed more motivation. So when I began drafting what would become my debut novel, Dava Shastri's Last Day, I learned that recreating the newsroom experience by going to Starbucks suited me best. In devoting a portion of my day to writing my book, I found my productivity heightened by being surrounded by others. The quiet conversations, the buzz of the coffee machines, and the various people with their heads bent over their laptops, sipping on overpriced lattes while wearing headphones, impelled me to keep going. I fed off the unspoken camaraderie of squeezing together at a communal table or in corners lined with overstuffed chairs, and just getting to work.
As music became a major part of my novel, Spotify became my de facto coworker, and I listened to albums from my youth mixed in with recent releases. For the next two years, libraries and coffee shops became my regular work spaces, the only places I could operate productively.
During the spring of 2020, as the world plunged into chaos, I got an agent and a book deal within weeks of each other. When the country went into lockdown due to COVID-19 last year, what I remember most about those early weeks in New York City was the quiet, only punctuated by ambulance sirens. It was difficult to adjust to the sharp silence of a once-bustling and vibrant city. Along with the fear and loneliness of that time, I wasn't sure how I could keep working on anything when the world was at a terrifying standstill.
Several weeks into the pandemic, I discovered a TV series on YouTube called Portrait Artist of the Year. It's a British reality competition that features nine artists, ranging from amateurs to art students to professionals. Divided into groups of three, they are each assigned a celebrity whose portrait they have four hours to complete. The winner of each episode advances to the semifinals, and the grand prize winner is awarded the honor of painting a celebrity's portrait to be featured in the National Portrait Gallery.
I can't sketch. I can't paint. I can't even draw a circle properly. And as far as I'm concerned, anyone who can create in a visual medium is a sorcerer of the highest level. I've always had a deep respect and awe for painters, and in discovering this show, it made me think that so much of our appreciation of all kinds of art is solely based on the finished product. But here was a chance to see artists at work, and see how the blank canvas slowly evolves into a singular reflection of their perception of the subject they are depicting. After one episode, I was hooked.
The show was a portal into creativity itself: it let viewers watch the evolution of a piece from the first drops of paint to the completed canvas.
As a TV show, Portrait Artist of the Year shares the same gentle temperament, supportive judges and good-natured contestants as The Great British Bake Off. And so I had stumbled onto the perfect pandemic viewing, both soothing and delightful. Then it became more than that.
The show was a portal into creativity itself. With writing, the act of creation is so internal. (I'm not sure what kind of reality show you can make out of aspiring writers tapping away at their keyboards.) But this series let viewers watch the evolution of a piece from the first drops of paint to the completed canvas. And it buoyed me enough to want to return to my own work.
A few days after discovering the series, I drafted the Portrait Artist contestants as my de facto coworkers. No matter what writing project I was working on, hovering in the corner of my laptop was a pop out video of an episode keeping me company. As the painters hit their canvases, I tackled the blank page. To my surprise, I learned that in some ways, Portrait Artist is actually preferable to the ambiance of a coffee shop. As I worked, I enjoyed listening to highly skilled people pursue discuss the thought process behind their creative endeavors. On occasion I'd look up to check the progress of the watercolorist or the newspaper collagist, and glimpsing their artistry made me excited to return to my own project.
And just as I found in the newsroom, and later in the coffee shop, the energy of working alongside other people was invigorating, and gave me a lifeline during a chaotic and uncertain time.
Perhaps the most heartening discovery I made about this series is that it actually went into production during lockdown. For several weeks in 2020, there was a spinoff series called Portrait Artist of the Week, in which a past contestant would paint a famous subject over Zoom. Viewers were also invited to paint the celebrity sitter, and their artwork—hundreds of submissions from all over the UK—were featured in the following episode. It was a breathtaking display of community during a time when all of were isolated in our homes, and demonstrated art's unique ability to unite us, no matter the distance or the circumstances.
And then I had a real full circle moment later that year when I received a look at my book cover: an illustration of my main character that reminded me of the portraits I had seen on Portrait Artist of the Year. Each time I gaze at my cover, I'm reminded of the series that propelled me forward during a difficult time.
Here's the funny thing: even as we have returned to a place where we can be outside and interact with others more freely, I haven't returned to coffee shops as my workplace. Instead, I continue to have the television on in the background as I write. Not one hundred percent of the time, but often enough.
(For context, I have written this essay with an episode of America's Next Top Model; a rotation of some of my favorite music videos; and complete silence.)
For what it's worth, the TV series that work best for me are the ones that I've seen before and can keep on as familiar chatter without needing to pay attention (hello Mad Men and The Good Wife) plus reality competition series that have a presentation and judging component (such as Project Runway and Making It.) But I also found new ways to write that incorporate the company of other people, including semi-regular coworking dates with a friend, and virtual writing retreats in which we check in with one another throughout the day.
I have largely broken out of my need to have a particular environment in order to be productive.
The pressure of a deadline is not required to get my writing done, only the desire to see a project through—and maybe having Peggy Olson or Tyra Banks accompany me along the way.
__________________________________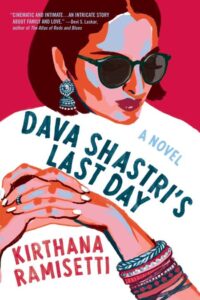 Dava Shastri's Last Day by Kirthana Ramisetti is available now from Grand Central Publishing. 
---