How Two Jewish Kids in 1930s Cleveland Altered the Course of American Pop Culture
On Jerry Siegel, Joe Shuster, and the Birth of Superman
In a small attic bedroom in Cleveland, in the Jewish neighborhood of Glenville, Jerry Siegel tried to sleep. It wasn't the summer heat that was keeping him awake nor his snoring older brother Leo snoozing noisily beside him. Twisting and turning, Jerry had a new idea for a story in his head. It involved a character like Samson, Hercules, and Moses all rolled into one—a new character that was an amalgamation of everything he had ever written or read. And he had read a lot.
Jerry, a nerd with glasses, had had few friends at Glenville High—ignored not just by the girls but the boys, too. He had been bullied for years, kids taunting him with rhymes like "Siegel, Seagull, bird of an eagle. Fly, seagull! Let's see you fly!" He had actually tried to fly once, jumping off the garage, holding an umbrella. But the umbrella turned inside out, and Jerry hit the ground—hard.
Jerry's father, Mitchell, was a tailor who had come from Lithuania, fleeing anti-Semitism. He had run a secondhand clothing store in Cleveland. But three summers earlier, he had died of a heart attack after confronting a couple of shoplifters, leaving the family struggling in the midst of the Depression. He'd had $131 to his name when he died. Jerry's older brother Harry got a job as a mailman to support them all. Thanks to magazines, like Amazing Stories, that Harry brought home, Jerry discovered a new genre called science fiction.
Amazing Stories, which made its debut in 1926, was the first American science fiction magazine, featuring such stories as "Armageddon 2419 AD," which would eventually morph into Buck Rogers. With its disintegrating death rays and futuristic airships, early science fiction was a reaction to the technology that was sweeping the world and the inventions that were changing everyday life. Science fiction magazines would change Jerry's life—though not for the better.
He became so obsessed with comic strips and pulp magazines that he ignored his actual schoolwork and was held back. One of his favorite books, Gladiator, told the tale of a man with superhuman strength who could run faster than a train and jump higher than a house. Another favorite character was Doc Savage, a pulp magazine hero whose first name was Clark and who was known as "The Man of Bronze." Jerry tried his hand at creating his own comic strip takeoff on Tarzan called Goober the Mighty for his high school paper, the Torch, and won second place in the paper's annual contest for a story called "Death of a Parallelogram." But his grades were so awful he was eventually kicked off the newspaper.
Now, on that summer night when he couldn't sleep, Jerry, twenty-one and unemployed, finally got up, put on his glasses, slipped into the bathroom so as not to wake his brother, and started writing. He went back to bed, then threw off the covers after a couple of hours and wrote some more. By dawn, he had a complete script. He got dressed and, story in hand, took the porch steps at a gallop.
This Superman was pure, doing good in the world for goodness' sake, not for rewards or recognition.
Jerry ran ten blocks through his neighborhood, past the wooden houses with their neat lawns and big porches, over to the cracked sidewalks of his best friend Joe's street. Huffing and puffing, Jerry arrived at the dilapidated two-story Maple Apartments that Joe and the Shuster family called home. "Joe, you gotta draw this," he said, waking him up, thrusting the script beneath his blinking eyes.
Joe and Jerry shared the same origin story, their parents having escaped the pogroms of Europe to live free in America years before Hitler's rise to power. But Joe's parents were so poor they made Jerry's family look like the Rockefellers. Joe's father, Julius Shusterowitz, had come from Russia with so little money that he couldn't afford paper for his talented son to draw on.
At four years old, Joe started drawing on the walls, then moved on to butcher paper and the backs of free calendars. Joe's apartment didn't have heat, so in the winter, he and Jerry often paced back and forth to keep warm while developing their fantastical ideas, whose creation was by far the best escape from poverty. Sometimes it was so cold Joe had to wear several sweaters, a jacket, and even gloves, which made it hard to draw.
With his thick glasses, Joe was even nerdier, somehow, than Jerry. He was a rail-thin five foot two to Jerry's chubby five foot six. The clichéd ninety-pound weakling who gets sand kicked in his face, Joe tried lifting weights and exercising, and even bought physical fitness magazines, but it was no use. He was invisible to the girls at Glenville High, just like Jerry. Joe, too, worked for the school paper and was into science fiction characters. Unlike Jerry, Joe could draw them. He had even won a drawing contest at the Torch. The boys had been introduced by Jerry's cousin at the local public library, "like the right chemicals coming together," Jerry would later say.
The first drawing of Joe's that Jerry saw was one that Joe had saved from 1928, inspired by the new Fritz Lang movie Metropolis, which had blown both of their young, nerdy minds. The movie's lesson—the worker being kept down by the demented, greedy capitalist—was perhaps lost on them, though it was a harbinger of things to come. They both loved the way Metropolis looked, its set designs and special effects, its vertical cityscapes and sky trains. Jerry instantly fell in love with Joe's style when he saw his drawing, one of the few he ever saved from his childhood, a collection of futuristic skyscrapers and rocket ships that he called The City of the Future: 1980.
Together, they started a fanzine called Science Fiction: The Advance Guard of Future Civilization. They typed it out on a regular typewriter and gave it a cover that looked like the first page of a high school term paper, copied on the school mimeograph machine and stapled together. The third issue of Science Fiction—dated January 1933—featured a story about a telepathic bald villain intent on world domination. It was called "The Reign of the Superman." Hardly anyone read it.
Superman, an illegal alien, had come millions of miles not to be featured on the front page of the Daily Star, but to save mankind from itself, its ugly awful self.
Jerry and Joe tried pitching comic strips to magazines and newspaper syndication editors, but were rejected again and again. They tried creating a new version of the Superman, a hero—with hair, this time—whose bulletproof physique and fantastic strength are bestowed upon him by a scientist. And that June of 1933, there was a glimmer of interest from Consolidated Book Publishers, a Chicago company known mostly for putting out encyclopedias and Bibles. But the editors at Consolidated changed their minds about the Superman by August.
The pair took inspiration from a new art form called comic books, particularly the ones that editor Max Gaines started putting together in 1933, repackaging previously published Sunday comic strips into a separate booklet with a colorful cover and saddle stitches. Funnies on Parade and Famous Funnies were given away as a promotion to buyers of Procter & Gamble products, who had to clip coupons and mail them in for a copy. The newly packaged funnies proved so popular that Gaines decided to sell them for ten cents apiece.
Jerry and Joe pitched the Superman to Gaines, but that didn't go so well, either.
That fateful morning when Jerry arrived with his fresh script, Joe rubbed the sleep out of his nearsighted eyes, put on his Coke-bottle glasses, then read all about the new-and-improved Superman. Joe got it immediately, smiled, and sat down to work. He drew as fast as he could as Jerry paced the wooden floor and narrated, describing the action using film lingo: close-up, long shot, overhead shot. Joe's eyes were very bad, even with his glasses, so he drew very slowly and meticulously, his nose just an inch or so from the paper. The two spent the whole day—without taking a break, eating sandwiches that Joe brought in—creating Superman. From time to time, Joe would pause and look in the mirror, striking a pose or screwing up his face he imagined a character would make, then go back to his paper and try to re-create it.
Jerry suggested Joe put an S on Superman's chest—not just for Superman's name, but for Shuster and Siegel—and a cape on his back that would whip around, one of the few ways for Joe to show dramatic motion.
Superman would be an alien with super strength whose real name was Kal-El ("Voice of God" in Hebrew). Kal-El came to Earth as an abandoned baby, much like Moses in the Old Testament, just as his planet, Krypton, was destroyed. Like Jerry, his father would die while he was still young. Kal-El would be adopted by a couple of Gentiles and renamed Clark Kent, a name Jerry took from Clark Gable and B-movie actor Kent Taylor. By day, Superman was a mild-mannered goy with glasses ( just like Jerry's and Joe's). He would live, naturally, in a city called Metropolis.
Their new version of Superman was not a villain, but rather the ultimate champion of the oppressed, battling corrupt politicians, saving the falsely accused, and beating up wife beaters. Maybe he was operating out of survivor's guilt, having been the only one from his planet to make it out alive. But this Superman was pure, doing good in the world for goodness' sake, not for rewards or recognition.
In fact, he didn't want anyone to know who he was and spent half his time tricking his newspaper pals about his identity. He would have a love interest, named Lois Lane, who was based on a teenager named Joanne, whom Jerry and Joe found through an ad she had placed in the Plain Dealer looking for modeling work. The ad, which stated that Joanne had no experience, attracted mostly men looking for love.
But when Joe reached out to Joanne, he made it clear he was an artist looking for a model for a comic strip he was developing. Joanne happily took the bus to his Greenville neighborhood, and when Joe answered the door, the two briefly chatted. Finally, she asked for Mr. Shuster. Joe was just a boy. But, of course, she was just a girl. "I'm Mr. Shuster," Joe replied.
In the drawings he made, Joanne became Lois. But unlike the cynical Lois Lane in the comic strip, Joanne believed in the nerdy guy with glasses. "You're going to be famous," Joanne told him. "I can feel it." Joe even dated Joanne for a little while before she moved to New York to pursue her modeling career.
This new-and-improved Superman could hurtle a twentystory building and run faster than an express train, but he wasn't bent on world domination like Hitler's model. Just the opposite. He was here to save us all.
Superman, an illegal alien, had come millions of miles not to be featured on the front page of the Daily Star, but to save mankind from itself, its ugly awful self. And by the looks of things in Europe, and the bleak Depression in America, the world could use some serious saving.
___________________________________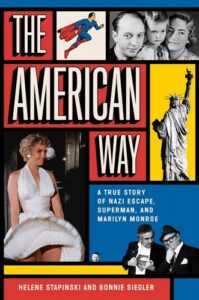 Excerpted from The American Way A True Story of Nazi Escape, Superman, and Marilyn Monroe, by Helene Stapinski and Bonnie Siegler. Copyright 2023. Published by Simon & Schuster. Reprinted with permission.
---