How to Write a Timely Novel in a World That Won't Stop Changing
David James Poissant on Capturing a Moment as It Passes
From 2011 to 2019, I operated under the delusion that it's possible to write a timely novel: a book so relevant, so of-the-moment, so history-in-the-making that it might be released into an atmosphere that gelled perfectly with all of my pet political and social concerns. If the novel resonated in the moment, then surely it would resonate with readers. Or so my logic went. And some novels do resonate just that way. It is possible to write a timely novel, but it's near-impossible to plan for one. I wrote my novel Lake Life in four years, but the next five years required near-constant revision as history readjusted the political climate in which the book would be released.
Some novels arrive ahead of their time. For example, Emily St. John Mandel's Station Eleven, easily my favorite novel of 2014, imagined a not-too-distant future in which the world is ravaged by a pandemic. Fortunately, the virus that found its way into our world in 2019 isn't as deadly as Mandel's, but that book is enjoying a well-deserved renaissance in light of the circumstances, a kind of earned timeliness as reward for foreseeing the future, however bleak.
Other books capture a moment, but the book goes unrecognized until the moment has passed. I'm thinking of F. Scott Fitzgerald's The Great Gatsby, a novel that sold only 21,000 copies the year it was published, a modest success by today's standards but a disappointment for a time period when Fitzgerald's short stories were among the most popular in the country. At the time of Fitzgerald's death in 1940, only 25,000 copies of the novel, in total, had sold. It would be a while before the book was embraced by future generations and remembered as the quintessential portrait of the Jazz Age, a term Fitzgerald coined.
Other books catch the zeitgeist just right, to the surprise of their authors, and become too timely to publish. For instance, who can blame Mary Robison and Counterpoint Press for pulling the book One D.O.A., One on the Way and delaying publication by nearly four years when the release of the novel, set in New Orleans, would have coincided with the actual ravaging of New Orleans by Hurricane Katrina? Such chance occurrences are rare, and publication might have appeared craven, a writer capitalizing on tragedy. The similarities were coincidence, but the optics were awful. In the end, Robison was able to retool the novel, set the story 30 months after the hurricane, and respectfully pay tribute, in fiction, to the very real tragedy.
In short, the zeitgeist is rarely on your side. You write toward it, only to see it evaporate by publication day. And while some authors may catch the moment just right, and honestly, without mercenary intentions, such serendipities of art and chance are accidents, almost always. Those who aim, however earnest or well-intentioned, are doomed to miss the target by a mile.
My own zeitgeist-chase and ill-fired arrow came midway through my attempt to finish Lake Life in a timely manner. With six viewpoint characters, the novel dedicates a third of its story to Jake and Thad, boyfriends who live in New York, where same-sex marriage has been legal since 2011. One wants to marry. The other will not marry until marriage is available to every American. Happily, marriage for all was legalized in 2015. Unhappily, for the novel, I was left with a major storyline that felt antiquated overnight. Don't get me wrong, I would have traded any number of plot points and character traits to see that basic human right extended across the country, but I was left with a difficult choice on my hands. I could keep the storyline, and set the novel firmly any time between 2011 and 2015, or I could revise the novel so that it felt more up-to-date. I went with option #2.
Revision might have gone on forever had my agent and editor and I not picked a publication date.
I don't regret the choice. In the end, the novel grew more nuanced. Rather than arguing for gay marriage, an argument that was—again, happily—no longer necessary, I was able to meditate on the ways relationships look and function differently for different people. In the novel's final incarnation, Thad and Jake navigate the complexities of an open relationship and all of the challenges that come along with that. Rather than championing marriage as the best option for all, I was able to evolve beyond some heteronormative thinking and explore the directions some relationships take.
A year later, my novel faced its next hurdle. In 2016, a washed-up TV celebrity, six of whose over-leveraged companies had gone bankrupt, was elected president of the United States. Like many Americans, I was stunned, though maybe I shouldn't have been. As Neal Brennan's election night SNL sketch, featuring Dave Chappelle and Chris Rock points out—and as the current and necessary civil rights moment makes clear—white people have always underestimated the rampant racism endemic to America. Before that Tuesday night, the politics of the novel revolved around the family's unhappiness with eldest son Michael's conservative ideals. He voted for McCain. He voted for Romney. But, with Trump in the Whitehouse, the elections of 2008 and 2012 felt suddenly far less interesting or worth talking about.
I pivoted again, reluctantly making room for this new president in my novel, attempting to avoid referring to him by name, and, finding that feat impossible, naming him. Conversations changed, three dinner table scenes mutated to catch up to the current political moment, and arguments between characters tangled, untangled, and re-tangled as the news changed weekly, and, weekly, the novel's page count grew and shrank, like an accordion going in and out.
Moments that felt huge and newsworthy, like Kellyanne Conway's February 2017 couch/phone faux pas, seemed enormous at the time, and my characters argued about it. But, by 2018, once I'd begun cutting Lake Life down from a bloated 525 pages to a more manageable 300 pages, no one remembered what I was talking about, and my editor and I agreed that the convo had to go. That's one example, but I'd be lying if I said there weren't several dozen others. As a first-things-to-hand kind of writer, I tend to put into my fiction the things that I love (birds, music, books, art), the places I love (Florida, Arizona, New York, the Carolinas), and whatever I'm thinking about at the moment (usually whatever's on the news or at the center of the public debate). But what works for birds and the places I love works less well with the 24-hour news cycle. Subjects and arguments that feel visceral and relevant are often forgotten a year later, sometimes a day later.
Revision might have gone on forever had my agent and editor and I not picked a publication date, compelling me to plant the novel firmly in 2018. No matter what happened between the fall of 2018, when I began whittling the final draft, and the summer of 2020, when the novel would be published, the book would, for better or worse, however timely or untimely, be set in 2018.
Timeliness in fiction is more than half-chance.
The novel, as no one will be surprised to hear, is not timely. My novel of the first half of the Trump administration feels, in some ways, ancient already. Sitting around the dinner table, in the summer of 2018, my characters have no idea that they're facing a pandemic. They have no idea that four police officers will murder George Floyd, or that many Americans will still refuse to call this murder.
As a result, some of my 2018 characters, by 2020-standards, appear naïve. Like many of us, even now, they know things in America are bad while failing to acknowledge just how bad things really are. Though, in the kind of move one can't plan for, it is, ironically enough, Michael, the Republican and black sheep of the family, who calls his family out on their naivety, ineffectualness, malaise, and occasionally-inconsistent logic in a scene that, even in 2020, feels suddenly, weirdly, very timely, a monologue that I hope serves as a reminder to my friends on the left that privilege is a twisting, many-headed thing, and few of us are immune to its tentacles.
Whether it's the Ecuadorian banana in your fruit bowl, harvested by child labor, or the poultry in your refrigerator, generated by forced labor during a pandemic, most Americans benefit, however unknowingly, from someone else's suffering. Just because you vote for the right person, Michael would say, doesn't make you right on every issue. We'd all do well to do a little more soul-searching and to pull out our eye planks before pointing out others'. That's a scene I'm proud of, and, however well or poorly the book ages over time, it's a scene I fear will never feel irrelevant.
Timeliness in fiction is more than half-chance. Whether you're Mandel predicting a future that won't come true for years, Fitzgerald capturing a moment that won't be recognized for decades, or Robison writing a novel so timely it has to be revised, time is a fickle thing, fashions pass, news cycles expire, and relevance is always subjective. In writing Lake Life, I wrote a novel about 2018. And that's okay. It's a good portrait of life in 2018, I think. And, after all, America needs reminders of every moment, every year we've struggled through, hopefully growing, hopefully becoming better people. We needs snapshots of the way we were, not just evocations of what's happening now…or now…or now.
__________________________________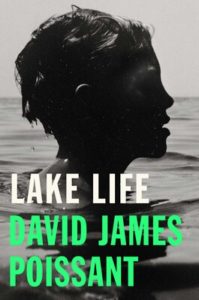 Lake Life by David James Poissant is available via Simon & Schuster.
---