How to Survive the Nightmare of Being Stuck at Home with Twin 12-Year-Olds
Darin Strauss Recommends 5 Shows for Family TV Night
I have twin sons. If they're reading this, let me say they have brought real joy to my life. If they're not, let me say it's been a kind of torture. Being stuck inside with 12-year-old boys who scream at each other about which one left the seat up, whose turn it is with my computer, about any-and-everything?! A nightmare.
Part of the challenge is TV viewing. We have only one set. We try to limit their screen time. (Also, their bedtimes have crept up to nearly about my wife's.) This has meant a lot of communal watching.
For all the parents out there in similar circumstances, here are five things I've enjoyed sitting through with my wife and two pre-teen sons.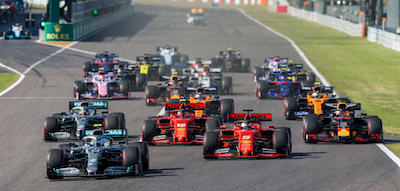 Formula 1: Drive to Survive 
This documentary series on Netflix is beautifully shot and told—a thrilling behind-the-scenes about Formula One racing. I know, I know. My wife hates cars and all macho bullshit, but even she has come to love it. The top teams, Ferrari and Mercedes, opted out of participating—which turned out to be an advantage. It allows the show to focus on some middle- and bottom-tier teams. Underdogs, in other words. And isn't that always more compelling?
Article continues after advertisement
Like Friday Night Lights, it hinges on the personal, soapy stuff going on with the athletes outside the stadium. However, the secret sauce is the racing footage: it shows, better than anything I've ever seen, what it must be like to drive around a turn going 200mph.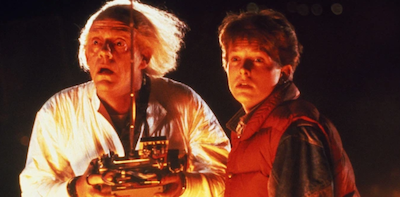 Back to the Future
You don't need me to tell you that this is likely among the most perfectly-constructed pop movies of the last four decades. A smooth, easy treat. Except one thing. There is an attempted date-rape, which—as yet one more indictment of those messed-up times—is dealt with a bit off-handedly. (Not that the guy who attempts the abuse isn't a villain; he is. That's among the proof the movie offers of his villainy. But the effects and the gravity aren't really dealt with.) That actually led to fruitful discussions, for us at home, however, about right vs. wrong, about consent. Also, and again, it's otherwise really escapist and great.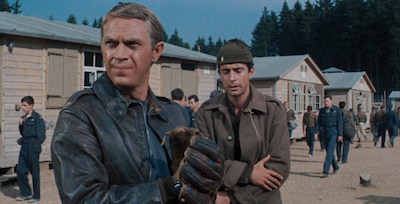 The Great Escape
A curveball, I know. John Sturges' (not to be confused with Preston Sturges) 1963 war movie starring Steve McQueen, Charles Bronson, James Garner, Donald Pleasence, James Coburn et al. It goes on for hours, which is good when lulling kids. It's a history lesson. (Kind of.) It has Steve McQueen on a motorcycle, which, I hope, will give my kids an appreciation of a certain kind of cool.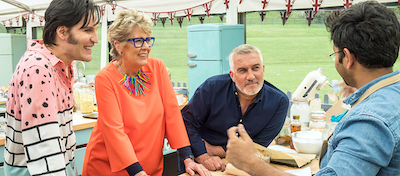 The Great British Bake-Off
Friends of mine would find my love of GBBO as unlikely as my wife's friends would find her love of a Formula One program. I don't care about baking. In fact, as a dairy—and glutenphobe, I couldn't eat any of it anyway. Doesn't matter.
This show, in which a group of amateur bakers compete against each other week after week, is charming and moving. We root for people not to get sent off the island (or, in this case, tent). As with any narrative—and I'm convinced these kind of reality shows are narrative—the people and their stories are what make it compelling. Lifetime amateur bakers, people from all strata of society, come together and cook. Also, the humor is great. Comedians enliven the proceedings: Mel Giedroyc and Sue Perkins—and later Sandi Toksvig and the incomparably sweet and oddball Noel Fielding. They generally get close enough to the contestant to cry when they have to boot them off. I've cried too. It's kind of inexplicably riveting.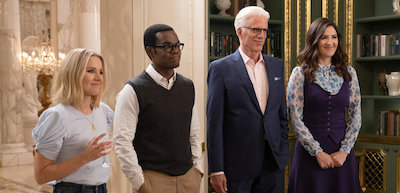 The Good Place 
This one I hesitated about. My wife and kids love it. I find it a bit half-cooked. To mix comedy and philosophy doesn't really work for me—the philosophy is all surface, and there aren't *quite* enough funny jokes. But, as network television goes, it's quite adventurous, and—especially once Maya Rudolph arrives—the gags improve immensely. Breezy enough. And isn't that enough for this weird, long, strangely achronological time?
---