How to Make Bookstore Appearances Ten Times More Interesting
Writer Craig Terlson Wants to Hear All Your Crazy Stories
"You do know that the CIA has a million-dollar contract with Amazon? And that Jeff Bezos owns the Washington Post? Which means everything in that paper is controlled by the CIA."
"Uh-huh."
Welcome to my book table. My novel, Fall In One Day, was released in May 2017, and for the last few months I've been on a book tour across Canada. This means a launch, some library readings, classroom appearances, a writers' festival, and—oh, yes—those author tables at your local chain bookstore. I admit that, at first, those bookstore appearances were my least favorite. It always felt like I was asking customers if they were interested in getting a Bay card, some life insurance, or maybe supporting my local charity. Being a writer, that charity case was me.
My view from the author table taught me a lot about how people enter and shop in a bookstore. Very few people seem to browse these days—rather, they beeline for what they want, give a sideways glance to the sale table, and make a fast exit. Others come in for the non-book items—the candles, the throws, the latest $300 headphones; and they must be buying journals, given the increasing plethora of colors that Moleskine puts out. Okay, full disclosure, I do love the journals.
But what they're not looking for is a writer, out in the wild, trying to sell them a book, especially one they've never heard of. Early on, I decided that if I wanted to enjoy the experience, I couldn't focus on selling books. Instead, I considered the main reason I became a writer: my love of books. So I decided to talk with the customers about books, any books, not even my own.
Being a gregarious and curious sort, I ended up having many great conversations. Sometimes, the customer would get around to asking me if I wrote the book that was stacked in front of me. Note to self: stop wearing black t-shirts and sweaters, as I look like the staff. It's true, I loved talking about the project that consumed me for nearly ten years. But what surprised me was that, after our conversation, many people—around 70 percent—ended up buying my book. I heard the same phrase so many times that I began to wait for it: "Huh… That actually does sound interesting."
After lamenting the mediocre bookstore appearance, my son-in-law gave me a brilliant idea. He told me that no one ever knows what to say to an author in a bookstore. What do you ask them? "So, you wrote a book then?" I flashed back to the time I met Carol Shields in a small bookstore in Winnipeg, just before The Stone Diaries made her famous. I turned a corner and found her perched behind a desk, squished between the stacks. Not knowing her or her work, I said, "Um, so you wrote this?"
My son-in-law told me I needed to make a sign that gave people something to ask. For my next visit I put out two signs, one that read, "Talk to me about LSD," and the other that read, "Talk to me about Watergate." The effect was immediate. When people walked by, they "double-taked" so hard I heard their necks crack. A steady stream of people came to ask me what the sign meant. They wanted to share stories and ask questions, and many began conversations with their conspiracy theories. Yes, I've written a novel set in the 1970s, a time of subversive drug culture, shady politicians, and hidden truths—but even the staff from the stores would come by and remark that this doesn't usually happen at the author tables. "People are telling you all kinds of things."
The table signs transformed my bookstore experiences. I had conversations on micro-dosing LSD for depression and about how the current political climate compares to the Watergate scandal. But it wasn't just drugs and politics; I also talked about Nostradamus, the Bhagavad Gita, the Hare Krishna in Regina, hockey, Scandinavian surnames, mental institutions, house painting, and Captain Underpants. As a storyteller, I loved engaging with everyone else's stories. Sure things got weird, especially with the conspiracy theorists: Who knew they hung out in bookstores? But I started to really love it. I also got to tell people about the authors who I love. You are welcome, George Saunders and Jennifer Egan, for all the books that I helped sell.
And best of all, no one ever said to me, "So, you wrote a book."
__________________________________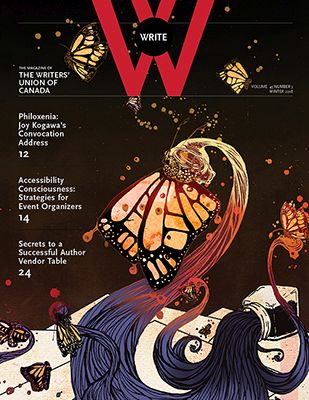 From the winter 2018 issue of Write Magazine.
---