Today, a website called Mansion Global (which yes, is a website about buying mansions, globally) offers some tips for "how to design around your tomes." This is part of a weekly series Mansion Global runs, which is all about designing for your mansion! So how should you, a mansion owner, design with your books? Well, here's some of what their experts had to say:
The more interesting the bookcase, the better.
Timothy Oulton, creative director of Timothy Oulton furniture and Interiors, advises you to invest in fancy or unusual bookshelves. "In our collection, we have a six-foot bookcase in the shape of an antique drum, he says, "as well as our Globetrekker bookcase, which is inspired by vintage travel trunks. A great bookcase can be just as interesting as the volumes it holds."
Here's a room designed by Oulton, which seems to suggest that one of the best ways to display your books (in your mansion) is to shove them all inside a picture frame, spines in so you can't find anything, and pair them with some life preservers and a bucket of roses. Ok: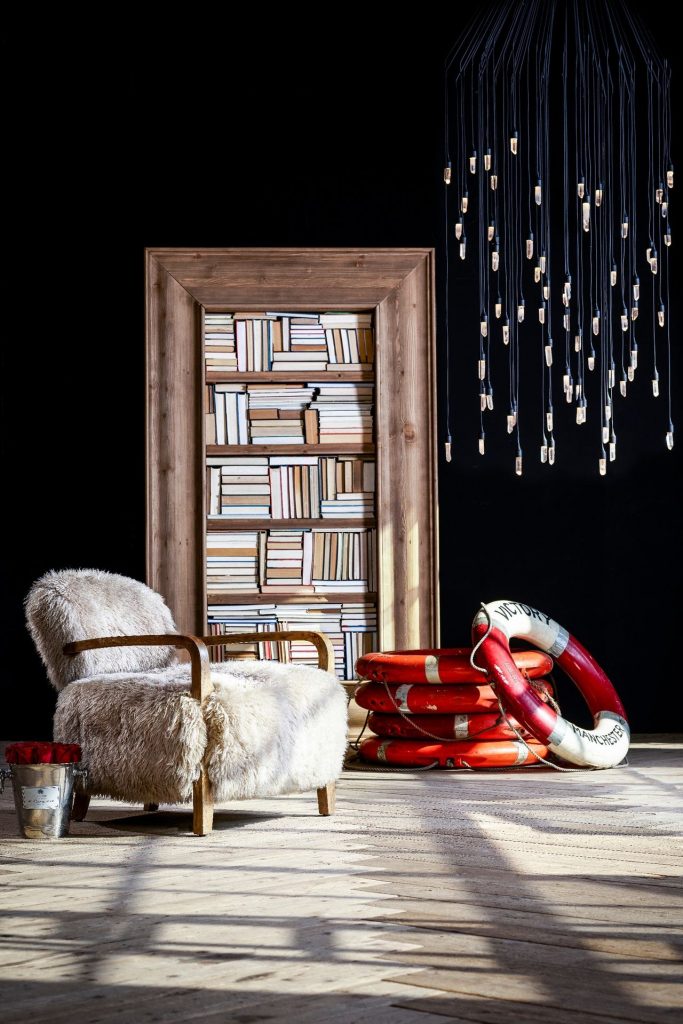 To be fair, Oulton also suggests: "Instead of organizing your collection in a bookcase, you might pile them up on the floor or stack them against a wall. It gives the room character in a more relaxed way." Unfortunately for all you mansion owners, that is a free option.
The bigger the bookcase, the better.
Stuart McLauchlan, associate director at SHH Interiors, recommends the largest bookcase you can manage, even if you don't have enough books to fill it:
A large bookcase can be central to the design of the room. It can create the illusion that the space has more depth or height. [Ed note: this is advice for owners of small mansions only, of course.] For a recent project, we created a large bookcase that runs up through all five stories of the home [Ed note: like this five story mansion, for instance]. The staircase wraps around the bookcase on each floor, so that every book is easily accessible by the owners. This also creates the central feature to the entire home.
It is not necessary to fill every single shelf of a library space. It's far more elegant to allow the books to breath and create more of a sense of space.
Don't have too many books. Or other things.
Janie Molster of Janie Molster Designs writes: "Staying consistent with styling is the best way to keep things from being too crowded; i.e. avoid bric-à-brac and too many tchotchkes. When a client has a home with miles of bookshelves and owns four linear feet of books, I dial up my favorite library curator. He does a deep dive and curates a library that uniquely reflects the client's interests."
One would think that the full library of all the books the client owns would be the most accurate reflection of the client's interests but . . . again I say ok!