How to Cuss Like No One's Listening
Katherine Dunn on the Importance of Specificity in Swearing
As readers, we may get hazy on the plot details of a book we enjoyed. But an intriguing character is something else. We like spending time with such characters. When the story ends, we miss them. And we remember them.
Of course, a character's vocabulary and sentence structure is a crucial part of his identity. These tell us not just who he is but who he wants to be. Vocabulary is a flag signaling his attitudes toward himself and everything and everyone around him. And the way he cusses is particularly revealing. This is his identity in a pinch. It can be a little pinch—spilled milk or a flat tire—or it can be a big pinch: a lost job, a broken leg, a gun to his head. How he reacts to small and large irritants, to minor and intense pain, to a spectrum of perceived injuries and threads, can peel back the social veneer. It might reveal at least a glimpse of his core identity.
As writers, it's our job to understand a character well enough to recognize how he'll respond to various degrees of irritation. Part of that response is the way he talks about it, including the way he cusses. So let's just look at some of the practical elements of cussing.
First, what do we use cussing for?
Some wise guy once said, "We swear about what we care about." And in general, cussing does express emotion.
We sometimes cuss to vent emotion, including shock, anger, pain, despair, discouragement, resentment, or confusion, but also positive emotions such as awe, reverence, joy, or pleasant surprise.
Often we cuss simply to insult the other party. In the movie City Slickers, Jack Palance tells Billy Crystal, "I've shit bigger men than you." And we might, for a moment, believe that about Jack Palance. Of course, this construction is as much a boast as an insult.
If your character is not such an imposing figure or isn't busy boosting his own image, he could express his disdain with a variation on this theme. He might deflect the bragging element by changing the source, as in:
Goldfish shit bigger men than you.
Or you can use the structure but change both the source and the topic, as in:
House flies shit better designs than this.
The basic structural concept here is, "this vile, contemptible thing is better than what you can offer."
Of course, there's always the friendly, or semi-friendly, insult (these need to be structured clearly to prevent confusion for your reader). For example, a recurring character in John Sandford's crime novels is a detective named Virgil Flowers. His colleagues often refer to him as Virgil "Fucking" Flowers, or "that fucking Flowers." At first I thought this meant the other men didn't like him. I read two books before I realized it was an expression of envious, if slightly grudging, admiration.
One way to get around the overuse of fuck, is to use it as an intensifier.
Though perhaps the most common reason to cuss is to shock, to grab attention, in order to convey urgency or severity.
The language needs to be brief and sharp for urgency—the attraction of the sadly overused fuck, fuck you, or fuck off works in terms of brevity as well as an aggressive attack tone. It's perfect for a stung response. However, finding a less hackneyed way to accomplish this is a challenge.
Overuse of any word decimates its power. During WWI, fuck became a military norm. The linguists of the time wrote that the word no longer signified anything except as a warning that a noun is on its way. For a sergeant to shout, "Get your fucking rifles" was routine. To express urgency, the sergeant had to not cuss. If he said, "Get your rifles," his men jumped to it.
One way to get around the overuse of fuck, is to use it as an intensifier. That is, as a substitute for very or really, etc., as in, I'm fucking cold, or, It was fucking big.
Or you might try a portmanteau intensifier, such as fan-fucking-tastic, which as been around since the 1920s. Catastro-fuck is a word that I heard not long ago on The Daily Show.
Beyond the intensifier is the filler. You can use fuck to enhance or complete a lingual rhythm or to set up a particular negative tone of discontent, bitterness, boredom, etc. As in, I'm just waiting on the fucking corner.
Or you can use a cuss word as a substitute for an ordinary word. For instance, My shit was squared away, but his shit was all over the place.
However you go about cussing in your prose, one of the most important considerations is to avoid monotony. You might argue that monotonous swearing is realistic when you are depicting certain individuals or social strata. But real doesn't work if it's not readable. And that's true of nonfiction as much as fiction.
If you've got a monotonous cusser on your hands, don't spend a lot of time quoting her. One option is to describe a person's vocabulary tics early on, but edit her dialogue after that for clarity and juice.
As always, there are exceptions to this rule. I've included a passage from Trainspotting by Irvine Welsh, a writer who flatly and successfully defies this notion of no monotony. Welsh used phonetic spelling of a Scots accent with street slang and curses mixed in. At first it's hard to read, and it's not consistent, but we learn it. The cuss words become routine. The taboo power is drained. It's simply the narrator's language:
Aw, ah sais, Ah wanted the radge tae jist fuck off ootay ma visage, tae go oan his ain, n jist leave us wi Jean-Claude. Oan the other hand, ah'd be getting sick before long, and if that cunt went n scored, he'd haud oot oan us. They call um Sick Boy, no because he's eywis sick wi junk withdrawal, but because he's just one sick cunt.
*
So, yes, use cussing to insult, threaten, condemn. It's also possible to use expletives as humor. The two have a lot in common, humor and cussing. Both are useful ventors of emotion—skewed reactions to stress stimuli. Cussing is often, however, grimly serious. It can be a precursor of escalating violence, or an accompaniment to the same, a kind of soundtrack. But often it is a substitute for violence. Some humor is shocking and offensive, and some cussing is funny.
When it comes to using foul language, be specific. Calvin Trillin urges us to never say car if we can say Pontiac. The same goes for cussing.
Make your cussing specific to the target, whether that's a person, an object, or a situation. A sailor once explained it to me this way: "He's never just a motherfucker. He's a conniving, bald-headed motherfucker. Or a snot-sucking bastard. Or a whining, toothless cocksucker.
For longer phrasings, experiment with alliteration for musicality and ease of flow, as in, You slimy, pissing scum sack.
As an exercise, you can create your own variations on established themes or constructions. Back to the Jack Palance example, pick an appealing insult or curse and figure out its basic structure. Then build your own versions with as many variations as possible to make fresh and engaging images and phrases.
The structure, Well, I'll be . . . is fun to work with, for instance. It probably started out as I'll be damned, but it lends itself to many directions and emotions. You can go a hard-nosed route with, I'll be fucked to bloody hell, or the hayseed yokel route with I'll be cow-kicked by a June bug. But you can take it anywhere else you care to go, too.
Here's another example. A character in Trevanian's novel, Shibumi, swears by the testicles of various Biblical figures. He says: By the vaporous balls of the Holy Ghost. And, By the four balls of Jesus, Mary, and Joseph.
Trevanian does this with wit and doesn't get tedious.
Adapting that concept, you could expand the selection of body parts and maybe, because I have a weakness for it, throw in a lot of alliteration. By Blendina's bounteous boobies, or By Peter's perforated pecker.
You can make it more specific and personally offensive with something like, By the syphilitic psychopath that spawned you. It's always satisfying to cast aspersions on one's enemy's parentage.
For fresh imagery, shock and humor, one of the best tools is the unexpected juxtaposition. The potential for this is staggering. Cock garage, cunt muffin, and ass hat all seem fairly popular these days. But there's a lot of room to maneuver in the realm of unexpected juxtaposition.
Discover a style all your own.
And give your characters your own style.
Some like to insert a reptile into everything, lizard fucker, shit-sucking snake, turtle turd, etc. One writer likes to put "Mc" in front of words: McAssery, McShitty, McMoron, etc. Other writers rely on a strict verb-adjective-adverb-noun structure every time. Fuck the fuckity fucking fucker.
Experimentation is the key.
__________________________________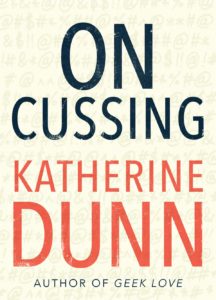 From On Cussing. Reprinted with permission of Tin House Books. Copyright © 2019 by The Estate of Katherine Dunn
---