How Thoreau Launched the Transcendentalist Experiment in Education
On Creating a Curriculum Based on Freedom
1837 was not a good year to graduate from college. Following the financial panic that spring, banks contracted credit and the economy shrank. By October, the Concord Bank had reduced its lending by more than $20,000, on a downward course to a four-year low six months later. By this "careful business," the institution remained solvent, never missing a semiannual dividend of 3 percent, but the cost was paid in "general distress in the community."
Members of the Harvard Class of 1837 faced a shortage of opportunities to employ their education. But Henry Thoreau had no reason to complain. A week after commencement, he became master of the brick grammar school on the common—yet another in a long line of recent Harvard graduates to rotate through that post. The salary was $500 for the year, a substantial and steady income at a time when many Americans were out of work. A decade earlier Edward Jarvis had faced opposition to his appointment to the school, owing to doubts that he could ever command the respect of students who had known him as a boy. Thoreau, who had studied under Jarvis in this very school, met with no such objection. The 20-year-old's ability to maintain discipline went unquestioned.
The new master looked forward to running his school on an innovative plan. He hoped to eliminate corporal punishment entirely and to "make education a pleasant thing both to the teacher and the scholar." That intention was in tune with the prevailing mood. Progressives dominated the school committee. Once a 15-man body representing seven districts, it had recently been streamlined to facilitate centralized management. The board that oversaw the hiring of Thoreau consisted of just three members: Rev. Barzillai Frost, then in his first year as Ezra Ripley's assistant, as chair; the trader Nehemiah Ball, a deacon of the Unitarian church; and Sherman Barrett, scion of the distinguished farming family. Ball was charged with overseeing the grammar school. This reform-minded group, elected in April 1837, presided over the biggest school budget ever: an appropriation of $2,000, up by 25 percent. Its outlook was entirely in line with the policies promoted by Horace Mann, appointed that very year as secretary of the newly established state board of education. Indeed, in 1838 Concord would bid unsuccessfully to be the home of the first "normal" school in Massachusetts for training teachers. Thoreau had good grounds for anticipating approval of his educational experiment.
Ten days into the term, Deacon Ball made a surprise visit to Thoreau's classroom to see how the new master was working out. It was his obligation to do so under the committee's rules, and as he entered his sixth year of service on the board, he enjoyed a reputation for being "very punctual in visiting the schools." He cared deeply about education, as his frequent lectures to the lyceum made plain, and he "spared nothing" in the schooling of his own eight children. In the fall of 1837, four of them, from Caroline, age 13, down to Ephraim, age eight, were among the ninety pupils in Thoreau's charge. The deacon thus had a strong personal as well as official interest in the pedagogical abilities of the novice teacher. "Precise, prosy, and pompous," he also had great confidence in his own judgment. Many years earlier the middle-aged leather dealer had kept a district school, and on that basis he presumed to know something about managing the young.
The pupils in the grammar school were apparently too noisy or unruly to suit Ball, as he hastened to inform the instructor. In his opinion, Thoreau needed to crack down right away on the disobedient and disruptive. Otherwise, "the school [would] spoil" entirely. The advice was unwelcome. But instead of protesting or ignoring the officious counsel, Thoreau seethed silently. That afternoon, after the committeeman was gone, he did as he was told. At least two students and perhaps half a dozen, including a 13-year-old girl working as a maid in his parents' home, suffered the sting of the ferule. The reluctant disciplinarian felt a different kind of pain. Applying the rod in violation of his beliefs, he did violence to his conscience, and that was intolerable. Hours later Thoreau sought out the deacon and resigned.
It was a bold stand in defense of his principles, the first of many to come. It was also a risky step in the midst of a deepening depression, comparable in its imprudence to his father's opening a store amid an embargo on trade. Was it necessary? School reformers in Concord and beyond were anxious to reduce, if not entirely eliminate, the use of corporal punishment. Horace Mann himself was urging teachers to "supersede the necessity of violence by moral means" and to rely upon "the power of conscience and the love of knowledge" to ensure discipline. But the uncompromising instructor said nothing. Uncomfortable with the committee's oversight and doubtful that he could ever keep it happy, he preferred to follow his own conscience. Consistent with his college essays, this would be his characteristic gesture in the ensuing years.
Here was the chance to create the ideal school Thoreau had dreamed of, where the love of learning, rather than fear of "the cowhide," made each day a joy.
In his parents' latest residence on the Main Street, the so-called Parkman House, the unemployed schoolmaster took refuge in his "upper empire"—the third-floor attic—and regrouped. With older siblings Helen and John away teaching, he was left to cope with his situation largely by himself. His immediate prospects were thin, since the school year had already begun. To keep busy and pay his board, he put his hands and mind to work in the pencil factory and devised a superior product. By year's end, he renewed the search for employment, seeking help from classmates, relatives, and mentors, including Orestes Brownson. His reputation remained solid; leading figures in Concord—the esquires Brooks, Hoar, and Keyes—were still prepared to vouch for him, and Ezra Ripley recommended him as "well disposed and well qualified to instruct the rising generation." In principle, he was open to relocating far from Concord. He scouted out positions in different parts of the country, from Maine to New York State to Virginia.
In mid-March 1838 he and brother John decided to head for Louisville, Kentucky, twelve hundred miles southwest, where teaching jobs supposedly abounded, according to Concord transplant Edward Jarvis, who had settled there 11 months earlier. "Go I must at all events," Henry vowed. The event never came. He reversed course after Harvard president Quincy put him on to an opening in Alexandria, the Potomac River town bordering the nation's capital. He did not get an offer, but in all likelihood he did not want one. Thoreau was as reluctant as John Shepard Keyes to leave home. Rather than move, he opened a school in the Parkman House and attracted a handful of "well advanced" student boarders.
The more Thoreau clung to his roots, the deeper his discontent. Stuck in his birthplace, he watched the world go by at an ever-quickening pace. Let steamships speed across the Atlantic, let Nantucket whalers go "afishing" the seas, let Yankees scour the earth in search of new "fields for speculation." Thoreau stayed put in his native soil, like the "plants [that] spring silently by the brooksides," and as "indifferent" to human affairs as the woods. Not entirely: in his debut before the lyceum that April, he decried the artificiality of society. Even in the small town of Concord, men and women did not meet "as gods." They kept one another at a distance with "excessive ceremony" and much "shaking of hands and rubbing of noses." The situation was even worse when people congregated in cities or gathered in crowds. In large assemblies—parades and rallies, commencements and cattle shows—men were absorbed into the mass, "another name for the mob," and were reduced to the lowest level. Individuality dissolved. Thoreau yearned for authentic contact, what he would call in Walden "simple and sincere" communication. But to whom could he reveal himself in this superficial, workaday world?
Emerson, for one. The friendship between the two congenial spirits began in the fall of 1837 and deepened during their walks to Walden over the next year. At Emerson's suggestion, the graduate started keeping a journal, initially as a commonplace book in which to store extracts from his reading and observations about various subjects, later as a "literary workbook" containing drafts of future lectures and publications. The influence was reciprocal. In the older man's lectures, the younger heard his own thoughts about nature and culture; in turn, he provided a living demonstration of Transcendentalist self-reliance. Emerson admired "brave Henry" for his refusal to conform to conventional ways: "he does not postpone his life, but lives already." He welcomed "my protestor" into the Transcendental Club and never lost an opportunity to promote his protégé. The support was at once valuable and restricting.
Hardly had this close association formed than Thoreau was mocked for copying his master's voice and looks. On a visit to Concord in the spring of 1838, David Greene Haskins was astonished by the transformation of his Harvard classmate in the months since graduation: "In his manners, in the tones and inflections of his voice, in his modes of expression, even in the hesitations and pauses of his speech, he had become the counterpart of Mr. Emerson." Haskins closed his eyes while the two Concordians talked and could not tell "with certainty" who was speaking. The future poet James Russell Lowell, rusticated from Harvard under Barzillai Frost's care that summer, had the same impression: "with my eyes shut I shouldn't kn[ow] them apart." In later years he would deride Thoreau in print as an Emerson wannabe, stealing the apples from his neighbor's orchard. So long as the two writers remained close, Thoreau would struggle to separate inspiration from imitation.
The success of the school drew Thoreau more deeply into local life.
In September 1838 Thoreau got a second chance to prove his talents as an educator when a vacancy opened up at the Concord Academy. The private school had lost its hard-won stability with Phineas Allen's enlistment in Anti-Masonry and had run through four instructors in as many years. For a time it suspended operations. The new instructor, now an adult of 21, embarked on his duties with a blank slate. Here was the chance to create the ideal school he had dreamed of, where the love of learning, rather than fear of "the cowhide," made each day a joy.
On the principles of Pestalozzi, the teacher was to be a "fellow-student" with the pupils; together they would share the excitement of discovery not just in books but in the wider world, making weekly field trips to village craft shops to see how things were made and expeditions to Sleepy Hollow, Walden, and along the Concord River for lessons in natural history. The town school could not compete, even with progressive texts. Its enrollment was too big, its confinement to the brick structure on the common too narrow. Most important, it lacked the prerequisite of Thoreau's scheme: "a degree of freedom which rarely exists . . . —a freedom proportionate to the dignity of [the child's] nature—a freedom that shall make him feel that he is a man among men, and responsible only to that Reason of which he is a particle, for his thoughts and actions."
This Transcendentalist experiment in education gradually gained enough students that John Thoreau, Jr., was able to join Henry when a new term opened in March 1839. The older brother took charge of the "English branches," the younger the "classical department." Support for the enterprise cut a broad swath through the town. The elite put its confidence in the Thoreau boys; so did Cynthia's co-workers in the female charitable society. A number of students came from middling farms and shops in Concord and vicinity. A few had to scrape together the tuition, including Ben and Joe Hosmer's younger brother Horace and the eldest daughter, Anna, of Bronson and Abigail Alcott, new to town in April 1840. Nearly all their families were active in the campaign for cultural improvement.
This mix of young people gained an unusual education for the day. Within the school, John won their hearts with his wit and warmth, Henry their respect and resentment for being "merciless" and "rigidly exacting." In the woods and along the river, each of the instructors had his following. Joseph Boyden Keyes, the politician's son, spoke for most in recalling John as "one of the most kind and indulgent masters," who "rendered the road to learning easy and pleasant."
The skilled naturalist delighted in pointing out the various birds and occasionally shooting them to obtain specimens for study. Keyes was forever grateful for the exposure to "the beauties of nature." For his part, Henry dazzled with his uncanny ability to find Indian relics and his vast knowledge of ornithology. "He knew birds and beasts as one boy knows another," recalled Frisbie Hoar. For student Horace Hosmer, who came from a dirt-poor farm to attend the school and board in the Parkman House, the entire Thoreau family was an education. In the parents' love of nature and art and in their shared ideals, he glimpsed a vision of a higher, purer life. John Jr. embodied that spirit: he made "all things [seem] possible[,] in school life at least." To ten-year-old Hosmer, Henry, by comparison, was a forbidding figure, though he would later come to view him as "the realization of the hopes and aspirations of the Thoreau family."
The success of the school drew Thoreau more deeply into local life. Overcoming his distaste for the formalities of society, he frequented parties, participated in the rituals of courtship, served two terms as secretary of the lyceum, and tried his hand at journalism with an obituary of Miss Anna Jones, an 86-year-old pauper who had died in the almshouse. Thoreau sought out the aged woman as she lay dying and was impressed by "the religious sentiment that was strongly developed in her." This "bright sample of the Revolutionary woman" stirred his reverence for the "days which the man and patriot would not willingly forget." Like Thoreau's maternal grandmother, Jones actually came of a family with divided loyalties in the War of Independence.
Uninformed by this history, Thoreau's tribute was an implicit rebuke of his neighbors for allowing so pious and virtuous a woman to spend her last days alone in the poorhouse: "Poverty was her lot," he wrote, "but she possessed those virtues without which the rich are but poor." Appearing anonymously, the piece attested to Thoreau's engagement with his countrymen in the aftermath of graduation and during the two and a half years that he and John conducted their academy—a venture that came to an end in April 1841, owing to the older brother's failing health.
__________________________________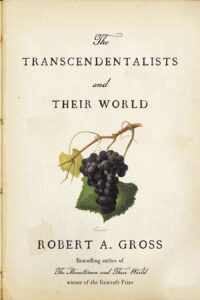 Excerpted from The Transcendentalists and Their World by Robert A. Gross. Published by Farrar, Straus and Giroux in November, 2021. Copyright © 2021 by Robert A. Gross. All rights reserved.
---